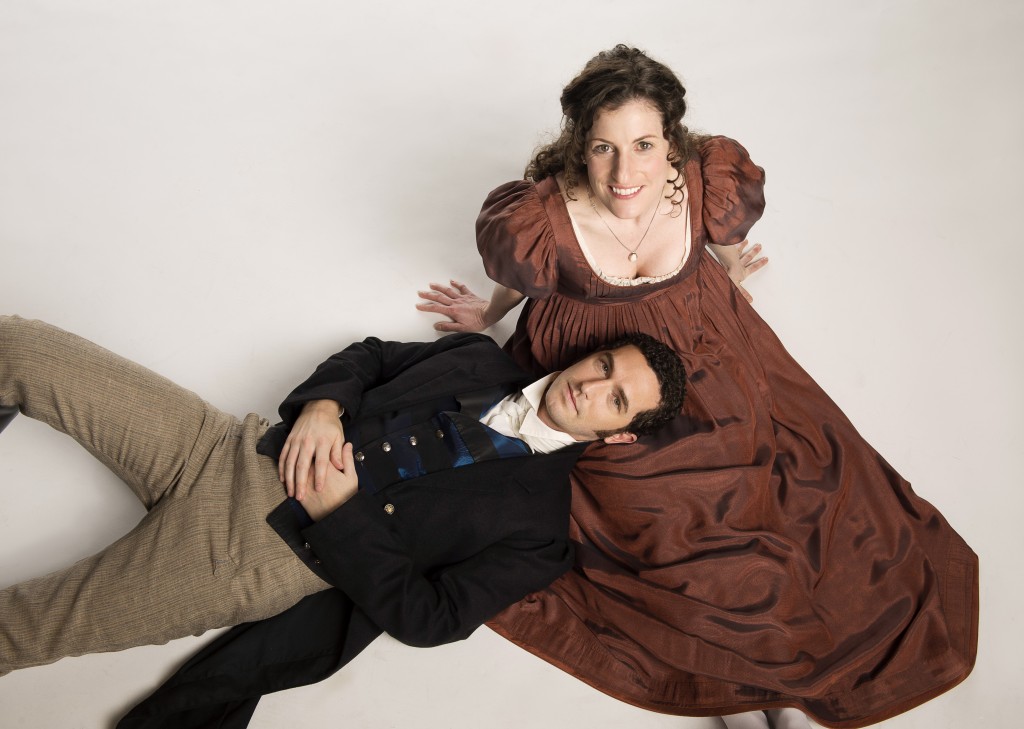 At The Stanley until February 28, 2016
604-687-1644/artsclub.com
Posted February 8, 2016
In Jane Austen's novel Pride and Prejudice, Mr. Darcy does not kiss Miss Elizabeth Bennet at the end. That would have been ungentlemanly of him – and he certainly is a gentleman. But in Janet Munsil's adaptation, under the direction of Sarah Rodgers, Eric Craig (Mr. Darcy) does kiss Elizabeth (Naomi Wright) as the curtain falls; it's what we've been waiting for from the moment they began exchanging insults so cleverly crafted they could be mistaken for compliments.
Munsil's adaptation is true to the novel, frequently employing text word-for-word. She switches up the order of things now and again; perhaps the most frequently quoted line, "It is a truth universally acknowledged, that a single man in possession of a good fortune, must be in want of a wife", comes a few moments after the opening of the play whereas the line, spoken by Elizabeth's father, opens the novel. Either way, the line sets the stage for anxious Mrs. Bennet (Katey Wright) to work herself into a tizzy upon the arrival of Mr. Bingley (winsome Daryl King) who has an income of  £5,000 per year and Mr. Darcy who is even richer.
The Bennets have, you remember, five eligible daughters: beautiful Jane (Kaitlin Williams), giddy Kitty (Kayla Deorksen), bookish Mary (Sarah Roa), rebellious Lydia (Raylene Harewood) and clever Elizabeth (Naomi Wright).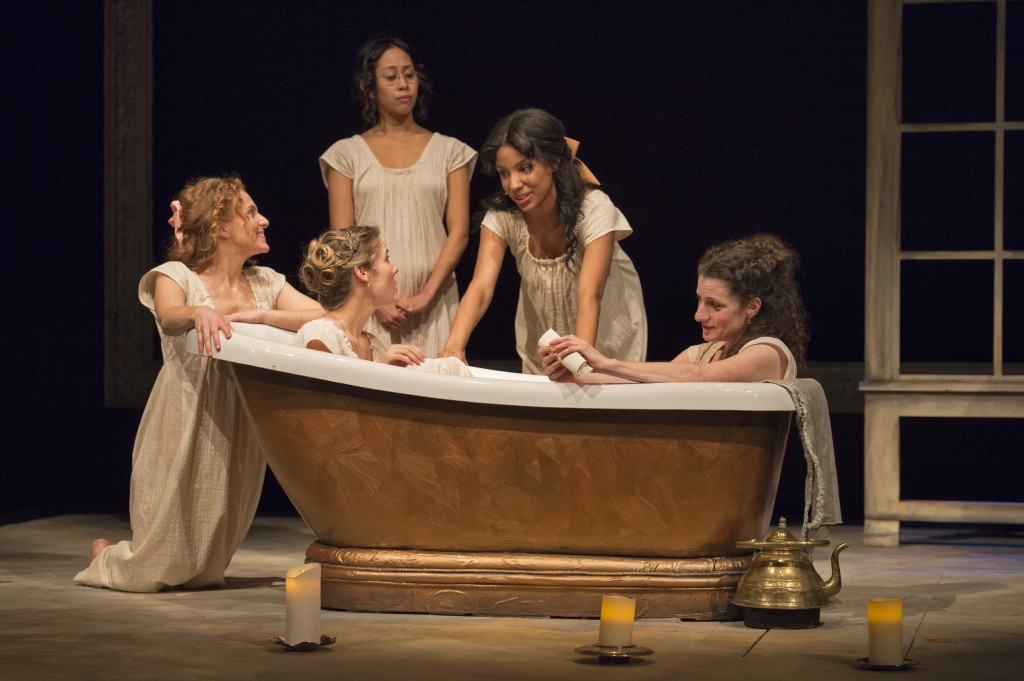 This is a star-packed show with Scott Bellis as the very fey Mr. Collins. Bellis, as always, is so perfect right down to his out-turned toes and his slightly high-pitched voice that lingers affectedly long on certain words. Collins is ridiculous but a real threat to Elizabeth on whom he has his eye. Bellis comes back in a dress and sausage-ringletted hair as housekeeper Mrs. Reynolds and although in this role he hasn't funny word to say, the audience laughs anyway.
David Marr endears us to Mr. Bennet, a rough-around-the-edges country gentleman with little money, five daughters, a hysterical wife and a big heart. While Elizabeth has no money and no property to take into whatever marriage proposal she accepts, her father assures her that she will marry whomever she wishes and for love.
Whether or not Lydia marries Mr. Wickham (Paul Barton) for love is moot. This part of the novel is, perhaps, the most truncated, and there is not much backstory to Lydia's scandalous flight to Brighton.
As Elizabeth and Mr. Darcy, Wright and Craig are a fine pair. Wright's Elizabeth is intelligent, witty and an excellent sparring partner for the opinionated, haughty Mr. Darcy. Her character's eventual 'fall' (into love) is accompanied by Wright's girlish blushes while Craig's Mr. Darcy almost prostrates himself when he confesses she has won his heart: "I am your captive." By this time, we have come to respect him, too.
Alison Green's set is very pretty with large pastoral paintings that establish various locations: several lovely country estates, parlours, ballroom, etcetera. Christine Reimer provides period-perfect costumes from the Bennet girls' country dress to more lavish gowns on the upper-class women. Daniel Deorksen and Sarah Donald double as musicians (on violin and guitar) as well as Mr. and Mrs. Gardiner. Georgia Beaty is the unfortunate Charlotte Lucas upon whom Elizabeth's wrath falls; Yoshié Bancroft is the elegant but wickedly condescending Georgiana Darcy. Shirley Broderick, who always, even in the smallest of roles, illustrates the authority of a classically trained actress, is Lady Catherine de Bourgh. If looks could kill – as Broderick peers out from Lady Catherine's sedan chair – there would not be a soul left breathing on the Stanley stage.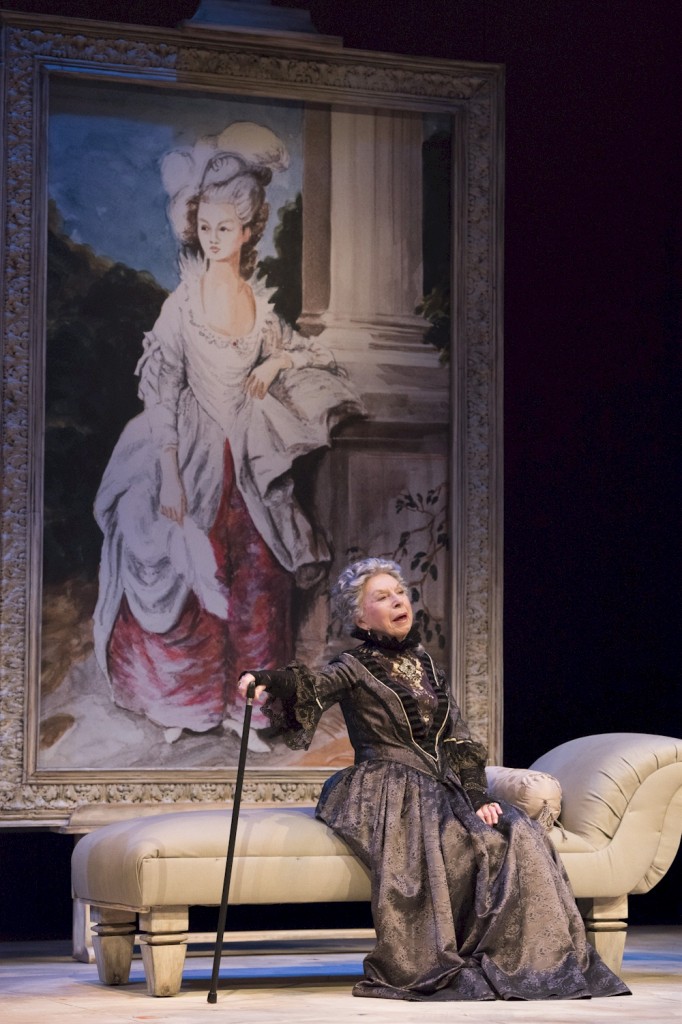 Produced by the Arts Club, this is a delightful show. Munsil, Rodgers and her cast breathe life into the novel, transforming Austen's wry, verbal humour into lightness and gaiety whilst not overlooking the novel's darker themes. Highly recommended as a Valentine's Day date. Forget the roses and chocolates; see Pride and Prejudice instead.