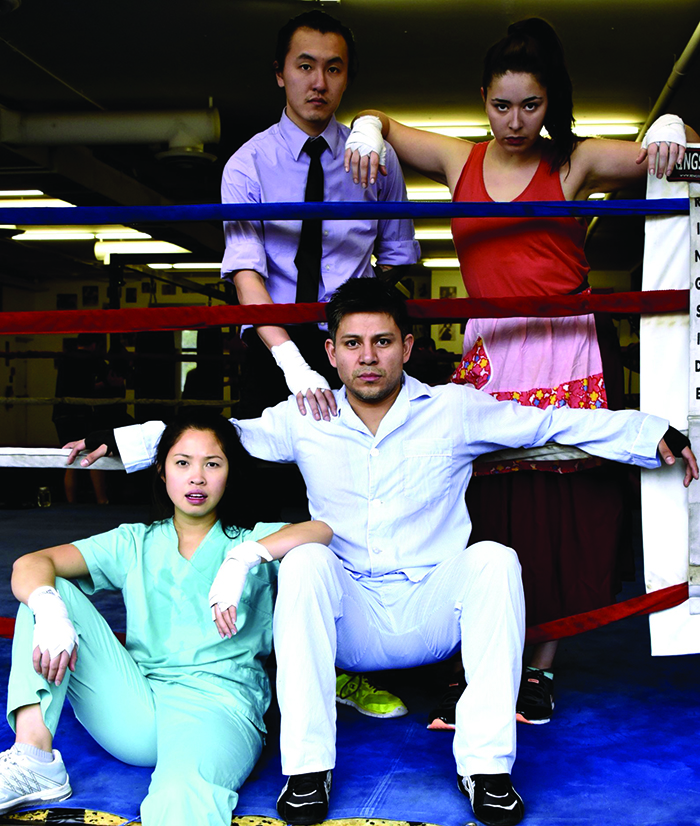 At The Cultch until May 15, 2016
thecultch.com/tickets
Posted May 13, 2016
Marriage can sometimes feel as if it should be taking place in a boxing ring; gloves, a referee and a bell to bring rounds to an end might keep the couple out of divorce court. Playwright/director Pedro Chamale Jr. does just that; he puts Pedro (Edwin Perez) and his wife Stella (Manuela Sosa) in a ring with a doctor (Derek Chan) and a nurse (Anjela Magpantay). Stella and Pedro duke it out for fifteen rounds.
Mis Papás is less about marital strife, though, as it is about Stella urging Pedro – who is in a coma – to fight for his life against the advice of the doctor who holds no hope for the patient. (In real life, these are the playwright's immigrant parents. His father suffered three-months of life-threatening encephalitis, and has been left, it would seem, with life-long health issues including deafness and dementia. Mis Papás, performed in both English and in Spanish, doesn't give us a clear idea of the time frame or make the playwright's father's present condition clear.)
What is most impressive about this rice and beans production, however, is its physicality. Perez skips rope and fiercely shadow boxes from the moment the audience is allowed into the theatre until the play starts. It's exhausting just watching his fifteen or twenty-minute workout. And it doesn't stop there. He boxes and skips rope on and off – mostly on – throughout the rest of the show. All four performers don bright red boxing gloves periodically and Sosa delivers a lengthy monologue while rapidly, almost maniacally skipping rope. It will be amazing if Mis Papás completes its run without someone actually landing a punch.
With a number of loose threads, Mis Papás isn't totally satisfying but it's a brave, energetic and inventive way of framing Stella and Pedro's story.