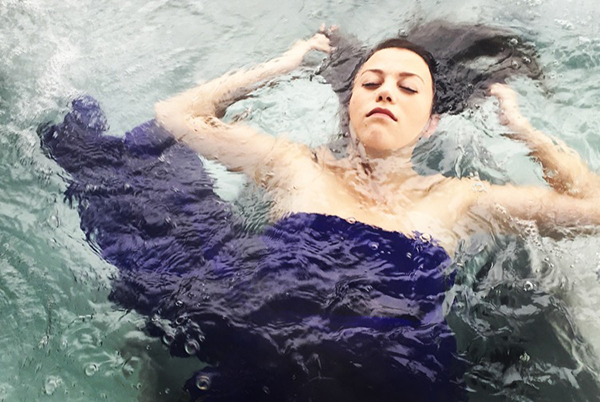 At The Cultch until June 4, 2017
Tickets from $15 (low income) at tickets.thecultch.com
Posted May 28, 2017
Theresa, a young First Nations dancer, is haunted by the memory of her mother who drowned and was pulled out of the river when Theresa was just a child. Seeking information about her mom – like a spawning salmon returning to the stream of its birth – Theresa finds herself in Sooke, looking for the famous Sooke Potholes. Mikey, a local First Nations guy, accompanies her there and, yes, they end up in bed and she ends up pregnant.
SPAWN, written by Cheyenne Scott, currently appearing as Julia in Children of God, is less about the Salmon Spirit than it is about how the pregnancy affects Theresa (Tai Grauman), Mikey (Robert Thompson), her father (Ryan Erwin) and her grandmother (Carrie Osborne). The Salmon Spirit, according to legend, stole a young woman but in return gave the First Nations people the reef net to catch salmon.
SPAWN is produced by A Wild Woman Theatre whose aim it is to empower indigenous women through story and to provide artistic opportunities for emerging artists. Directed by Nyla Carpentier with dramaturgy by well-respected Brian Quirt, it nevertheless feels very much like a first play by a young playwright. The dialogue is somewhat stilted but that may simply be a matter of inexperience on the part of some of the cast.
The set – a group of white painted wooden crates and six multi-purpose sticks standing vertically in a row – is beautifully back-dropped with an image of moving water for much of the show. But there is a lot of unnecessary re-arranging of the crates and the sticks – although the sticks do function as fishing rods and, possibly, firewood at a couple of points.
Wild Woman Theatre should be celebrated for giving young indigenous artists an opportunity to get their work out. No one can tell their stories as well as they do.
It will be interesting to see what Cheyenne Scott writes next. In the lead role, she has been wowing audiences at Children of God – a show not to be missed – and she clearly has something to say about young First Nations people, their challenges and their dreams. Theresa ends up saying to her unborn baby girl what all parents wish for their children: "I want you to be happy and I want you to feel loved." Wise words from a young playwright.