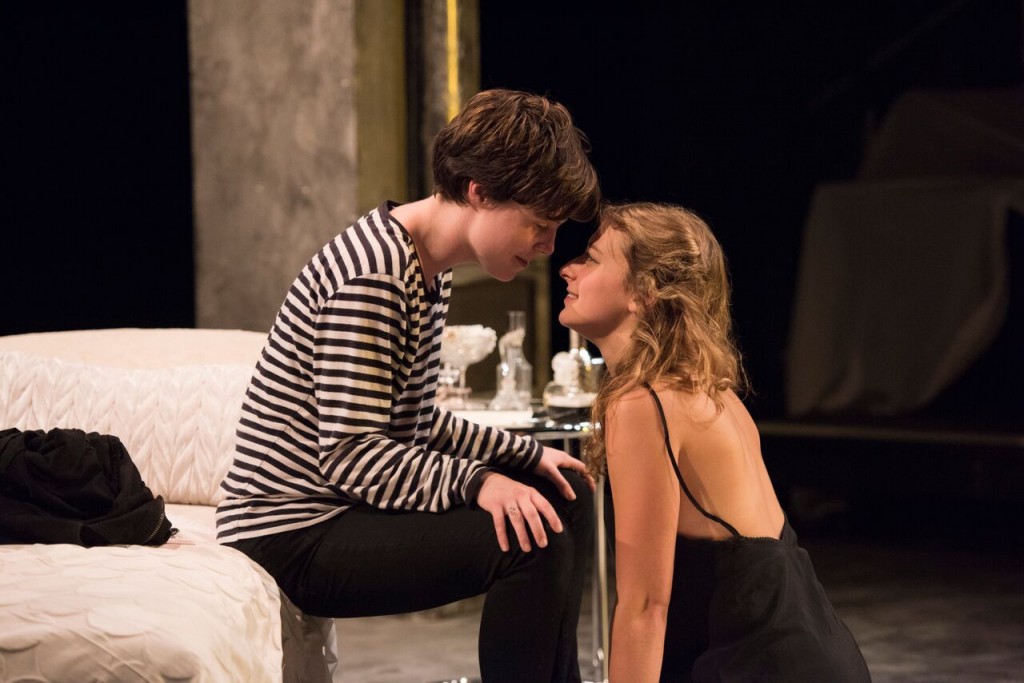 At Studio 58 until October 18, 2015
604-684-2787/ticketstonight.ca

Posted October 5, 2015
I have met a lot of Romeos in my time. Let me re-phrase: I have met a lot of Shakespeare's Romeos over the years. And I have never found one more winsome, brighter-eyed and more appealing than the one in Studio 58's production of Romeo + Juliet. The role is played by a young woman (Camille Legg).
Now there's a real switch up: in Elizabethan times, Juliet would have been played by a young man. In 2015, Romeo is play by a young woman. Furthermore, Romeo is a lesbian in love with Juliet (Adellah Furseth). The barrier to their love remains the longstanding feud between the Montague and the Capulet families but they all now live in New York City, it's the 60s and the party at the beginning of Shakespeare's play is now set in The Factory, Andy Warhol's famous hangout for artists, writers, musicians and underground celebrities. Speed was the pharmaceutical of choice and free love was the rage. Warhol and cohorts didn't care what went on in the bedroom or, if they did, they filmed it.
It really pays to know something about Warhol and The Factory before seeing director Anita Rochon's re-visioning of the play. I didn't and was left wondering about set designer Pam Johnson's use of aluminum foil, about where we were and what was Andy Warhol (Nathan Kay almost creepily channeling Warhol) doing in the play. Shakespeare's 'Nurse' is a bouffant-hairdo-ed 'Nance' (Samantha Pawliuk), more OMG girlfriend than nurse to Juliet. Friar Laurence (Brandon Bagg) is now a bare-chested, head-banded guru, and the apothecary (Jessica Wagstaff) is a drugged-out, twitchy, dope dealer.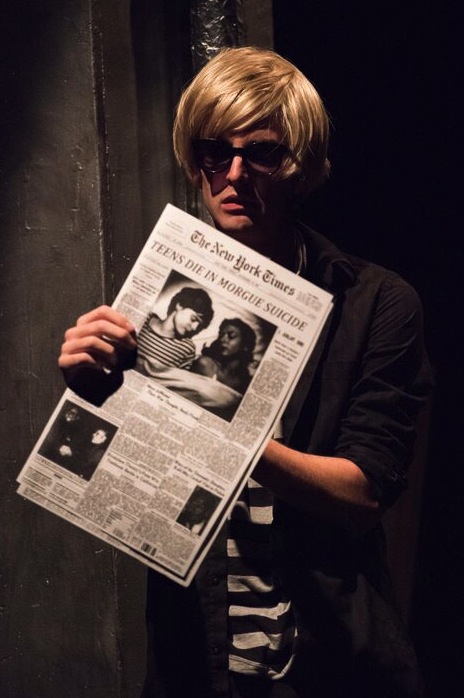 Still at the heart of the tragedy, however, are Romeo and Juliet and a sweeter pair of lovers would be hard to find. Amidst all the turmoil of the play – especially in crowd scenes – lighting designer Jonathan Ryder isolates then in spotlights so as all the 60s dancing – variations on The Twist – is frenziedly happening around them, we see only Romeo and Juliet: circling, hand-holding, eyes locked and off in a world of their own.
Costumer Jessica Bayntun puts Legg in tight, cropped black jeans, t-shirt and short jacket and Furseth, a giddy, innocent Juliet, in a short, straight white dress; they both look like teenagers. The black and white costume theme is carried throughout with the addition of silver sequins and meters and meters of fringe.
The music, appropriately, is 60s and includes "Satisfaction", "Light My Fire" and "So Happy Together" – sometimes ironically interjected.
Fight scenes between Mercutio (explosively, manically portrayed by Conor Stinson-O'Gorman) and Tybalt (Kamyar Pazandeh), choreographed by David Bloom, are more than scary: a switchblade and a broken beer bottle. Absolutely no room for error and people in the front row in the re-configured theatre (audience seated on two sides flanking the performance area) are advised to tuck in their feet.
Does all this work? Yes and no.
Much of what Studio 58 does so well – clean, sharply stylized choreographed  – is not as evident as it usually is. Act 1, particularly, is busy in a rather amorphous way.
And within the context of The Factory, Romeo and Juliet's "love that dares not speak its name" is okay. But Romeo and Juliet's parents are not part of The Factory culture – although they are at the opening party. They appear very conservative and it seems improbable that they would not be concerned over Romeo and Juliet's homosexuality. The sixties were not that tolerant. In this production, however, it needs to be taken as a given that the lovers' parents didn't care or the play simply doesn't work that well for you.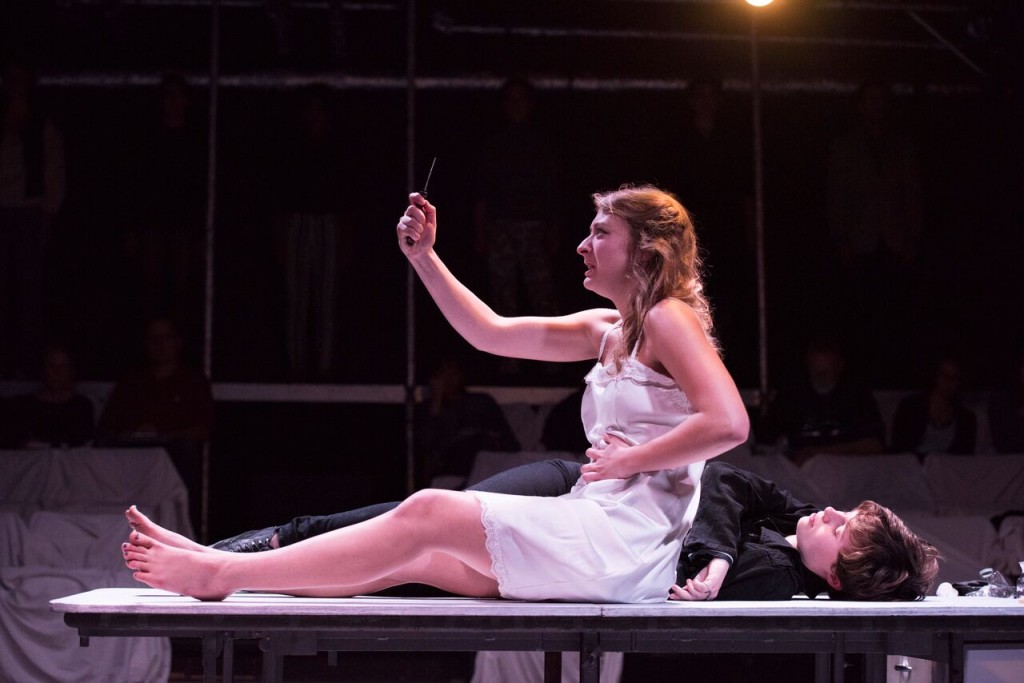 But the young lovers are still the young lovers and the tragedy is still the tragedy. Their deaths remain poignant and the reconciliation of the Montagues and the Capulets offers hope that the feud between the two houses has now come to an end.
Director Rochon's is a bold, risky take on one of Shakespeare's most frequently produced, much loved tragedies, and an audacious start to Studio 58's 2015-2016 season.