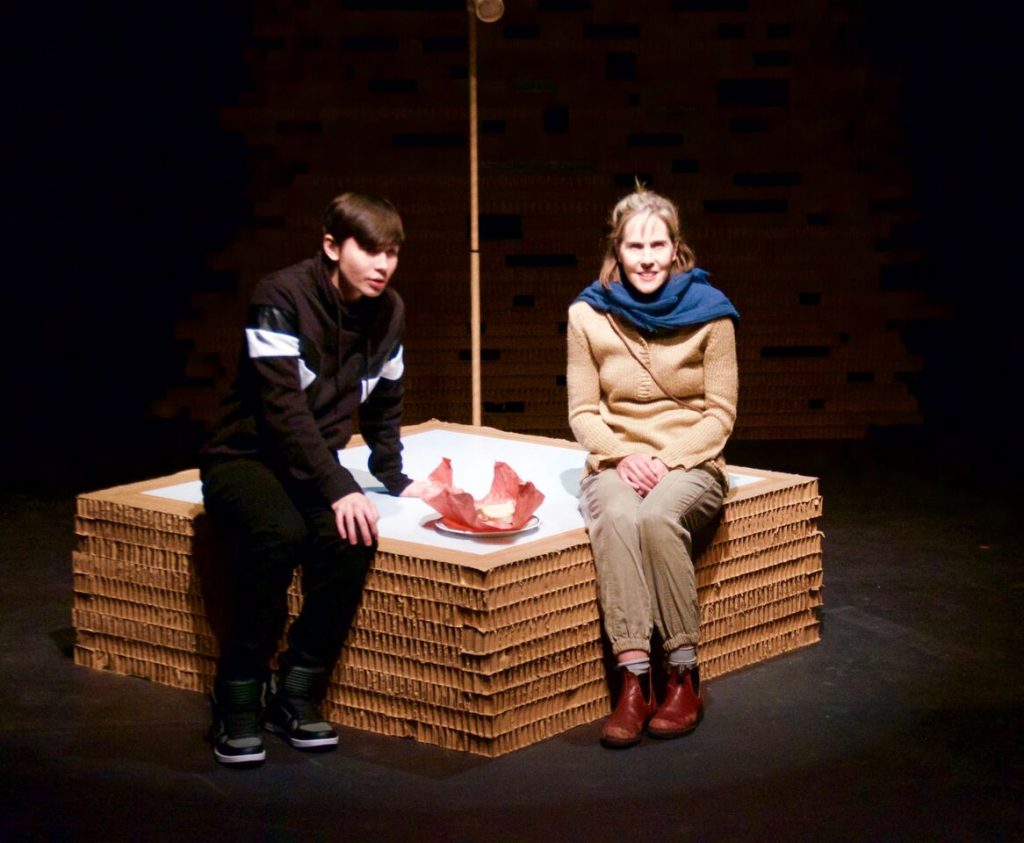 At Performance Works until November 26, 2017
Tickets from $22 at 604-687-3020/tickets.theatrewire.com
Posted November 21, 2017
Playwright Aaron Bushkowsky gets me where I live – or, where I can't afford to live if I'm forced to move. In his 2004 play Soulless, Bushkowsky exposed the heartless soul of Vancouver real estate: renovictions – especially in the Gastown area – that forced tenants out of low cost housing which, once tarted up, was sold to the rich. "Good people move in. Bad people move on", was how upmarket real estate agent Gerald crassly explained it in Soulless.
In Satellite(s), Bushkowsky shifts the focus and tackles the relentless sale of decent homes to wealthy, frequently offshore buyers who tear the houses down and build very large, very expensive homes on what has become very expensive Vancouver property. Sometimes these old Vancouver homes are purchased by parents under the name of a non-taxpaying teenager who moves in – all alone and culturally adrift; they are satellites to a family somewhere else in the world.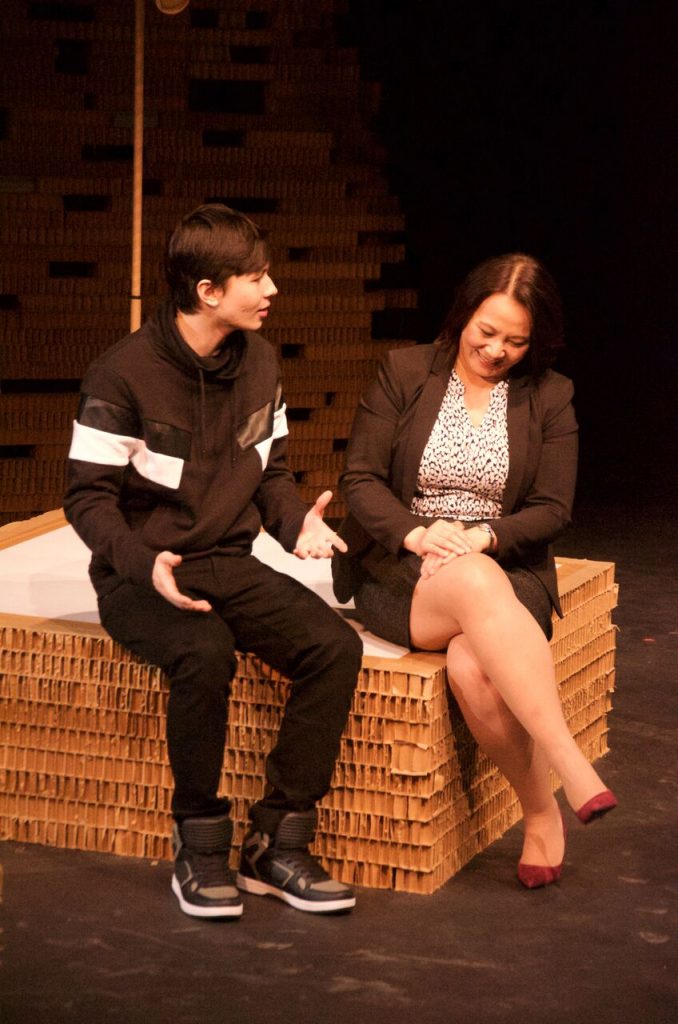 That's the situation in Satellite(s).
Jan (Jillian Fargey) is a Vancouver west side homeowner and writer with an obsession: she is photographing and documenting houses all over the city that are coming under the wrecking ball. And then it happens right next door to her. The house is sold to Cherry (Sharon Crandall), a Chinese buyer who moves her 17-year-old son Li (Mason Temple) into the house. The house will likely be demolished but in the meantime Li is alone: he makes no friends at school and he has no idea how to look after himself. Eats junk. Starts using drugs. Childless Jan, with a marriage coming apart, feels sorry for him and starts feeding him – wholesome sandwiches, real food. She begins hanging out with him, trying to help him through his isolation and loneliness.
These empty or almost empty Vancouver homes – estimated to be in the tens of thousands – are creating resentment, especially amongst those with insecure housing. Would-be first-time buyers cannot afford a down payment on obscenely overpriced houses for sale. But then Jan goes to China and everything changes.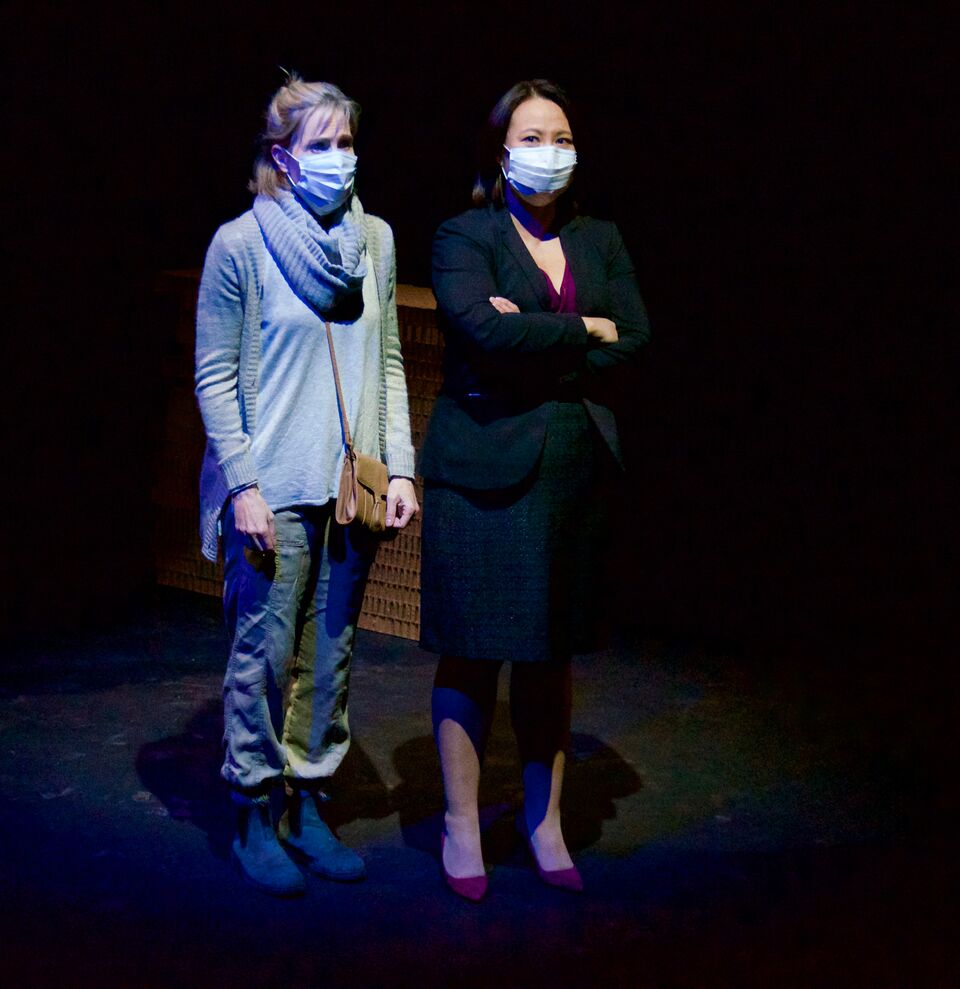 Until that point, I feared Bushkowsky was feeding our bitterness and I was getting uncomfortable. But in Act 2, we get a little of the other side of the coin and some balance is restored.
With an offbeat sense of humour, Bushkowsky writes some of the funniest dialogue on any stage. For such a serious, inflammatory subject and one that raises so much heated debate, Satellite(s) is laugh-out-loud funny.
But it's not a perfect play and the several romances that spring up seem more convenient than plausible. They're just a bit too neat. Bushkowsky and Shakespeare have this in common: the men they put in romantic roles are jerks. The grown-up guys in Satellite(s) are morons. Omar (Anousha Alamian), married to novice realtor Sandy (Meaghan Chenosky), is the least developed character but what we do know about him, we don't like. Ditto Andy (Alex Zahara), Jan's policeman husband. What did Sandy and Jan ever see in these two boors?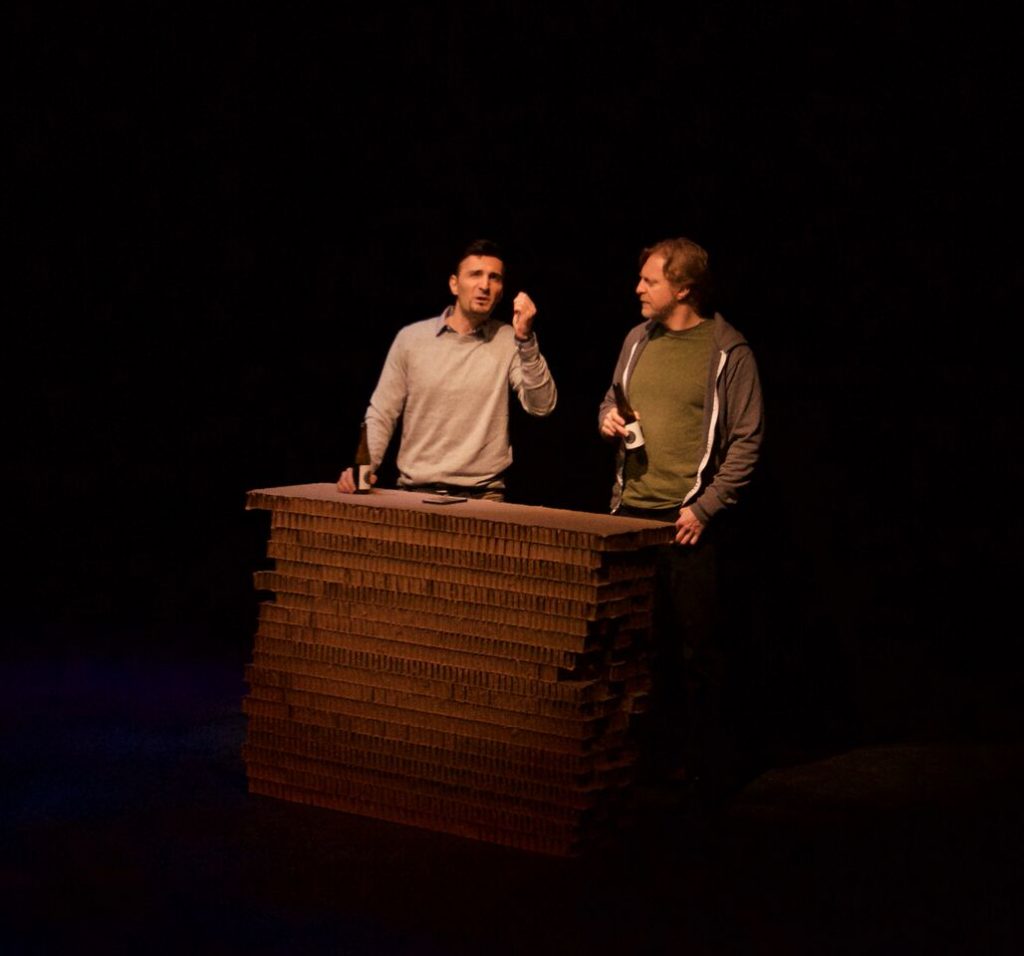 As Jan, Fargey is nervous and strung out; tracking demolitions will do that to you. Fargey always exudes intelligence and Jan is no exception: she's smart, passionate and compassionate. Chenosky manages to be both sweet and sort of dumb as Sandy while Sharon Crandall's Cherry is harder to figure out; the character is mercenary but claims to have the future of her child uppermost in her mind. We don't quite buy it.
Recent Studio 58 grad Mason Temple is Li, a satellite kid you have to love. Temple captures all the mixed feelings Li has in this new experience: freedom from parental control but lonely and missing his mother; almost adult but without adult skills; alive to the wonder of the world but not equipped to deal with it. Temple is sweet, cute, funny and charming on stage and his interaction with Fargey is the best part of the show. Housing is the issue but 'moving on' or 'adapting to change' – all six characters – is the message.
The moment you enter Performance Works, you know it's an Yvan Morissette set; he loves working with textures and this set is a variety of set pieces made of corrugated cardboard (scratching post heaven for cats).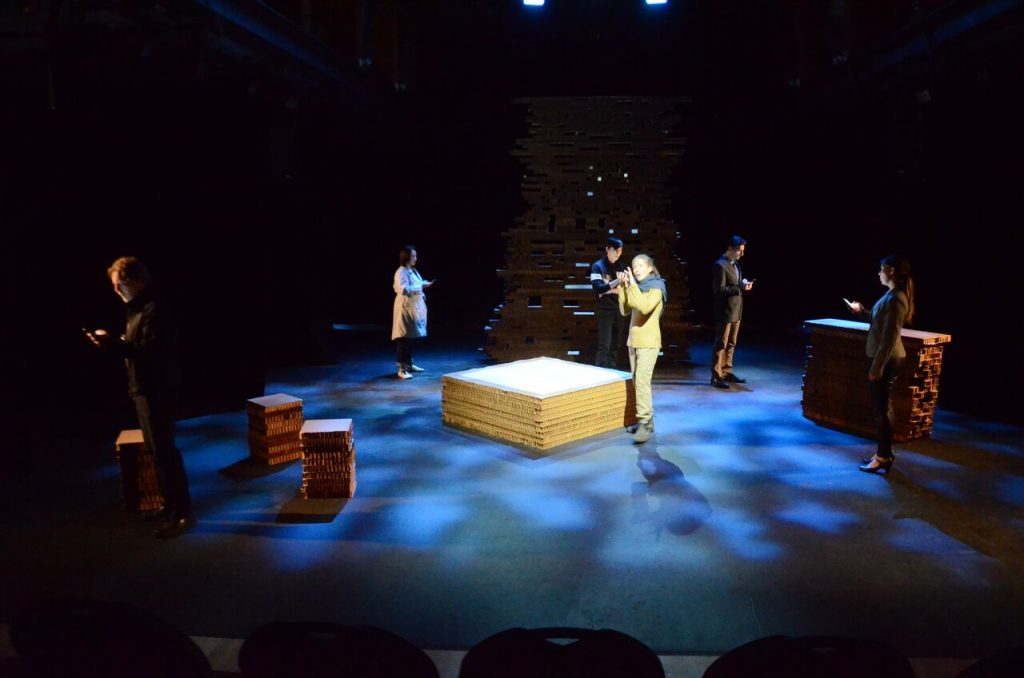 Satellite(s) ends too neatly but along the way it's provocative – you will have to rethink the plight of satellite kids. My favourite line – funny in a twisted sort of way – is about the 21st century's highest achievement: being able to buy stuff online while sitting on the toilet. Multi-tasking at its weirdest; Bushkowsky at his best.
I'm grateful to playwrights who tackle the big, local problems and Vancouver has a very big problem. Young families are crammed into small apartments while satellite kids wander around all by themselves 5,000-plus sq. ft. houses.
Directed by Bill Dow for Solo Collective Theatre, now in its 17th year of producing new plays with a lot to say, Bushkowsky puts an entertaining spin on a serious social issue.