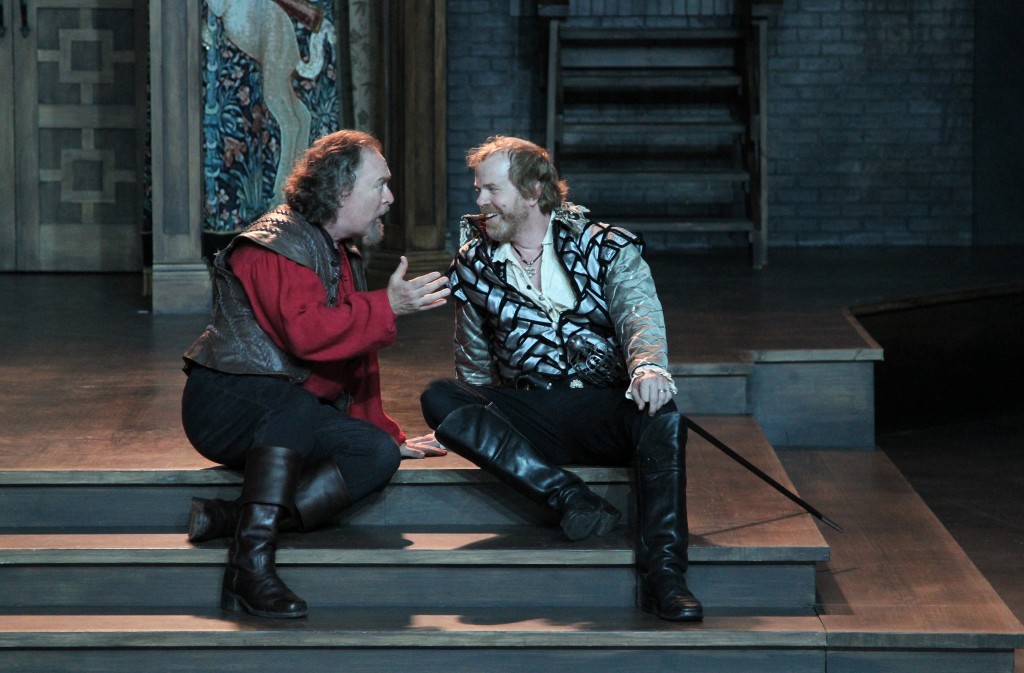 At Bard on the Beach until September 19, 2015
604-739-0559/bardonthebeach.org
Posted July 14, 2015
Shakespeare's Rebel, a brand new Canadian play, is the pick of the Bard on the Beach 2015 litter and it was celebrated on opening night with a pre-show toast of cider – compliments of Lonetree Old Growth Orchard.
Penned by C.C. Humphreys and based on his novel of the same name, Shakespeare's Rebel features the Bard as one of the characters in the play. It may be the intimacy of the Howard Family Stage or the thrill of a new play, but Shakespeare's Rebel, directed by Christopher Gaze, is the best of the four offerings.
A complicated plot follows the adventures of fictitious John Lawley (Benedict Campbell) – actor, fight choreographer for his friend Will Shakespeare, superb swordsman, gutsy soldier and lover of whisky and women. He's a lovable rogue.
The year is 1599, Elizabeth I is on the throne, there's rebellion in Ireland, and Spain is on the brink of invading England. The queen (Colleen Wheeler) is – like a bear set upon by dogs – fighting enemies on all sides. And she has taken a lover: the swashbuckling Robert Devereux, Earl of Essex (John Murphy). She sends him, against his wishes, to Ireland to quell the rebellion there. Lawley has fought alongside Devereux before but going off to Ireland means losing Tess (Jennifer Lines), the mother of their bastard son Ned (Chirag Naik). Fat, cowardly Sir Samuel D'Esparr (David Marr) will marry Tess if Lawley isn't around to prevent it. Besides, the queen has an interesting deal to offer Lawley – a deal that involves Shakespeare.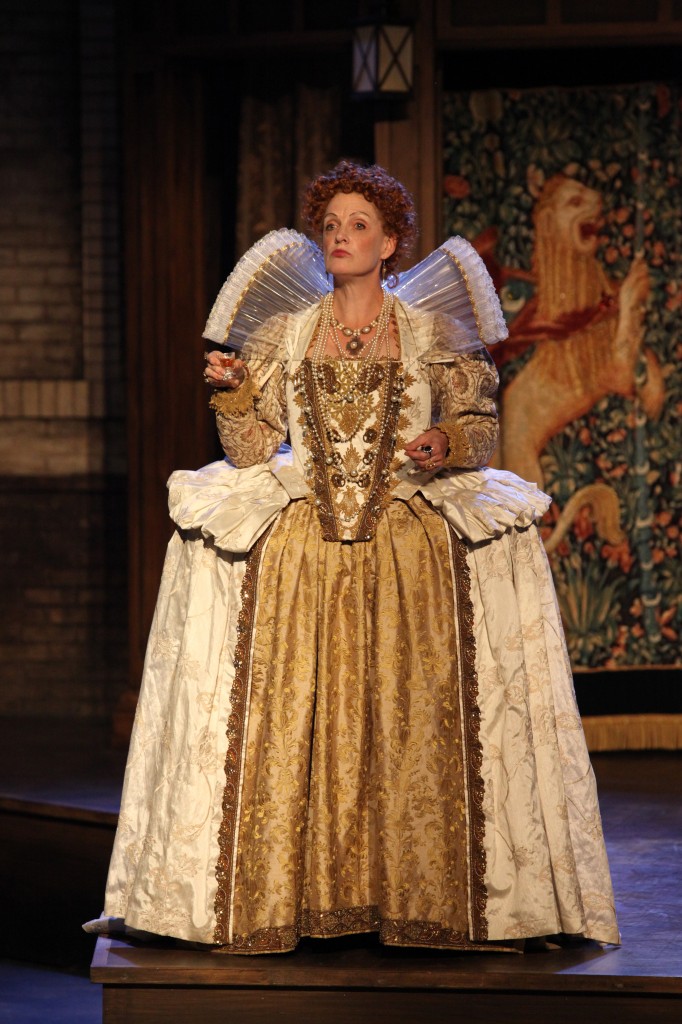 Act 2 gets very complicated and a bit unclear: does Devereux make a treasonous deal with the Irish or does he simply appear to?
Woven through all this intrigue is Shakespeare's Hamlet, which he is re-writing after its initial flop, plus a tremendous amount of clever humour and theatre history references – including The Globe and Richard Burbage (Michael Blake).
It's interesting to reflect on Timothy Findlay's play Elizabeth Rex because Shakespeare's Rebel provides the backstory. And it also recalls last season's excellent Equivocation in which Shakespeare comes to terms with Judith, the twin of his son Hamnet who died in childhood.
"Shite" howls Campbell (as Lawley) as he tries to satisfy everyone making demands on him: his actor son Ned, the queen, Devereux, Shakespeare, Burbage and Tess. Campbell is rigorous and roguish in the role and, with the excellent fight choreography by Nicholas Harrison, he convinces us of Lawley's fearless, unsurpassed swordsmanship. While we don't doubt Lawley's patriotism, we understand that he always operates out of self-interest.
Not so Devereux who is, first of all, dedicated to Elizabeth I as the reigning monarch, but who is also in love with her. Murphy shows all this turbulence and inner conflict and, in the end, great dignity.
Wheeler, in a fabulous gown designed by Christine Reimer, is a demanding queen who strides through the play. When she orders her manipulative courtiers, "Off", they leave like dogs thrown out of house for pooping on the carpet. And when the queen is caught by surprise in her bedchamber, it's a shock to see Wheeler sans makeup, sans jewels, sans majesty. In her late-in-Act 2 scene with Campbell, Wheeler has us close to tears.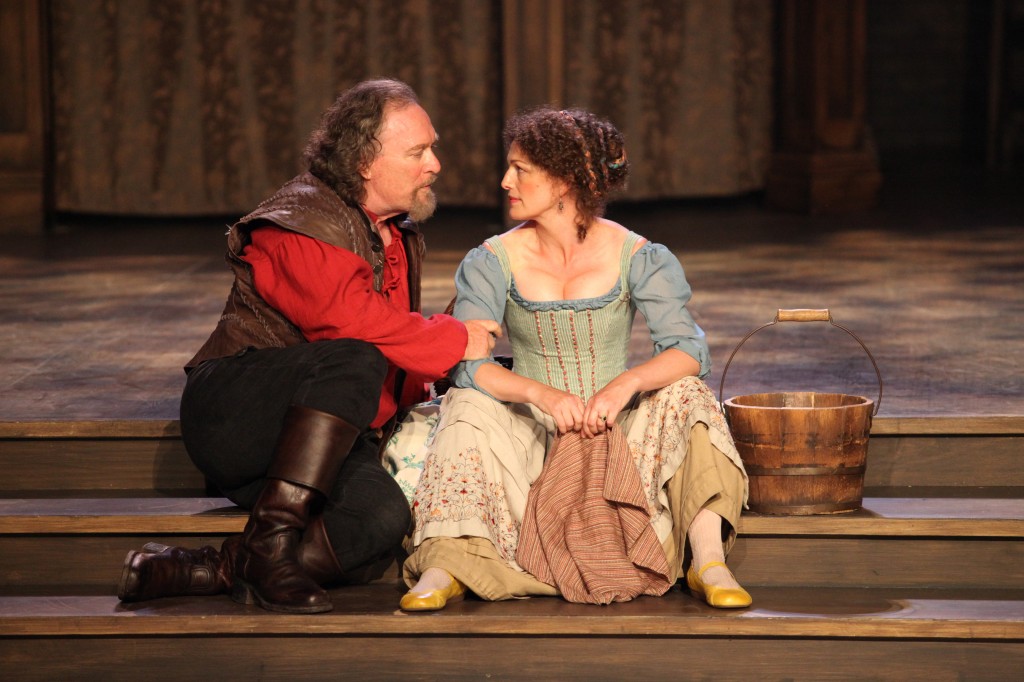 Lines, as always, lights up the stage. Her entrances always feel like someone has uncorked a bottle of bubbly. As Tess, she's feisty, beautiful and lusty. It's no wonder Lawley is so smitten. Andrea Rankin appears as Sarah, handmaid to the queen, and who briefly gets Lawley into her bed. It's a smallish part but well polished.
Intrigue upon intrigue, Shakespeare's Rebel is historically informative, witty, highly entertaining and highly recommended. As critic Malcolm Page wrote last year about Equivocation, "A smart play for smart people", this is equally true of Shakespeare's Rebel.