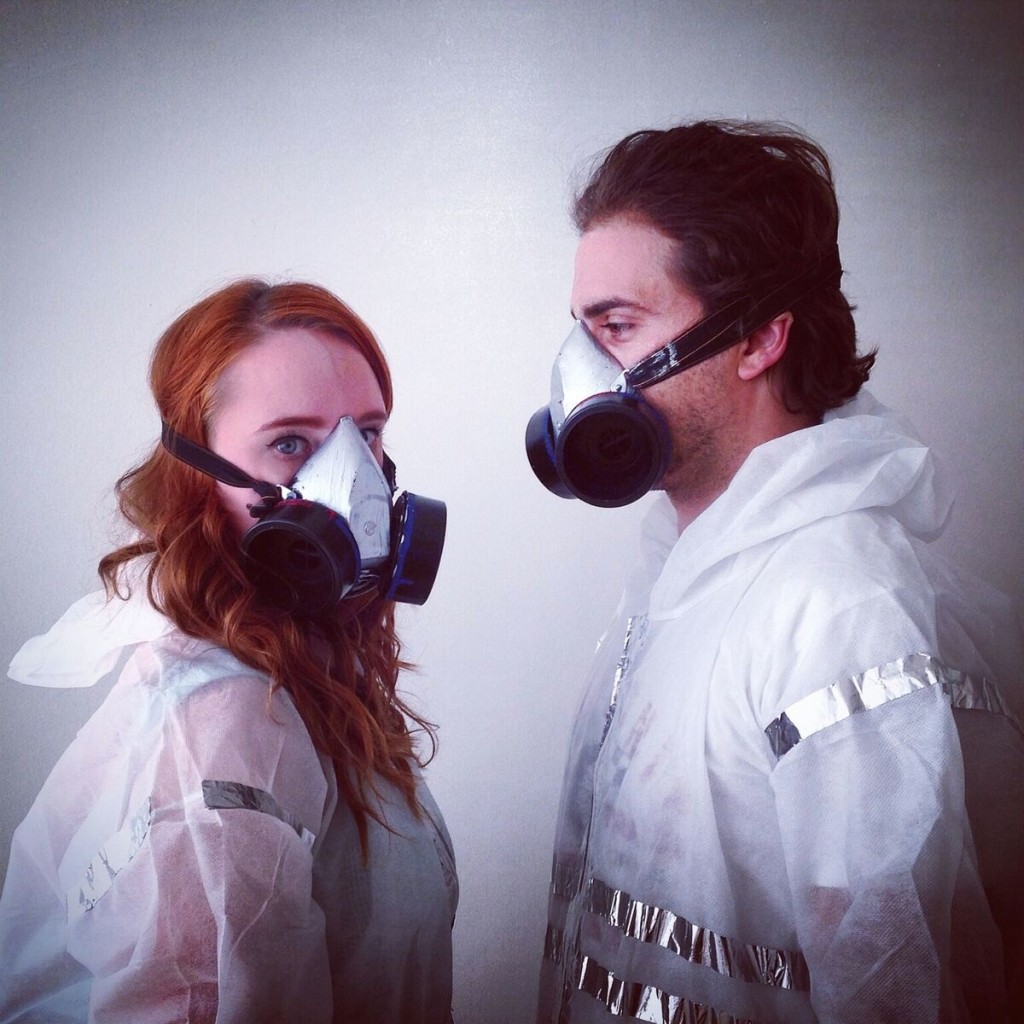 At the Firehall Arts Centre until May 28, 2016
604-689-0926/firehallartscentre.ca
Posted May 27, 2016
I don't often review short two or three-day festivals but the SHIFT One Act Festival is irresistible with its tagline: EMPOWERED WOMEN, EMPOWERING WORDS. This year – the festival's ninth year – the focus is on women playwrights and performers. I really wanted to check out what women, mostly young, had to say and I particularly wanted to see what Stephanie Izsak, an actor whose work I have seen and admired, would write about, given an opportunity.
So: four one-acts all presented one after another with a short intermission. First up: Swan Song, written by Izsak and mentored by Lori Triolo and Coco Roberge, artistic director of SHIFT Theatre. It's a quirky piece set in Purgatory, that limbo between Heaven and Hell. The solo character (played by Izsak) is an interviewer at the Pearly Gates, handing out clipboards and questionnaires to the newly arrived (audience members in the front row). It's her job to 'catalogue' everyone. Of course, she commiserates – very briefly – and acknowledges their first thought upon arrival, "Oh, shit, I'm dead" followed by "Why the heck am I not in Heaven?" She has a couple of telephone conversations with The Big Boss, also someone trying to use a printer and, inexplicably, an onstage stuffie in a dress. The piece, a bit too long at about 50 minutes, is full of oddities and clever inventions, and excellently performed by the playwright who, totally unpredictably, sings enough original songs, accompanied by musician Matt Grinke, that Swan Song almost qualifies as a musical. Izsak shows promise and is worth keeping an eye on.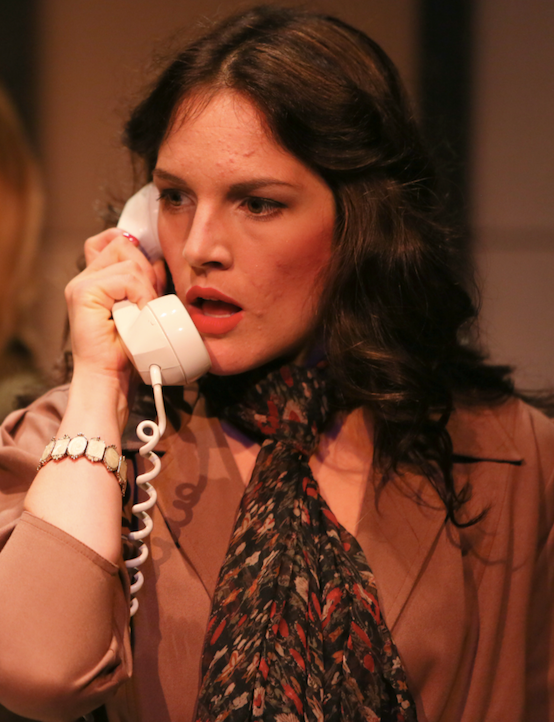 Bailey Soleil Creed created and performed Dream Interlude, about a ten-minute interlude featuring the playwright as a sort of clown conquering her fears and slaying a dinosaur with a chainsaw. Definitely kooky. Creed's final message? "The secret to bravery is to fake it."
After intermission, two more one-acts followed, beginning with Fall-Out Picnic, a futuristic scenario written by Mily Mumford and performed by Mumford and Sean Harris Oliver. Directed by Jessica Nelson, the performers are at awkward odds: Mumford plays it fairly straight up while Oliver goofs it up. It's a post-nuclear picture of two might-be lovers reconstructing an old-fashioned (like now) picnic. References are made to the dirt around their red/white-checkered tablecloth actually being radiation-laced ash and we recognize that Fall-Out Picnic is an accusation against 21st century earthlings for screwing it all up. But it's all light-hearted. When their Geiger-counters and oxygen indicators start beeping, they run off – almost giggling. Humour as a way of defusing anxiety?
Almost a Stepmom, written and performed by Keara Barnes, comes straight from the heart: it's unabashedly autobiographical. And there's power in that. Directed by Michael David Steward, it's a story of love and loss but in this particular case, the loss is most deeply felt by Aiofe, a 10-year-old little girl. In a way, Almost a Stepmom is a cautionary tale: when love dies, the adults can pick up the pieces but a child, already emotionally traumatized by divorce and an alcoholic mother, has a hard time when Dad's new girlfriend ends the affair and returns to Canada. Barnes is a very charismatic performer, a terrifically engaging storyteller and I expect we will see and hear more from her.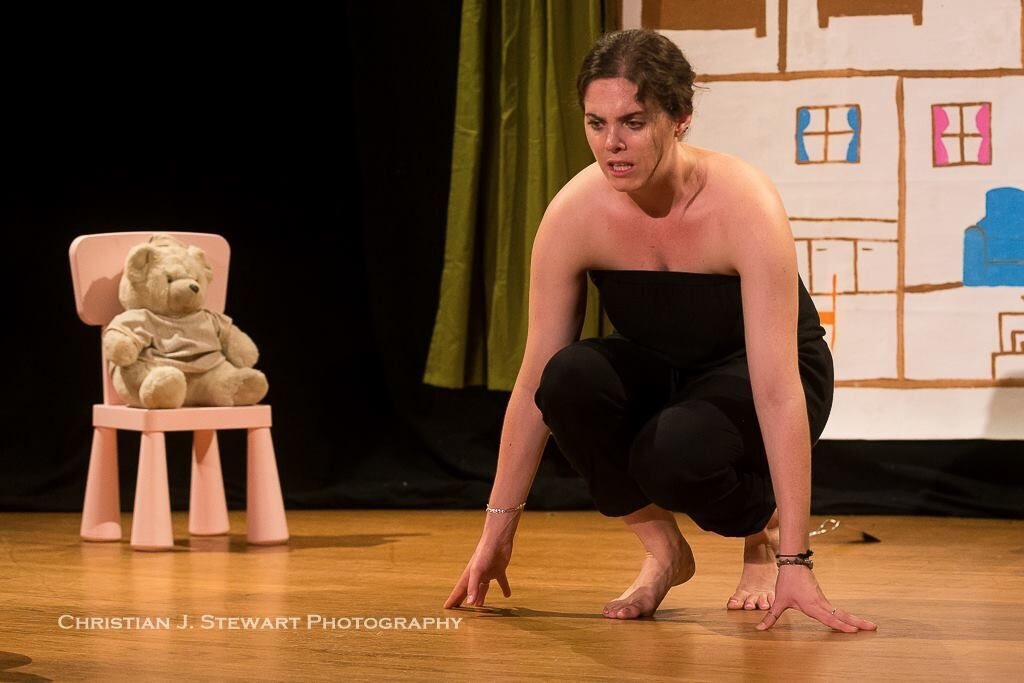 While the four pieces are completely dissimilar, there are common threads: responsibility, fear, guilt and risk. Pretty much what concerns all of us but expressed through the lens of four young playwrights.
It's an interesting sampling presented by SHIFT theatre and a window into what kind of ideas are running through the heads of young women.