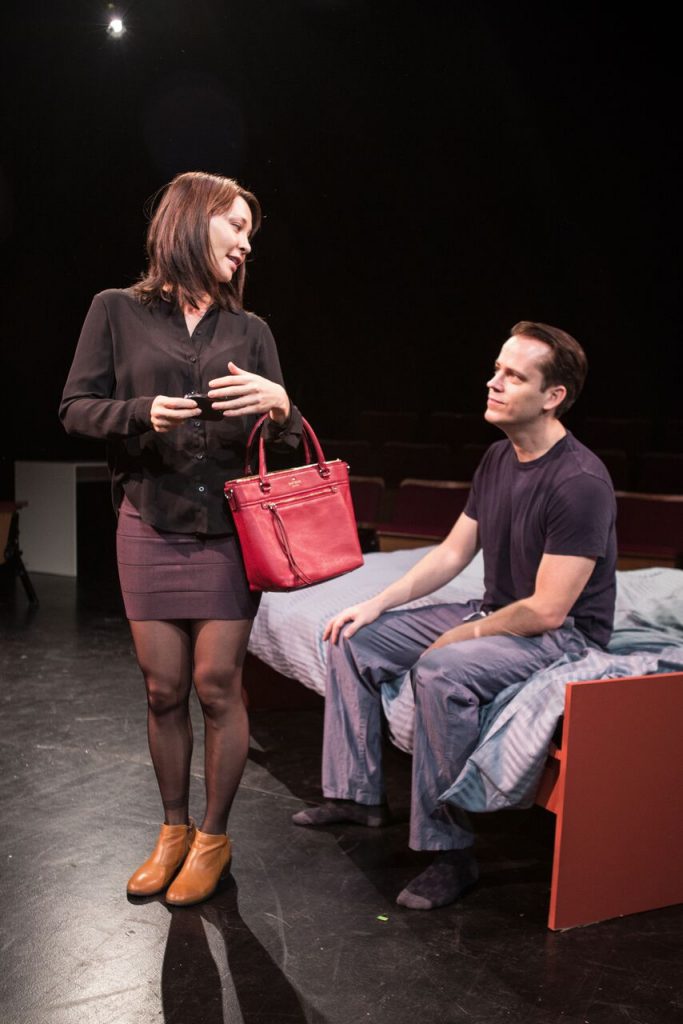 At Studio 16 until November 18, 2017
Tickets from $26. 2 for 1 Tuesdays. www.brownpapertickets.com
Smart People, written by American playwright Lydia R. Diamond, is about four smart people. How smart? African-American Jackson (Kwesi Ameyaw) is a young surgical intern at Harvard Medical School; he also runs a clinic for low-income earners. Brian (Aaron Craven) is a white, Harvard neuroscientist who has 'proven' through clinical trials that white people are hard-wired to hate black people; it's in our DNA, he claims. Ginny (Trisha Collins) is a tenured Harvard psychology professor, American by birth but of Japanese/Chinese ancestry. She has a private psychiatric practice, counselling women of visible minorities, mostly Asian. Valerie (Katrina Reynolds) is an African-American MFA (Acting) graduate auditioning for the role as Portia, Brutus's wife, in Shakespeare's Julius Caesar.
They're smart. And they talk smart. And they talk a lot, especially in Act 1.
But they all come with hot buttons that, when pushed or gently prodded – or not touched at all – result in super sensitive over-reaction. Valerie, for example, is outraged when Jackson appears to assume – because she is black – that she has been beaten when she arrives at his clinic with a facial wound. Actually, she has walked into a door. But either way she needs stitches, he sews her face up and a spark is ignited.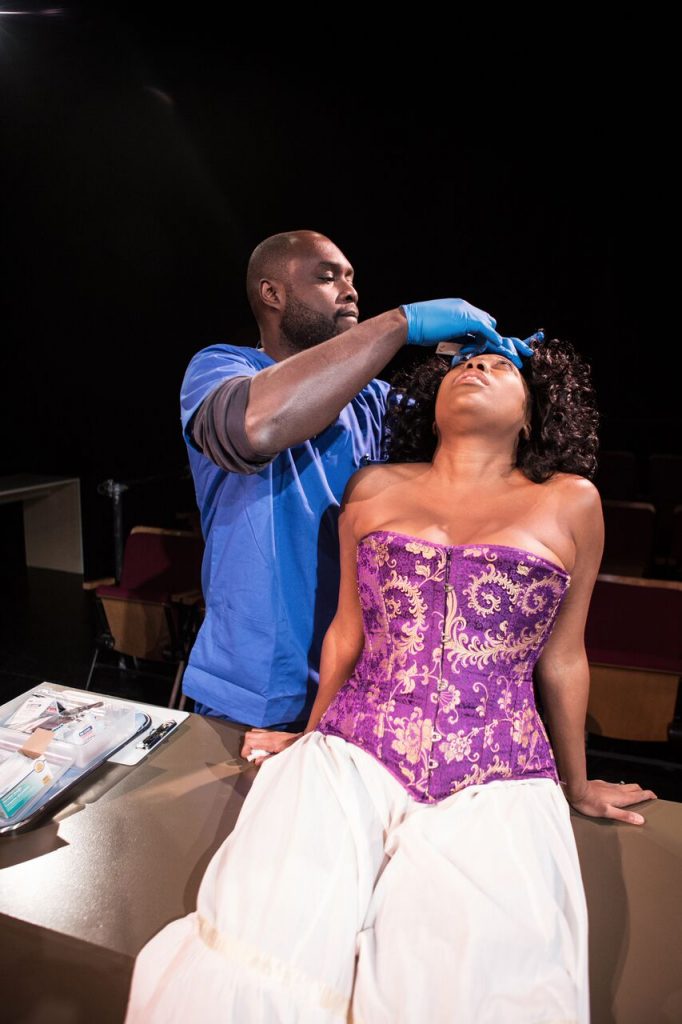 Brian and Ginny meet at a conference; she's beautiful and intelligent and although she accuses him of racism because he excludes Asian-Americans from his research, she grudgingly accepts a dinner date. She says he is the only other person attending the conference that is as smart as she.
For very smart people, they are incredibly touchy and poorly equipped for relationships. Sex, yes. Relationships, no.
This is the latest play from Mitch and Murray Productions, a company that has delivered some of the most exciting theatre in the past few years: Race, Speed-the-Plow, Lungs, Rapture Blister Burn, Detroit and Becky Shaw. Directed by David Mackay, Smart People is another provocative play that leaves you pondering it long after the curtain comes down. Playing with racial stereotypes on stage leaves us questioning our own attitudes and that's always a challenging exercise. Do we really not buy into some of the racial stereotypes out there?
Craven's cool, cerebral approach to Brian doesn't endear the character to us nor should it. Brian is flippant and condescending and, really, who would take his research seriously? Collins' Ginny is soft-spoken, supportive and understanding when working with clients but assertive and abrasive otherwise; she has a lot of attitude when it comes to those less well-educated, less well-positioned as she. Collins brings all that sleek confidence to the role. There's not much to like or pity about these two characters.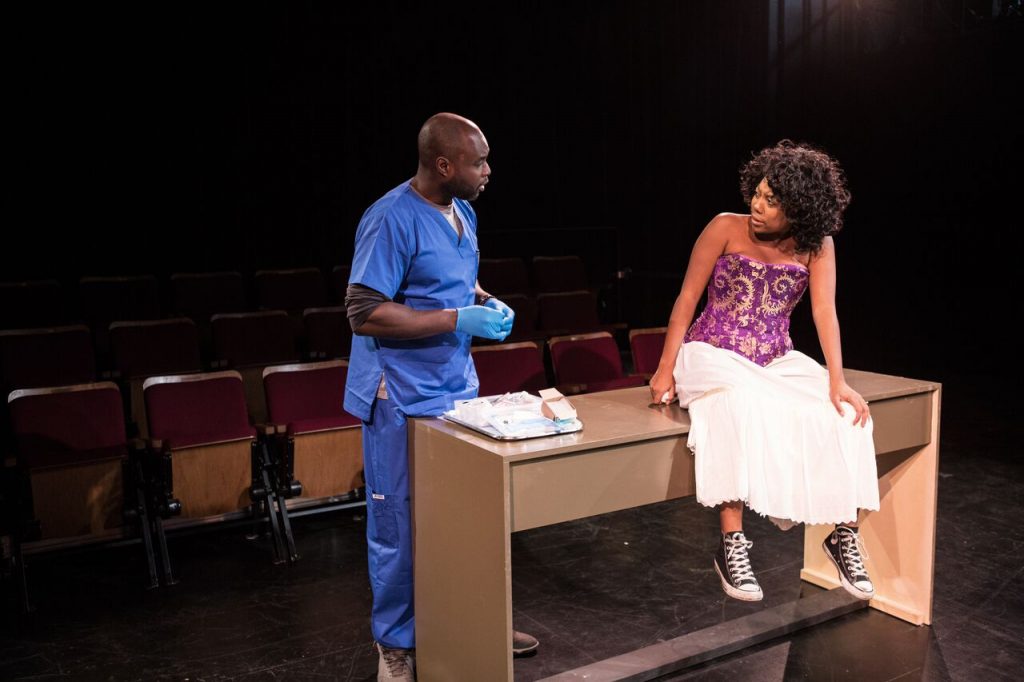 Ameyaw and Reynolds' characters fare slightly better. At least there seems to be blood flowing in Jackson and Valerie's veins. As African-Americans, these characters probably have been on the receiving end of racism. Ironically, Valerie and Jackson seem to have bought into some of the same stereotypes as whites: she doesn't at first recognize Jackson as a doctor – dismissing him as some sort of hospital worker. And he teases her about liking vinegar in her hot sauce – or some such thing – like African-Americans do, according to Jackson. As if she can't like it just because she likes it. The dynamic between Ameyaw and Reynolds raises the temperature in this otherwise cool climate.
All of the action is set on the days preceding Obama's election in 2008. If he is elected, do these characters expect it will change attitudes? Does it challenge Brian's theory about all whites being inherently racist?
Smart People ends as the election result is announced. Brian appears to be electrically wired as if calculating his neural response. Valerie, Ginny and Jackson – alone in their respective corners of the performance area – appear contemplative.
These are smart, complicated characters. This is a smart, complicated play. Smart, complicated people should see it.