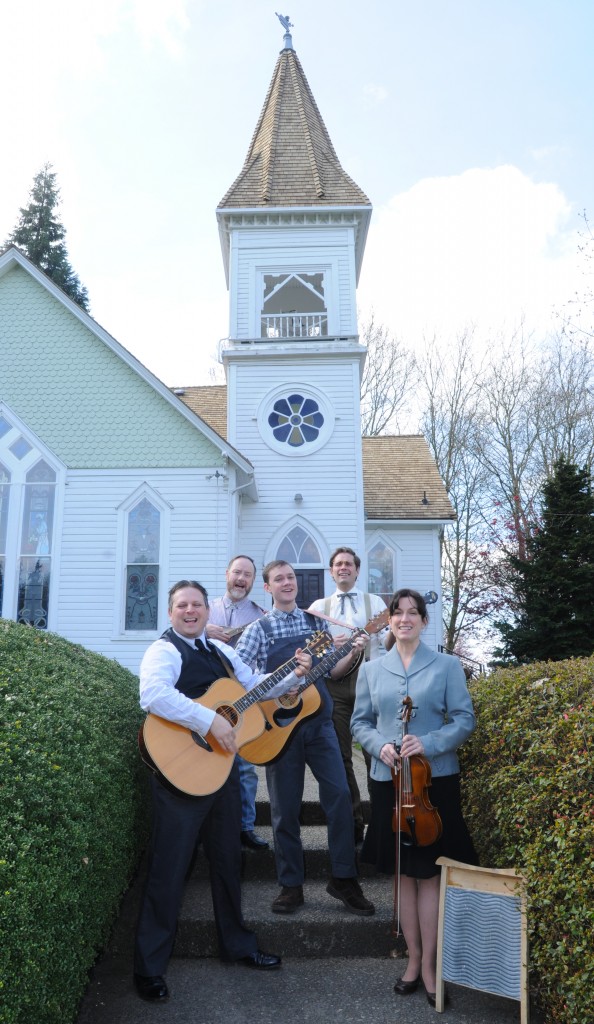 At Pacific Theatre until November 1, 2015
604-731-5518/pacifictheatre.org
Posted October 12, 2015
Directed by Sarah Rodgers, this Midnight Theatre Collective Production is well done: good voices, sublime harmonies and a cast of a dozen all of whom play a variety of musical instruments including guitar, upright bass, piano, banjo, fiddle, spoons and washboard. The opening night audience applauded enthusiastically at curtain although it fell short of clapping along – actively and hopefully encouraged by the performers – and only sporadically singing along to songs like "When The Roll Is Called Up Yonder" or "Bringing In The Sheaves". The show is a Bible-thumper with a host of "Hallelujah!"s and "Amen"s.
More a revival meeting than a play, Smoke on the Mountain presents a problem for lapsed or non-Christians. For some of us, lyrics like "There is pow'r, pow'r, wonder-working pow'r/In the precious blood of the lamb" simply don't resonate.
The structure is formulaic: a couple of songs and then the spotlight on a single character who relates a life-changing, life-affirming, praise-Jesus event. And repeat until everyone – even shy June (Kaitlin Williams) – has his or her say. We know from the start that uptight, snippety little old ladies Maude and Murtile (alternately played by Amy Dauer, Eleanor Felton, Sharra Ganzeveld and Elaine Lindbjerg) will eventually get on their feet, lose their inhibitions and shake their boodies as much as their old joints will allow. And we're pretty sure that Pastor Mervin Ogelthorpe (Mack Gordon) won't get to deliver his sermon as planned; he may even try to steal a kiss from Vera. Wrap it up in a rousing, tambourine-shaking dance and that's pretty much the show.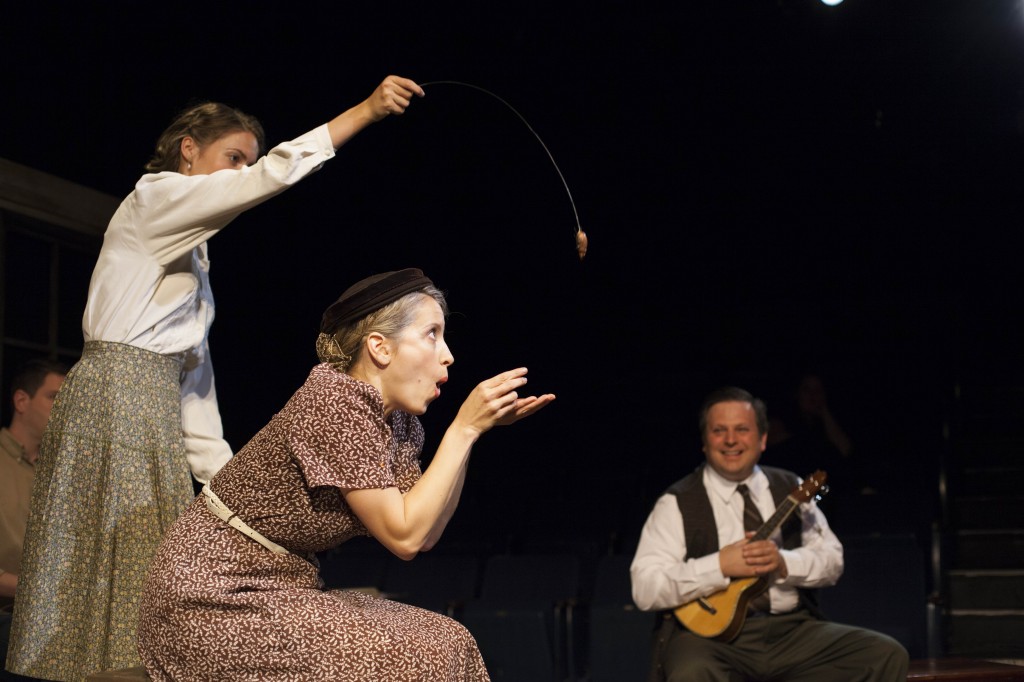 The setting is the Mount Pleasant Baptist Church in the Deep South; the year is 1938. The Sanctified Sanders Singers have accepted an offer, after a 5-year hiatus following Mama Sanders being "called home", to lead a "sing". Pastor Ogelthorpe's invitation was not unanimously supported by the congregation, apparently. Maude and Murtile are initially shocked by the antics (dancing and general joyful noise-making) of the remaining six adult Sanders: Burl (Damon Calderwood), twins Denise and Dennis (Kim Larson and Matthew Simmons), Stanley (Gordon Roberts), June (Kaitlin Williams) and Vera (Lalainia Lindbjerg Strelau) plus Cousin Clem (Stephen Bulat) and Cousin Cletus (Kevin MacDonnell). Can't you just smell bales of hay, chicken feed and pails of milk?
By 8:20 on the evening I attended, it was obvious there was not going to be much of a plot and a whole lot of scripture recitin' and gospel singin'. Conflict amounts to Vera trying to outdo Pastor Ogelthorpe in quoting verses from the Bible.
Still, for what Smoke on the Mountain is, it's well done. I'm a bluegrass music fan and hoped for something less 'churchy' but for a targeted audience of churchgoers, it's probably a folksy, uplifting evening.
According to director Rodgers' notes, "this is the most highly produced musical in the United States." That, I think, says more about the US, than it does about Connie Ray's book with musical arrangements by Mike Craver and Mark Hardwick.
Smoke on the Mountain is a guest production by Midnight Theatre Collective, presented by Pacific Theatre, which has established itself as a company that explores spirituality in all its edgy manifestations. Plays like Espresso, Playland, The Whipping Man, Freud's Last Session and Underneath The Lintel have provoked, challenged, shaken and moved us.
Smoke on the Mountain, on the other hand, aspires to entertain;  that, for some of us, is just not enough. There's some smoke here but not enough fire.