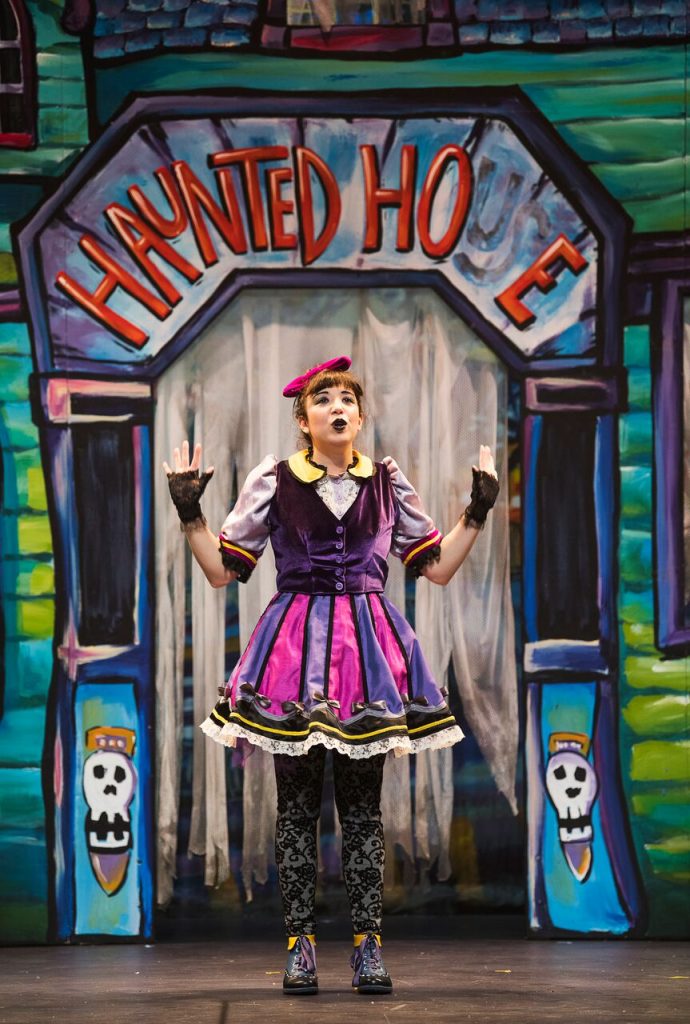 At the York Theatre until January 6, 2018
Tickets from $22 at tickets.thecultch.com/251-604-1363
Posted December 2, 2017
What starts with 'C' and ends with 'S'? Christmas, you say? No, you frazzled Christmas shopper – 'Census'.
Census taker (Amy Rutherford) kicks off the 2017 East Van Panto, written by Mark Chavez, and sets the stage for a little more than two hours of goofiness based on Snow White & the Seven Dwarves. They aren't dwarves at all but are a jeans-and-headband musical group with cardboard instruments; three of them are kids who look to be about eight or nine, maybe younger. (There are, as well, several really adorable little kids in the show.)
The real band is Ben Elliott (musical director and keyboards) and Todd Biffard (percussion) and they provide the music for Veda Hille's music and lyrics (with some additional music and lyrics by Ben Elliott.)  The songs, with rewritten words, are familiar to those who are up on their pop music: Bootylicious by Destiny's Child, Lose Yourself by Eminem, Can't Stop The Feeling by Justin Timberlake and more.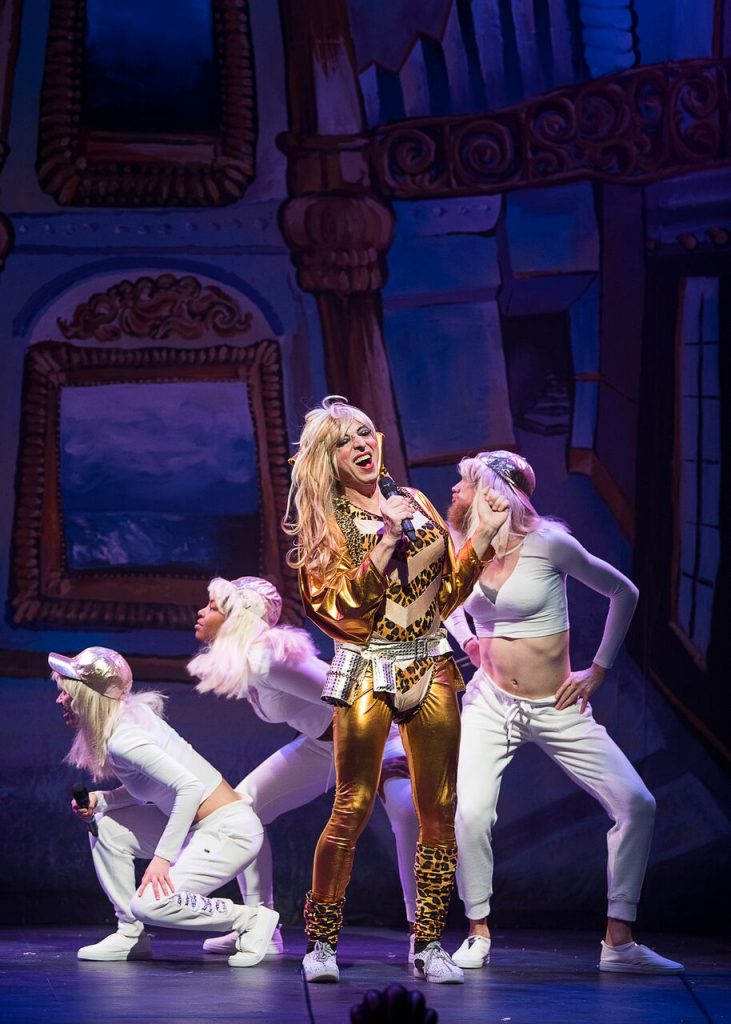 Choreography is by Kimberly Stevenson; lighting by Adrian Muir; outrageous costumes – including some shiny, shimmering black crows – are the creation of Marina Szijarto. (Alan Zinyk shares the role of iconic East Van crow, Canuck, with  Studio 58's Margaret Onedo). And wait 'til you see the East Van mother's costume – a grab bag of layers and layers of Value Village. Set and properties designer: Yvan Morissette.
And once again all the craziness happens in front of Laura Zerebeski's wonderfully wonky, cartoony backdrops: the interior of a West Van mansion, a view of the Ironworkers' Memorial Bridge with Lions Gate in the background, a Haunted House and several more. Zerebeski defines her work as combining surrealism and expressionism, taking "familiar scenes and re-imagining them with a bright mix of caricature and idealism." They are an absolute highlight, year after year, of the East Van Panto.
In this re-envisioning of Grimm's fairytale, Snow White (Ming Hudson) is imprisoned in a West Vancouver mansion with her wicked stepmother (Zinyk again). Blond-haired, lipsticked, big-boobed and all in gold lamé, the stepmother keeps Snow White from exploring the world beyond the walls of the house. "I wish I could live in a place where it's normal to be weird", cries Snow White. That place would be East Van, eh?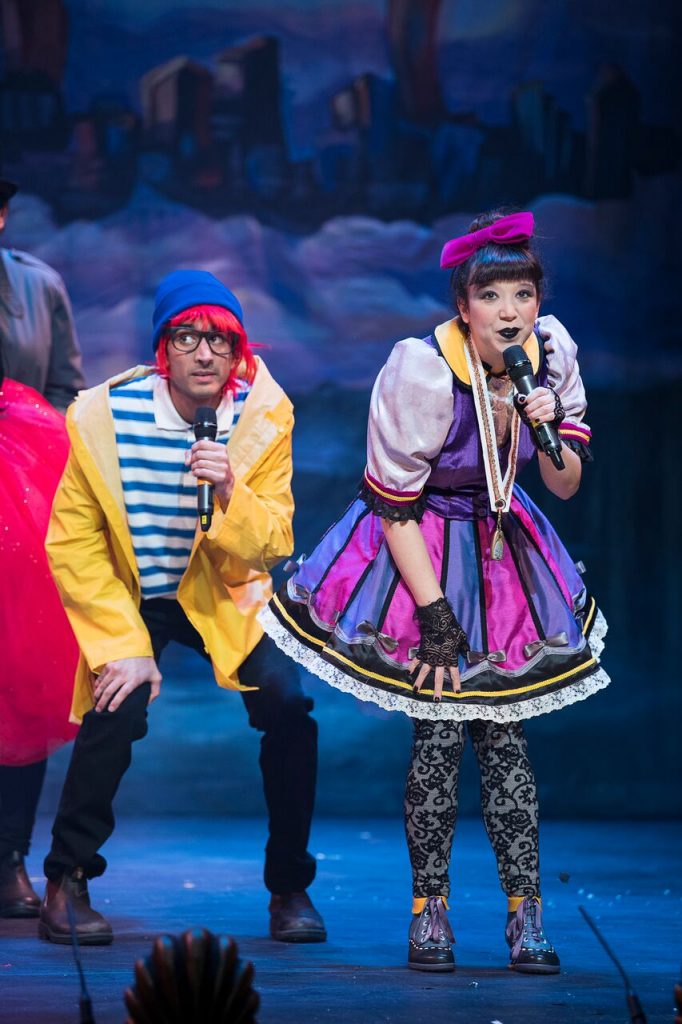 She escapes with a student (Chirag Naik) who's in the employ of the wicked stepmother and who has been coerced into killing Snow White. "Make her disappear like the Sears' pension plan", orders stepmother. But, of course, he can't do it.
Together they flee to Playland and move into The Haunted House.
Shenanigans ensue.
While kids in the audience are booing and hollering, "Oh, no you don't", adults are getting a laugh over cracks at the local scene: something is "harder than getting a table at Vij's" or "As long as I can remember or, as Canada puts it, 150 years."
Ming Hudson, wearing Fluevog shoes and a brightly coloured dirndl, makes an appealing Snow White. She's perky and pretty and I agree with her when she sings, "I don't need celery to have fun". Zinyk, as always, is a hoot, cawing his way through part of the show and shaking his booty when he's the botoxed stepmother aka The Queen. Amy Rutherford appears in various roles including the image in the mirror that respond wearily to the queen's constant questioning: "Mirror, mirror on the wall, who's the fairest of them all?"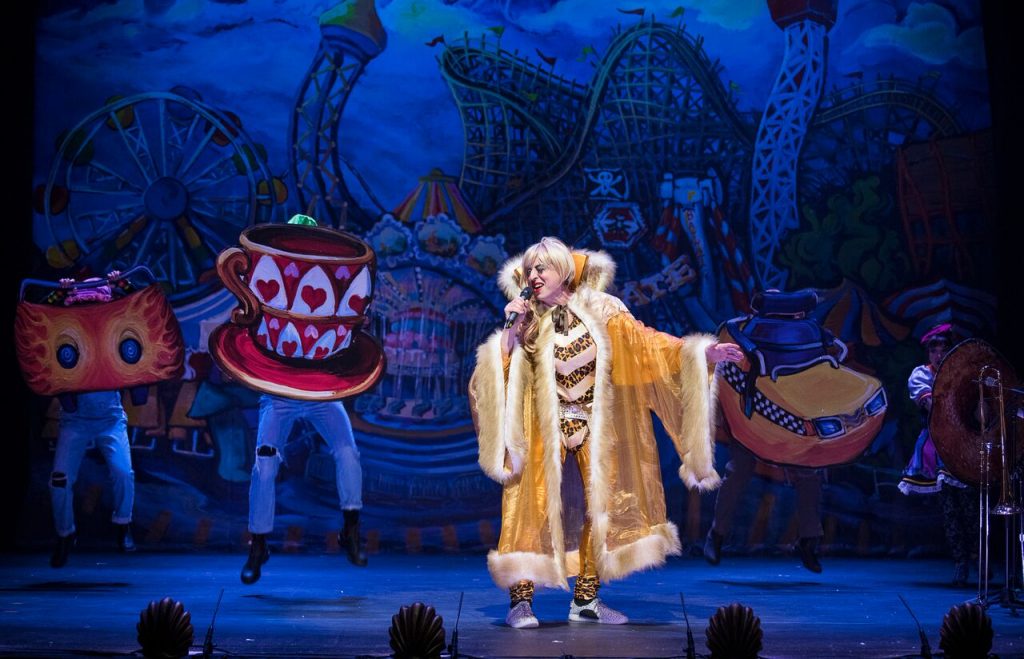 Directed by Anita Rochon, it's all good fun although I found it a little long this year and my energy lagged a little after the intermission – maybe just because the line-up for sustenance at the bar was discouragingly long.
But the excited kids in the audience hung in there on opening night for the whole two-plus hours. And that's what the panto is all about. Census or Christmas, Theatre Replacement, in cooperation with The Cultch, gives audiences a gift of music, fun and laughter; it's a labour of love. Checking out ticket availability indicated tickets are going faster than a Ferrari speeding across the Lions Gate Bridge at 3AM so you'd better not wait for Santa to put some tickets in your stocking or under the tree. Buy them now and send the bill to Santa.