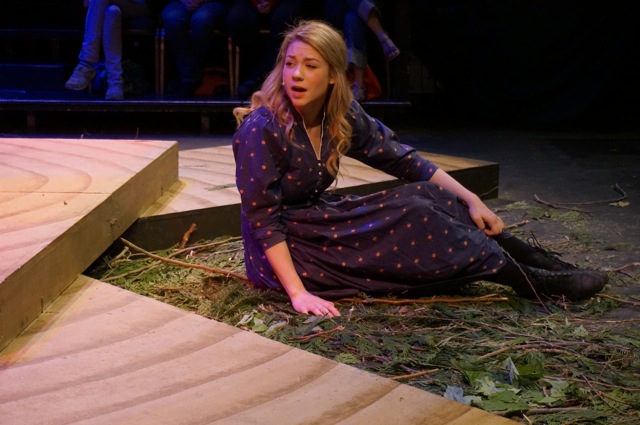 At Jericho Arts Centre until May 17
ticketstonight.ca
Posted May 4, 2014. More production photos coming.
The late 19th century was not a good time to be a teenager in small-town Germany; strict religious and social codes of behaviour kept young adults straight-jacketed while puberty raged within them. While no one advocates thirteen or fourteen-year-olds having sex all over the place, at least what's happening to their bodies needs to be explained and acknowledged. Failure to do so has dire consequences including suicide.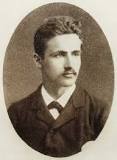 German playwright Frank Wedekind wrote Frühlings Erwachen (Spring Awakening) in 1891 but the content – sex, rape, masturbation, abortion, child abuse and homosexuality – kept the play from being produced until 1906 when it was directed by Max Reinhardt in the Deutsches Theatre in Berlin. Even in the USA, Spring Awakening had a rude awakening in 1917 when it was threatened with closure because of its "pornographic" nature. As late as 1963 a production in England ran for only two nights and only in a censored form.
The 2006 US musical adaptation (Steven Slater, book and lyrics; Duncan Sheik, music) has had an easier ride, winning eight Tony Awards including Best Musical.
This Fighting Chance production of the musical (in association with Renegade Arts Company), directed by Ryan Mooney, is fairly sexually explicit. Friends of friends walked out at intermission a couple of nights before I attended with my sixteen-year-old guest who was completely at ease with the material and presentation. There was nothing she hadn't seen before on film or on TV.
Of course, the story is dated and Spring Awakening, a rock musical, is a bit of an anomaly: old story/contemporary music.
Young Wendla (Sarah Smith), about to become an aunt for the second time, asks her mother (Nancy von Euw) how babies are born. Her mother tells her that for a woman to conceive a child, "she must love her husband with her whole heart." Not enough info and, disastrously, suggests a "husband" is a requirement.
In segregated schools, the girls fantasize about the boys – especially handsome, clever Melchior (Chris Carson) – while the boys rage against their nightly wet dreams and sing, "The Bitch of Living."
Melchior's schoolmate, the highly nervous Moritz (Myles MJ McCarthy), fears he is going crazy with his nightly sexual fantasies and he asks for help from the much more knowledgeable Melchior. Melchior writes him an essay, complete with illustrations: a paper trail that will come back to ruin him.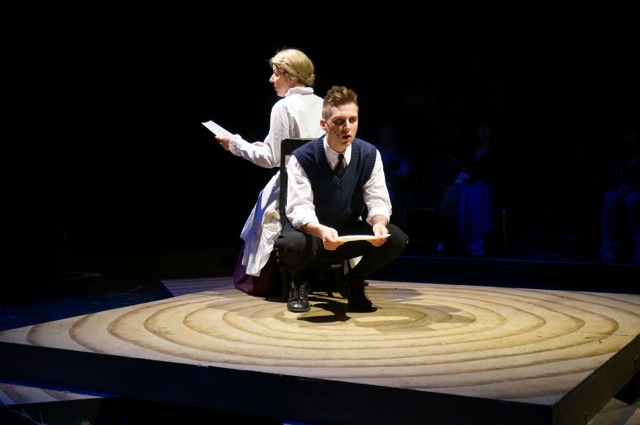 The obvious happens: Melchior and Wendla hook up. While it was rape in the original play, it's much more ambiguous in the musical. In this production what happens looks hesitantly consensual.
Mooney's in-the-round set design is very effective with lanterns and paper blossoms hanging from overhead. Cedar branches litter the floor. It looks and smells like Spring. Under Clare Wyatt's musical direction, there's a six-piece, just offstage, orchestra; Ciara Dixon's cottony frocks and boy's school uniforms turn the clock back to an earlier time. The choreography, however, feels self-conscious but this might relax over the run.
There are some very fine voices and new faces here. Smith and Carson make a charismatic pair of young lovers and both have beautiful voices; McCarthy does a hauntingly beautiful job of "Don't Do Sadness" and Adriana Ravalli, as Ilse, almost brings tears to your eyes when she sings, "Blue Wind".
The big numbers are big and you've gotta love, "Totally F****d": "Yeah, you're f****d all right and all for spite/You can kiss your sorry ass goodbye."
The music isn't easy and some voices are not strong and/or true but the closing, full ensemble number, "The Song of Purple Summer", is a perfect wrap.
Fighting Chance Productions never blinks; it tackles what Ryan Mooney, the artistic director, thinks needs tackling. Past successes have included one of the best Sweeney Todd's I've seen and next season is really ambitious: Carrie: The Musical; Into the Woods; Little Women; and Jesus Christ Superstar.