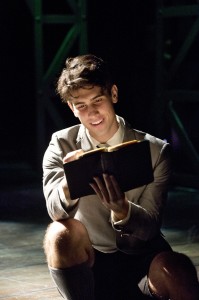 At Studio 58 until February 24
604-684-2787/ticketstonight.ca
Posted on February 15, 2013
Daffodils are thrusting through the ground and the buds on the maples are swelling. Spring, in all its fecundity, is rushing in. But what's happening in the garden and forest pales in comparison to what's happening on the Studio 58 stage.
Spring Awakening was written in 1891 by Frank Wedekind, a German writer whose detractors claimed he wrote "dirty, unsavoury plays" but whose admirers, including and especially Bertolt Brecht, thought he was a genius. So certain was Wedekind that no theatre company would touch Spring Awakening due to its sexually charged content, he published the play himself and it was snapped up by young readers across the country. It wasn't until 1906 that producer Max Reinhardt mounted the play (at the Deutsches Theatre in Berlin) but not without removing Act 3, Scene 4 in which a group of boys in a juvenile detention home urinate or ejaculate together and Act 3, Scene 6 in which two boys kiss. Act 2, Scene 3, in which a teenaged boy masturbates over the photograph of the Venus de Palma Vecchio, was also excised. Seventy-five years would pass before it was mounted in England.
In 2006 Steven Sater (book and lyrics) and Duncan Sheik (music) turned Spring Awakening into a multi award winning rock musical. The conflation of a 19th century tale of teenaged sexual repression and the highly sexualized teenaged culture of the 21st century is astonishing, provocative and often funny. Imagine, for example, schoolboys in short pants, knee sox and grey blazers and the girls in prim cotton frocks (costumed by Marina Szijarto) pulling microphones from their pockets and exploding into, "Yeah, you're f*cked all right – and all for spite/You can kiss your sorry ass goodbye/Totally f*cked – will they mess you up?/Well you know they're gonna try".
Directed by David Hudgins, this musical is perfect for Studio 58. The performers are barely out of their teens and the kind of energy they bring to the show is explosive.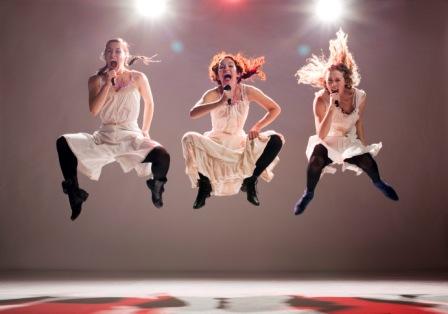 In the story, Melchior (Riun Garner), an adolescent in a strongly religious, uptight German provincial town, struggles with his burgeoning sexuality as do his friends – especially sensitive Moritz (Dallas Sauer). The girls, too, are awakening and eager to understand their bodies' new sensations. When Wendla (Lauren Jackson) begs her mother for information about where babies comes from, her mother puts her off with a lot of blather about loving the man you're married to. Recipe for disaster.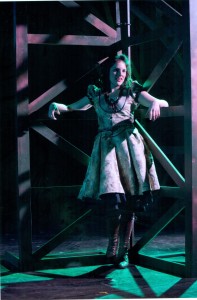 Some twenty songs, accompanied by an onstage five-piece band, range from highly percussive to heart-achingly lyrical and Shelley Stewart Hunt's choreography captures all the excitement and frustration these young characters feel.
It's a kind of Romeo and Juliet story with a twist. Garner, as Melchior, is so earnest and Jackson, as Wendla, is so sweetly innocent – although one has to wonder when she begs Melchior to beat her.
Wedekind, however, delves well beyond the usual star-crossed lovers theme and introduces, by way of Martha (Erica Hoeksema) and Ilse (Stephanie Izsak), sexual and physical abuse. Together they sing the heart-wrenching "The Dark I Know Well". Later, the consequences of her father's sexual interference surfaces when Ilse, now a sex toy for a colony of bohemians, tries to connect with Moritz whom she has always cared for. If she hasn't already broken our hearts, Izsak is devastating when she bares Ilse's unhappiness and longing in "The Song of Purple Summer".
Hanschen (Dominic Duchesne) and Ernst (Alex Strong) provide the much-tabooed (in 19th century terms) homosexual element.
Admittedly, Wedekind, Sater and Sheik make for unlikely bedfellows. But Spring Awakening is strangely compelling and, for the most part, wonderfully realized. Director Hudgins could have pulled back on a couple of performances but overall, this production is so far from the usual musical theatre fare, that I revelled in it. My guest put it aptly: Brecht with sex.