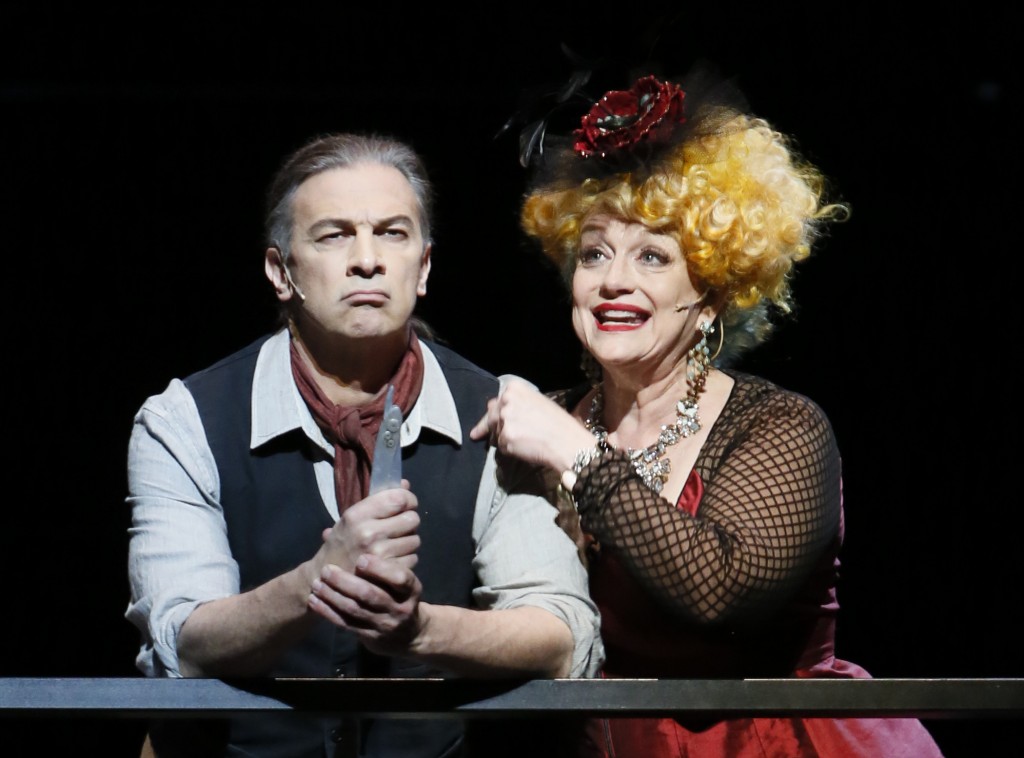 At the Queen Elizabeth Theatre until May 3, 2015
604-683-0222/www.vancouveropera.ca
Posted April 27, 2015
This Vancouver Opera Association production of Stephen Sondheim's Sweeney Todd (with book by Hugh Wheeler) is an extraordinary achievement by Kim Collier, co-founder and co-Artistic Director of Vancouver's cutting edge Electric Company Theatre. She's a director who brings startling innovation and excitement to all her work, including All The Way Home on the Queen Elizabeth Theatre backstage in 2012, a daring production of Hamlet at Bard on the Beach in 2013 and an unforgettable St. Joan at the Stanley in 2014.
This Sweeney Todd, with a cast of about three dozen, including the Vancouver Opera Chorus plus the thirty-piece Vancouver Opera Orchestra under the direction of Jonathan Darlington, is epic in scale and is, astonishingly, Collier's first venture into the world of opera. The orchestra is seated on stage, in full view, under a massive metal 'bridge' that rotates, comes forward and back; on it's 'deck' is Todd's barbershop. This imposing scenic design is by Robert Gardiner with lighting by Alan Brodie. Everyone is frequently on stage at the same time with movement coach Wendy Gorling keeping them all coordinated.
It's big. And it's grisly. Sondheim based Sweeney Todd on a gory tale of murder and cannibalism that appeared in a London 'penny dreadful' in 1846. Todd, aka Benjamin Barker (Greer Grimsley), has returned after fifteen years of exile in Australia following trumped up charges by corrupt Judge Turpin (Doug MacNaughton) and his henchman Beadle Bamford (Michael Barrett). The judge coveted Lucy, Todd's beautiful wife and, following what we believe to be her death, Turpin raises Lucy and Sweeney's child, Johanna (Caitlin Wood).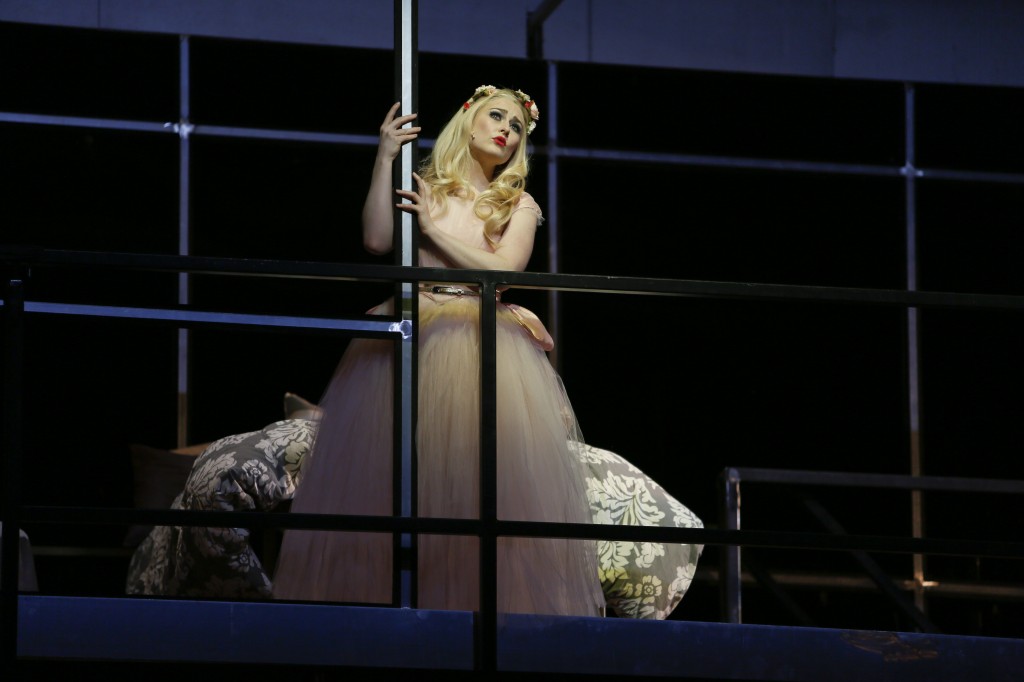 It's a tale of revenge that escalates murderously when Sweeney hooks up with Mrs. Lovett (Luretta Bybee) who makes the "worst pies in London" and sells them from her pie shop. Sweeney returns to barbering and when the price of meat for the pies gets too dear, he starts killing off his clients for Mrs. Lovett to grind into what become the best meat pies in London. His intended and eventual victims are, of course, Turpin and Bamford.
This is a darker Sweeney Todd than others I've seen. Collier sets the play not necessarily in London and not exclusively in 1846, mixing some period and some contemporary clothing (by costume designer Nancy Bryant). There's lots of 'real' gore here including ground lawyer, ground tailor, ground locksmith, etcetera, and blood. With slit throats, twitching bodies are dumped almost into the laps of those in the front row.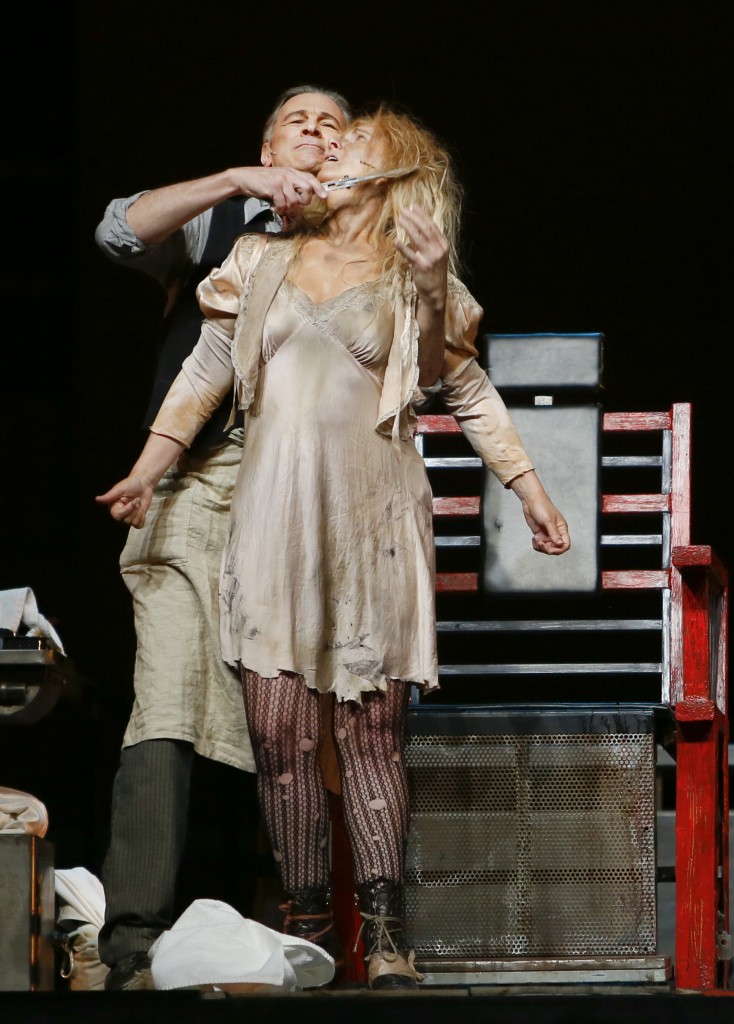 A very successful Sweeney Todd was mounted by Fighting Chance Productions at the Jericho Arts Centre years ago. Director Ryan Mooney played up the humour, keeping us at arms' length from the violence; Collier focuses more on the psychology and futility of vengeance.
The voices are wonderful although Greer Grimsley was unable to sing the afternoon I attended because of a bug he'd picked up. George Masswohl, who sang Sweeney at the Arts Club some years ago, sang the role offstage while Grimsley appeared on stage. (At curtain, Grimsley graciously stepped back to let Masswohl receive his well-deserved applause; a very gentlemanly gesture.)
Dark and nasty as it is, Bybee's Mrs. Lovett lightens the show with a bustling, sassy attitude. Mrs. Lovett evens draws Sweeney – usually morose and obsessive – into what is the most 'Sondheim' of lyrics (witty, funny and ironic) and possibly Sweeney Todd's most memorable song, "A Little Priest". There are beautiful songs, like "Johanna", sung by Rocco Rupola (as Anthony who's in love with Johanna) and boisterous full-chorus songs like "God, That's Good" when Mrs. Lovett's clientele gets into a frenzy of pie-eating.
There are small Sweeney Todds and there are big Sweeney Todds. This one's big and rivals any production on a London or New York stage. It puts another well-deserved feather in the cap of the visionary director Kim Collier.