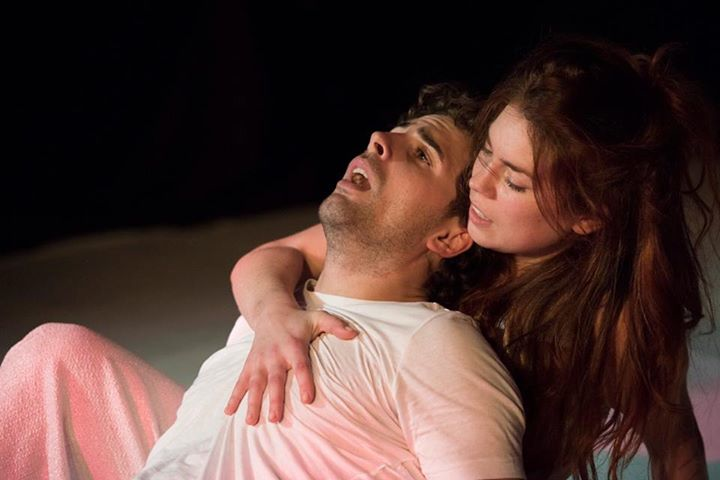 At Havana Theatre until November 8, 2015
www.theatrewire.com/www.twentysomethingtheatre.com
Posted October 31, 2015
Directed by Sabrina Evertt, this show is as sensual, poetic and as gorgeous a vision of love unravelling as you may ever have seen. It's probably director Evertt's personal best, too. Two characters – Man (Sean Harris Oliver) and Woman (Claire Hesselgrave) – caress, slam, tumble, leap, crawl, fly, pummel and shove each other back and forth across a narrow performance alley in the intimate Havana Theatre. Almost more dance – erotically choreographed by Joel Sturrock – than traditional, dialogue-based theatre, there were times when I imagined turning off the sound – if that were possible – and simply watching. Without all that glorious movement, Tender Napalm is a war of increasingly fantastic, furious imaginings.
Written by Philip Ridley, it's a tough play that's reminiscent of battery opera's Spektator back in 2001 when four dancers dressed like chickens (but eventually naked) parodied mating rituals and power struggles, in all their primal, brutal combinations, between men and women.
But Tender Napalm, an apt justapositioning of words for the play's title, is less about men and women in general and more about these two particular characters. And, as is often the case in theatre, we see their story in reverse. It begins at the end. And it is only at the end of an uninterrupted eighty-five minutes that the various threads come together to create a fierce, sad tapestry. After we've witnessed these two tearing each other apart, we get to see where the images that fuel their ferocious verbal and physical sparring come from: a huge mansion, a big party, a garden with a monkey statue, a dolphin, a huge rock by a lake. At the end we get to see the shy beginnings of love: boy meets girl, they fall in love.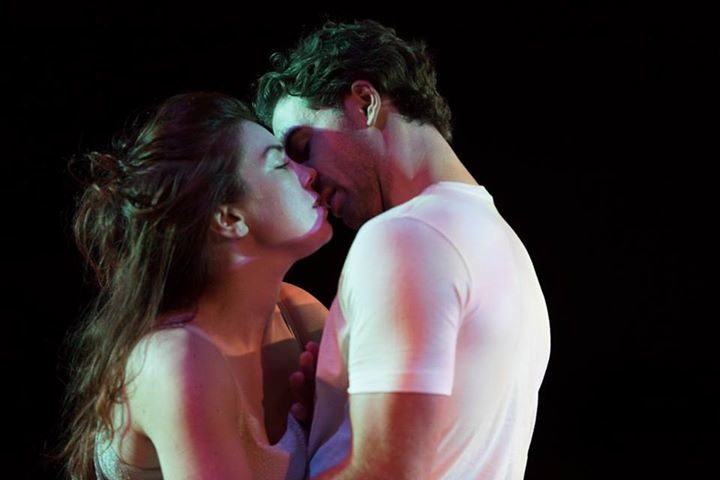 Between the beginning and the end is, in spite of the beauty of the production, wearying as these two concoct ever increasingly wild stories full of armies of monkeys, aliens, multi-tentacled creatures. Like children – "And then do you know what I did?" – they battle. They fight for supremacy in their story-telling: "And then do you know what I'm gonna do?" He's going to attack her with aliens or pirates but she's going to bring out her army of monkeys. On it goes.
Although the script calls for the characters to be in jeans and shirts, Evertt puts bare-foot Hesselgrave in a body-clinging pale rose/beige chemise dress that adds breathtaking sensuality and vulnerability to the character. Hesselgrave is sensational. She's alternately ferocious as her character describes how she will take garden shears to her partner's genitals, and luscious and sexually charged when she drapes herself around her lover. You can smell her longing for him. The push and pull of love is almost unbearable to watch.
Oliver, also barefoot and in jeans, is explosive. His character's images are brutal; he speaks of putting a grenade into her vagina, a bullet into her mouth. His stories are full of bombs exploding, "Boom", tsunamis, wars, "Hack, hack. Blood splashes all around me." His longing for her is one of testosterone-driven domination.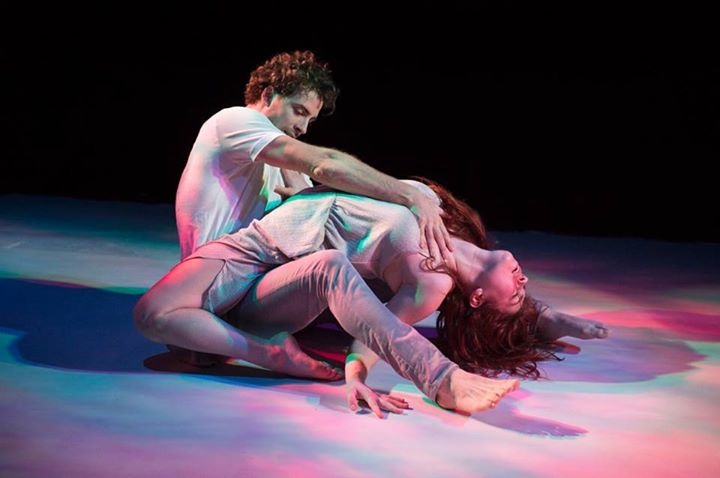 These two are shipwrecked inside their own disastrous relationship. The world has ceased to exist.
Underscored by original music by composer Julie Casselman, Tender Napalm is raw, almost unbearably intimate but pretty tough slogging as warlike fantasy builds on warlike fantasy. We begin to wonder if these two will kill each other or be reconciled. Either way, it will be both ferocious and tender. Do we care about them? In the abstract.
But it's beautiful.