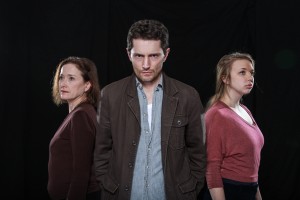 At Performance Works until March 17
604-689-0926/pitheatre.com
Posted on March 3, 2013
Wear your flak jacket to this one and be prepared to be strafed, assaulted, flayed and blasted by words, words, words in Irish writer Mark O'Rowe's searing, fantastical tale of three separate souls on a night-out in down-and-dirty Dublin. "The love child of James Joyce and Quentin Tarantino" reads the press release and that – plus Goethe's Faust – describes Terminus aptly. It's a fantastic read and even more explosive in performance.
Premiered at Dublin's Abbey Theatre in 2007, Terminus is a series of monologues delivered by A (Leanna Brodie), B (Pippa Mackie) and C (John Emmet Tracy). Set designer David Roberts gives them eight raised platforms – white-topped with what looks like blood-spatter – staggered at different heights. As each character in turn hurls his or her monologue directly at us, lighting designer Alan Brodie picks them out with spotlights from above, below and from the side, bringing them out of deep shadow. As one monologue winds down, the next beings with a few lines overlapping before the lights go down on the previous speaker.
This stark but effective staging keeps the focus on the performers and Rowe's slam-type poetry/prose that erupts crazily with rhyme: "We go, see the slo-mo ebb and flow; the mill, the babble, the rabble of wobbling waywards" – his description of three punks whom B and C and a couple of friends stumble across as they leave a grungy pub bound for a death-defying, life-changing adventure on a crane high over Dublin.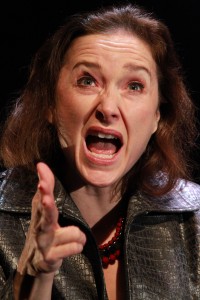 A, a former teacher, fields calls in a crisis centre. When she recognizes the voice of Helen, a former student, she quits her shift and goes looking for her. As A, Leanna Brodie, her hair ratty and sporting a black leather jacket, is small but dynamic – a powder keg of anger and resolve. These characters are far from perfect and Brodie makes believable that A, determined to save Helen, is no saint, having already betrayed her own daughter.
Pippa Mackie is B, a young woman who leaves work, heads to the pub to "sink one, sink two, then bid adieu to the barman" and heads home to "the silent flat. No cat nor any kind of pet", where she microwaves her heat-and-serve shepherd's pie. Mackie, in leggings, a bright red stretchy miniskirt and jean jacket, makes B both innocent and street wise, a lost child looking for love in all the wrong places.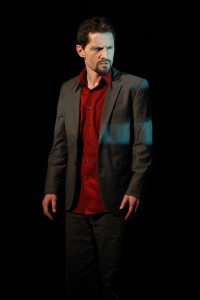 C, a skinny, homely dude who hates women and can't get one, is the character who makes a bad bargain with the Devil; when the deal goes sour, he starts killing. John Emmet Tracy is so wired in performance it's as if electricity is coursing through his veins; he's a live wire sparking, twisting and jolting in arcs of violence.
Directed by Richard Wolfe for pi theatre, Terminus starts off rooted in a scabby, sordid Dublin reality but quickly moves into a Miltonean or Blakean metaphysical plane with volcanic language spewing all over the place leaving us breathless and sometimes exhausted. As a local playwright said later, if you lapse for a moment you fall off the train.
But what a ride. Thrilling, exhilarating, jolting, bumpy and yet sometimes funny, Terminus ends up being a tale of redemption and forgiveness – Biblical in its intent. The final image drawn by C is one you might rather not have but it's so lurid, so nightmarishly beyond anything Tarantino could dream up that you wonder at the mind that can create such an outrageous but generous, loving work.
Costumes are by Carmen Alatorre. Sound design by David Mesiha will get your adrenalin rushing more than once. Harsh language, simulated sex and violence (spoken of but not seen) will – and should – deter some tenderhearted theatregoers. For everyone else, embrace your dark side and indulge your love of swooping, soaring language. Terminus is hellish, heavenly theatre.