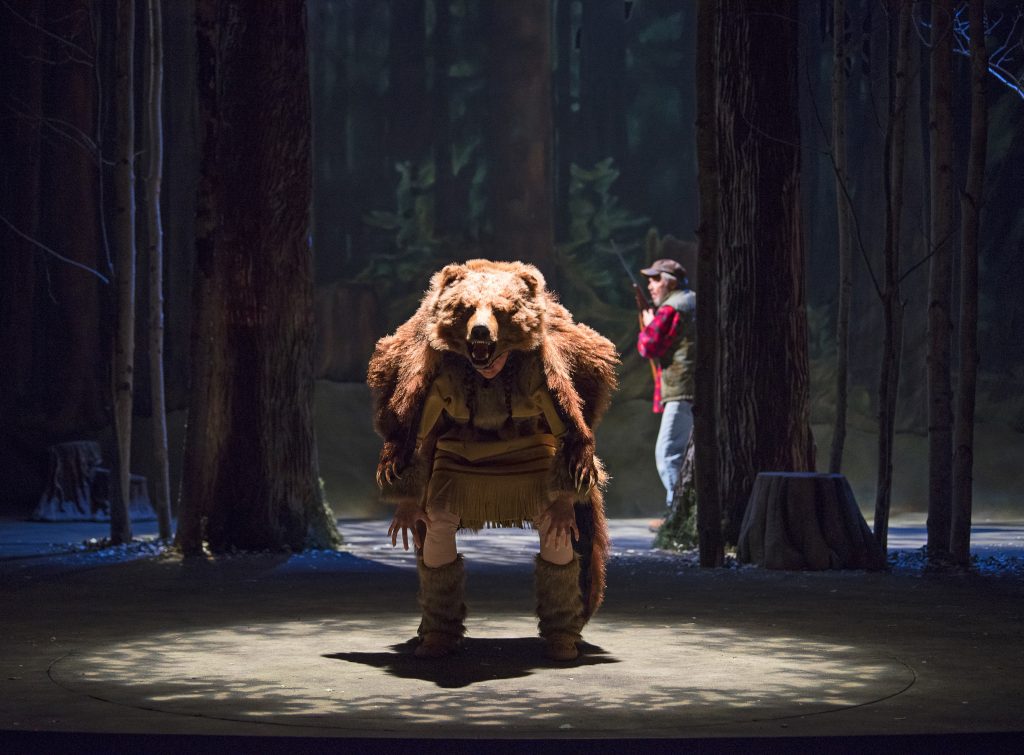 At the Arts Club Granville Island Stage until November 4, 2017
Tickets from $29 at artsclub.com or 604-687-1644
Posted October 16, 2017
A big, glossy, black bear sow and two tiny cubs passed through my yard most days for several weeks last summer. I felt blessed. But a conservation officer eventually shot the sow elsewhere in the area; the cubs were relocated to a cage in a wildlife rescue facility. I was devastated.
The first scene in Kevin Loring's new play begins with Clifford (Tom McBeath) shooting a female grizzly and her two cubs. Loring was not celebrating the killing of the bears; far from it. But the huge fake bear gets strung up – in an image of Christ on the cross – and remains there for most of the play. Hard slogging for me.
The central character in Loring's play is Nan, portrayed by the virtuosic, Order of Canada appointee, Cree-Saulteaux actress Margo Kane for whom Loring wrote the part. If anyone can alleviate the harrowing image of a dead bear, it's Kane with her dust-dry sense of humour, her straight-up delivery and her understated but steely passion.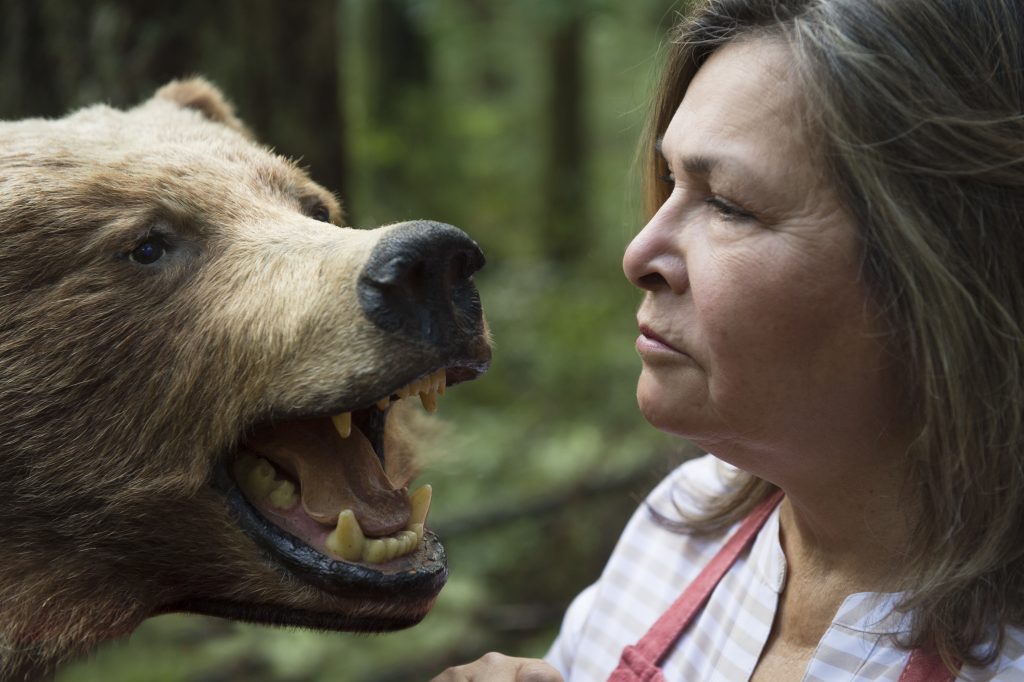 In the summer, while picking berries, Nan had met that same mother bear and her cubs and had 'sung' the grizzly into a dignified retreat. Bears are sacred to Nan so non-Native husband Clifford's senseless slaughter throws Nan and her extended family into disarray.
It's Thanksgiving and they're all assembled: Nan's daughter Sue (Andrea Menard), an alcoholic whose twins John (čaačumhi – Aaron M. Wells) and Marie (Tai Amy Grauman) – have largely been raised by Nan. Also at the table is Marie's lesbian partner Sam (Leslie Dos Remedios) and Nan's redneck grandson Clayton (Deneh'Cho Thompson).
While Thanks for Giving is generally realistic, there are symbolic scenes that take the play to another level. A bear dancer, shrouded in fur and wearing a bear mask, opens the play, alerting us to the special place grizzlies have in the Lytton First Nation where playwright/director Loring sets the story. The dancer (Shyama-Priya) appears again in a nightmarish scene with Menard and once more at the end of the play when she performs a breathtaking pow-wow style dance.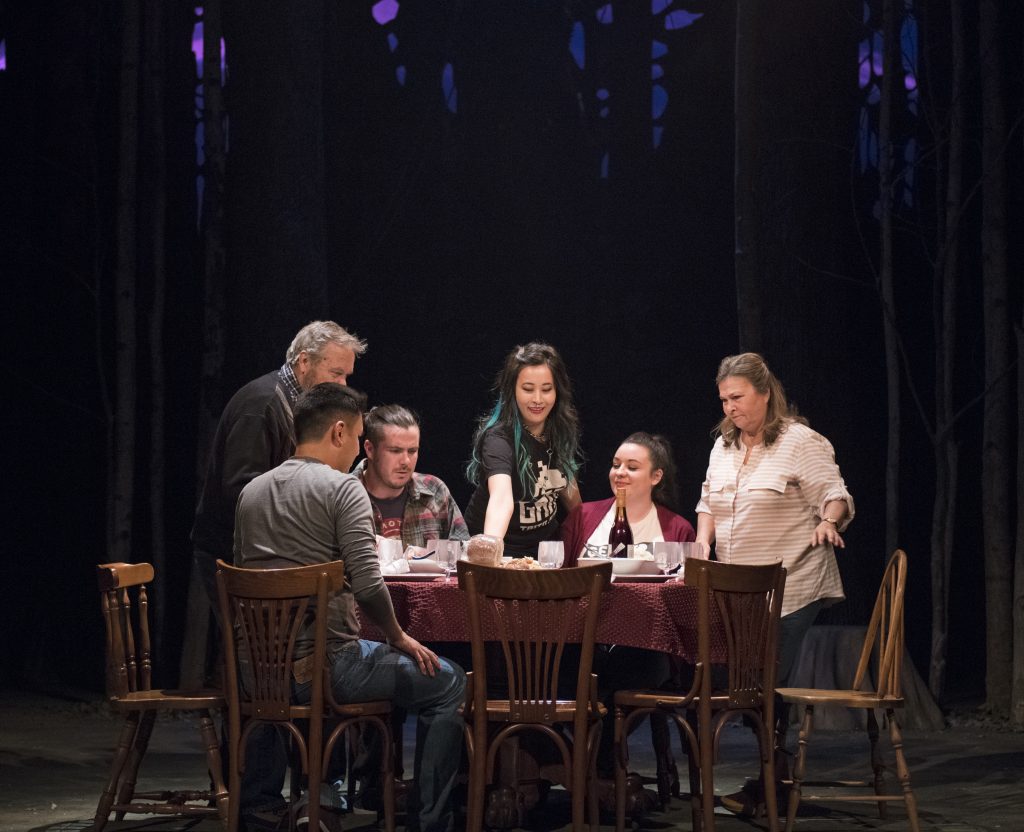 "It's kind of like a turkey dinner," Loring, N'lakap'amux from the Lytton First Nation, laughingly describes his play. "There's a lot on the table." And there is: colonialism, mistreatment of First Nations people, residential schools, First Nations contribution to the armed forces, vegetarianism, alcoholism, the degradation of the planet, illegal sale of bear parts, mythology and more. It's hard to determine what, exactly, is at stake. Nan and Clifford's marriage? Sue's reconciliation with her children? Marie and Sam's relationship? The sacred bond between First Nations people and animal spirits?
Central to it all, however, is Margo Kane. Small and solid, she is the calm, quiet centre of the play. If the grizzly sow is The Mother, Kane is The Mother of this production: a wise, no-nonsense actor who channels Nan's values.
Polar opposite to Nan is Clifford. McBeath is the villain in the piece although Loring is careful to give Clifford enough backstory to explain why he is the way he is. McBeath tells his character's story of the death of his dog dispassionately yet so chillingly we understand why killing the bear and selling the parts overseas was easy for Clifford
Set design by Ted Roberts is beautiful with real poplar trees set against a backdrop of a painted forest. Jeff Harrison washes the upstage woods in filtered light while picking out the downstage action in fuller light. Sound designer James Coomber collected early 20th century traditional First Nations songs and incorporates them into this production.
A world première, Thanks for Giving will probably go through more drafts and develop a stronger through-line. It's also possible – and worth considering – that this is the First Nations story-telling style and we have something to learn from it.