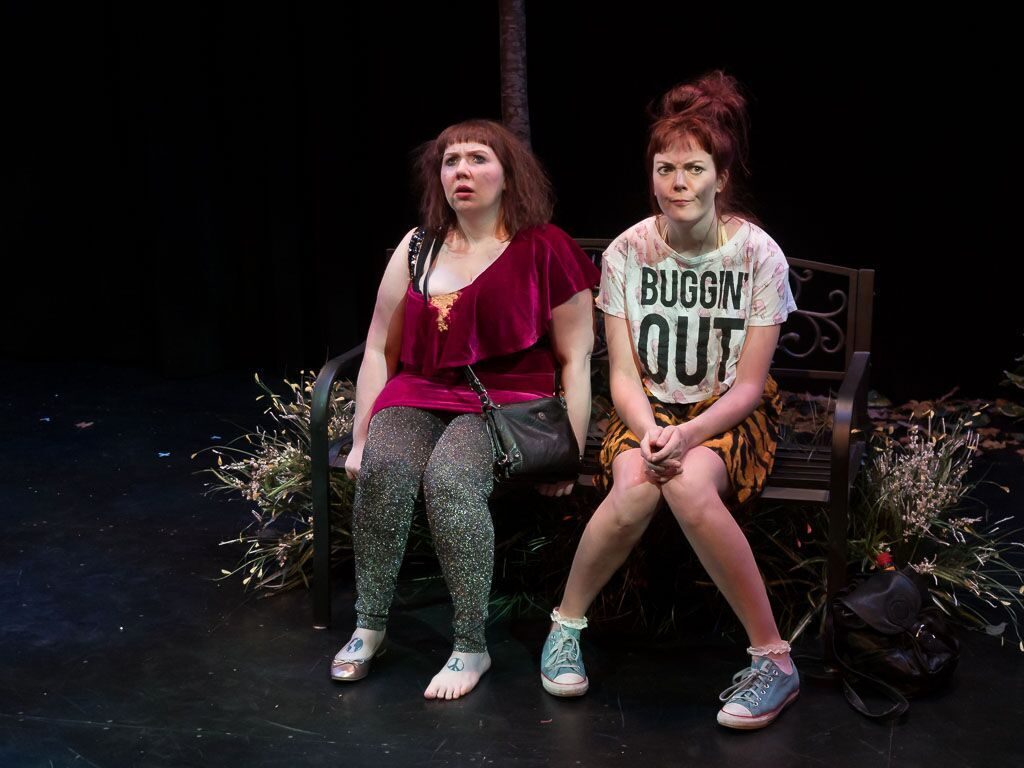 At The Cultch until March 17, 2018
Tickets from $22 at 604-251-1363/thecultch.com
Posted March 8, 2018
"What just happened?" Jules asks Fiona. "I don't know," says Fiona. A month away from highschool graduation, drunk on Fireball, stoned on crack and coming to on a park bench alone in the woods, they have no idea what they did at "the pre-party, the party and the after party" or where "the after after party" is happening. Jules, wearing one shoe, is pretty sure she started the evening with two, and the bloody taste in her mouth might be because, reports Fiona, "you made out with a homeless guy with no teeth." Fiona, on the other hand, did it with a labradoodle, says Jules. Some serious shit went down in the last eight hours and that's certain.
Conceived, written and performed by Cheyenne Mabberley and Katey Hoffman, and directed by Kayvon Khoshkam, The After After Party was Pick of the Fringe in 2016 and subsequently won the Cultchivating The Fringe Award that comes with a production at the Cultch. It's fresh and funny and you hope to hell it doesn't give ideas to any teenaged girl in your life. Or in anyone's life. But it establishes Mabberley and Hoffman as two of the funniest comedic talents in town. Physicality, timing, commitment, focus and guts: they've got it all.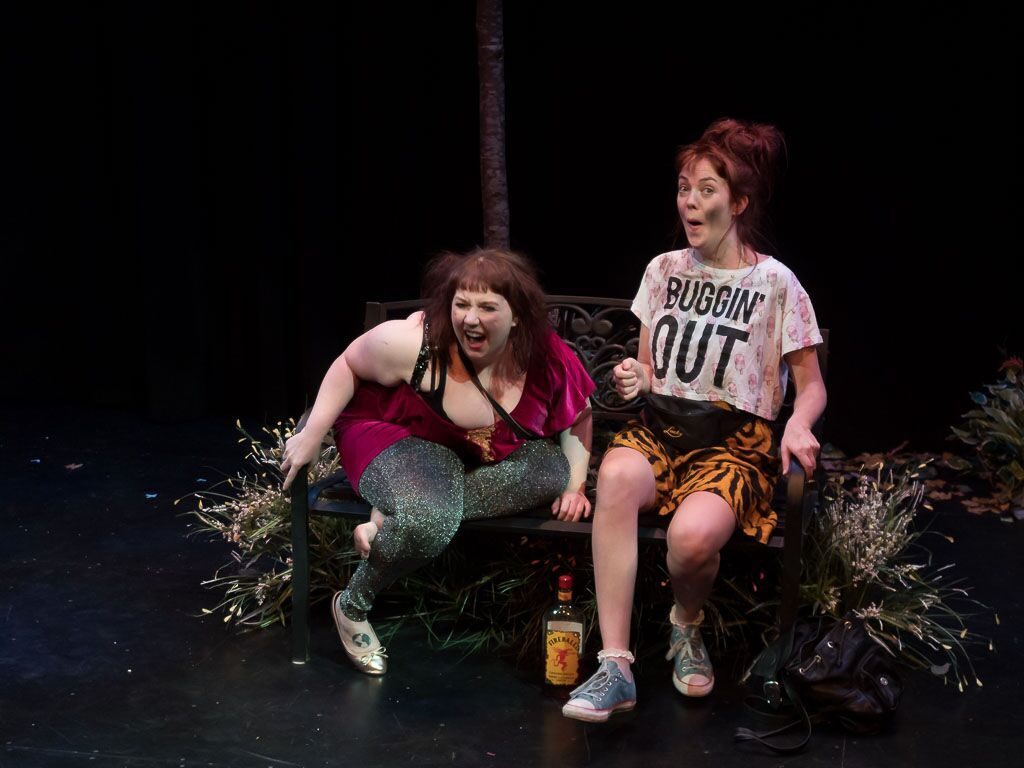 Mabberley, her bosom barely contained in Jules' off-the-shoulder party outfit, is the almost-straight gal to Hoffman's adorably weird Fiona. Even Jules' is bewildered by some of Fiona's non-sequiturs like "one in four bees is made of wasps" or Fiona's inability to eat iceberg lettuce after seeing Titanic. What?
When loopy Fiona pulls some Ritalin out of her handbag, grinds it under her foot and persuades Jules to snort it with her, they open their "memory portals" and begin to get an idea of what havoc they wreaked over the past few hours. They snort and with a "Let's go" they spiral back to the night's wild ride.
Six years in the writing, which Hoffman and Mabberley comment in the program notes is either "impressive or embarrassing", The After After Party found its source in their own less than wonderful teenaged years. Fertile ground for funny.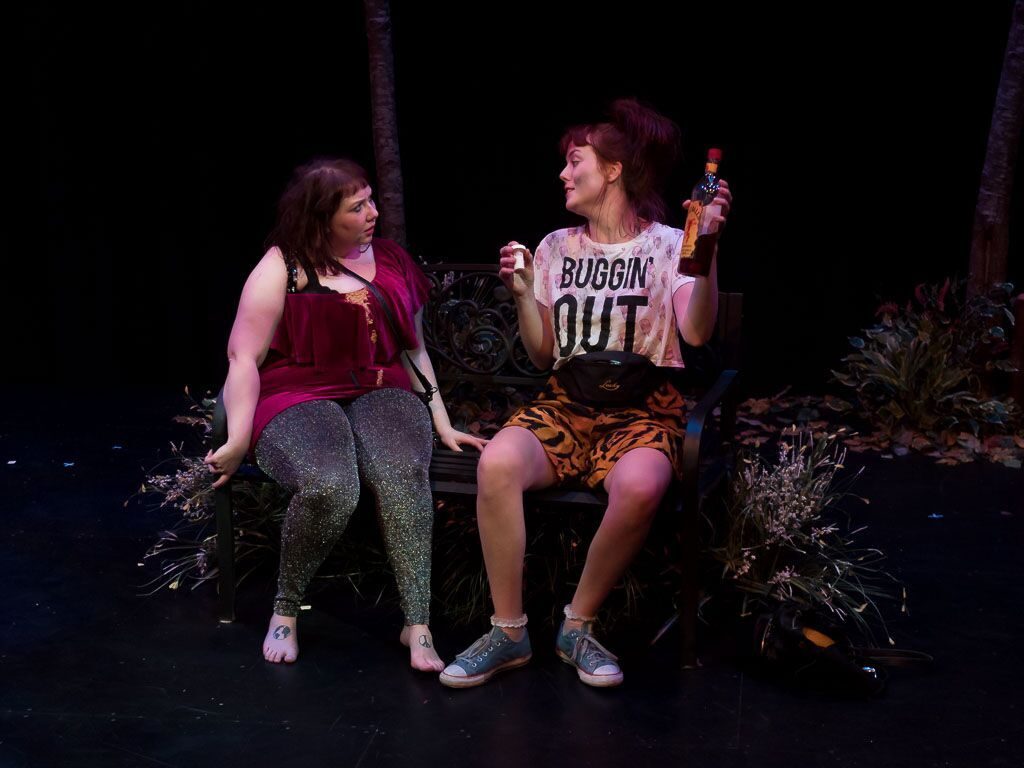 But lines like "Being ourselves isn't good enough" and Jules and Fiona hoping they're "finally gonna be popular" (by being drunk, sexually available and stoned) were glancing references to the loneliness of the ostracized. It's even possible to imagine that Fiona and Jules never drank all that Fireball (cinnamon-flavoured Canadian whisky), smoked crack, snorted Ritalin, stole a cop car, burnt down a house and lost their virginity at all. In fact, maybe they never left home; maybe they conjured the whole thing. Fiona and Jules are two such nerdy outsiders, chances are they never even got invited to the pre-party, the party, the after party or the after after party at all. Chances are Fiona never showed Jeff her labia nor did they prove to be the teenaged dirtbags of the class of 2006.
What they discover – after beating the crap out of each other – is that their friendship is all that matters. On the eve of International Women's Day, that was a great chord – amidst all the outrageously, fearlessly hilarious dialogue – to strike.