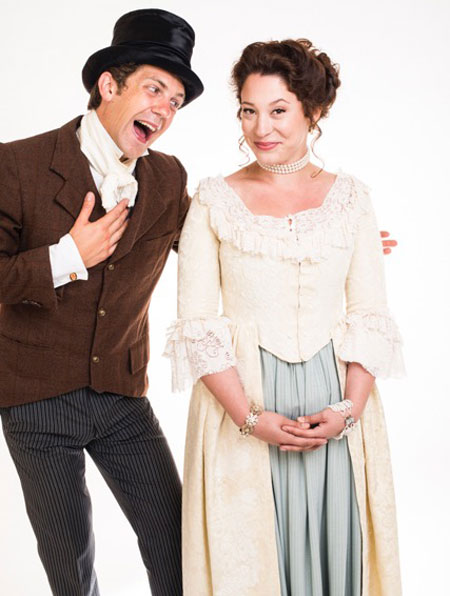 At Jericho Arts Centre until September 25, 2016
604-224-8007/www.unitedplayers.com
Posted September 4, 2016
Not a fan of Restoration Comedy? Don't worry: this United Players' production of George Farquhar's 1707 comedy is an adaptation that has been tweaked by two of the best – first by American playwright Thornton Wilder (Our Town, Skin Of Our Teeth) and later by another American, Ken Ludwig (Lend Me A Tenor, Moon Over Buffalo).
In 1939, Wilder began his adaptation of the brilliant but dated, too-long script, lost heart and gave it up; he died in 1975, leaving it half-finished. In 2004, at the request of Wilder's literary executor, Ludwig was asked to read Wilder's unfinished adaptation and to consider finishing it. With some cuts and some new ideas, Ludwig's The Beaux' Stratagem opened in 2006 in Washington, DC to great reviews: "Delicious", "Perfectly enchanting", "A delightful romp".
Kathleen Duborg directs a cast of thirteen and opens the show with a series of very funny freezes, setting the comic tone for the show right away. This adapted Beaux' Stratagem has a decided and delightful feminist twist with the most interesting character arguably Mrs. Kate Sullen (Jessica Wagstaff).
The beaux in question – Jack Archer (Gregory Radzimowski) and Tom Aimwell (Darcy Stobbbe) – have squandered their money in London and, posing as master and servant, turn up in the small village of Lichfield where they hope to find a beautiful, rich woman for the 'master' to marry. The spoils are to be shared 50/50.
There's no shortage of women in Lichfield: Dorinda (effervescent Olivia Sara Grace), daughter of Lady Bountiful (Elizabeth McLaughlin) is young, pretty and has a large dowry; Mrs. Sullen is beautiful and rich but already married to the drunkard Mr. Sullen (Michael Wild); and Cherry (Madelyn Osborne), the innkeeper's daughter, is pretty but poor.
Cherry and her father, Boniface (Andre Fex) are in cahoots with highwaymen, chief of which is Gloss (David Newham), a wonderfully devious character who is both clergyman and highwayman. Newham dishes out Gloss's hypocrisy with flair.
This is the stuff of comedy-cum-farce with characters hiding behind doors and concealing themselves under tables. Not only do we know Archer and Aimwell aren't master and servant but all the other character have guessed it, too. A huge reveal is coming but when and how?
Although Archer and Aimwell are ostensibly the main characters, it's Wagstaff's Mrs. Sullen that captivated me and brought this 18th Century comedy rushing headlong into the present. Wagstaff is beautifully costumed in a blue, lace-trimmed gown by Amira Routledge and, although her character is unhappily married, Wagstaff maintains a charming, mischievous demeanor. Best of all: Wagstaff makes Mrs. Sullen sexy in a decidedly 21st century way.
Farquhar, Wilder and Ludwig have fun with all the issues: class disparity, hypocrisy, love, money, medicine and marriage while dropping some of the wittiest lines in comedy. It's all very modern and meta-theatrical. Archer, for example, says at one point, "If this were a play, we'd be nearing the climax" and he suggests, after Act 1, that we should "come back for Act 2". The fourth wall vanishes as characters step forward to deliver monologues. As Wilder said, his adaptation introduced "lots that Farquhar never tho't of, and whole new twists in the plot." Ludwig then contemporized some of the language and the humour.
Comedy is not as easy as it looks and this production – seen on the night after opening – suffers now and again from trying too hard to be funny. The script is funny, the situation is hilarious; just let it unfold. That being said, Wild is wildly funny as a drunk, Wagstaff and Grace are wonderful wielding swords, and Lady Bountiful, a would-be healer, is certifiably crazy when she talks of employing the bone saw. Doubtless, Farquhar would approve of all the shenanigans.