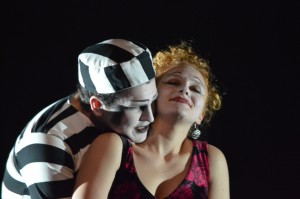 At Performance Works until May 5
www.ticketstonight.ca
Posted on April 21, 2013
From the moment the Player and the Beggar, in white-face, black lipstick and bowler hats, soft-shoe it across the Performance Works stage, we know we are in for a very different production of John Gay's The Beggar's Opera. Off the top, Daniel Deorksen (Beggar) and Phyllis Ho (Player), rigged out like vaudeville clowns tell us, "You've never seen anything like this."
And that's the truth.
Adapted and directed by David Newham and presented by Seven Tyrants Theatre, this Beggar's Opera has been in the works for a year and it has been a huge undertaking with a cast of seventeen non-Equity performers (except for Equity member Brian Knox McGuggan) plus four musicians including Deorksen (guitar), Ho (violin), Eugene Burton (upright and electric bass) and Vern Shewchuk (percussion). Original music is composed and directed by Deorksen, choreography by Catherine Burnett.
Newham has worked from John Gay's original 'ballad opera' that premiered at Lincoln's Inn Fields Theatre in 1728. It ran for 62 performances, the longest run in English theatre history up to that time. From The Craftsman, February 3, 1728, "This Week a Dramatick Entertainment has been exhibited at the Theatre in Lincoln's-Inn-Fields, entitled The Beggar's Opera, which has met with a general Applause, insomuch that the Waggs say it has made [the] Rich very Gay, and probably will make Gay very Rich."
Italian opera was all the rage amongst the well-heeled at the time and it was Gay's intention to poke fun at it by peopling his 'opera' with whores and thieves, the most well-known anti-hero being Macheath who later turns up in Brecht's Threepenny Opera as Mack The Knife. The only song in this Seven Tyrants Theatre production that is borrowed from Brecht is Mack the Knife and, that song being so iconic, its inclusion was a wise decision.
Some other choices were not so fortuitous and I'd have to say this is a work in progress. Without reading the original again (after 25 years), I can't say how much has been cut but more could come out. Newham uses a lot of upstage silhouettes, freezes and mimed action while the real story is happening downstage. And novel but not working very well are scene changes done in a kind of slow motion.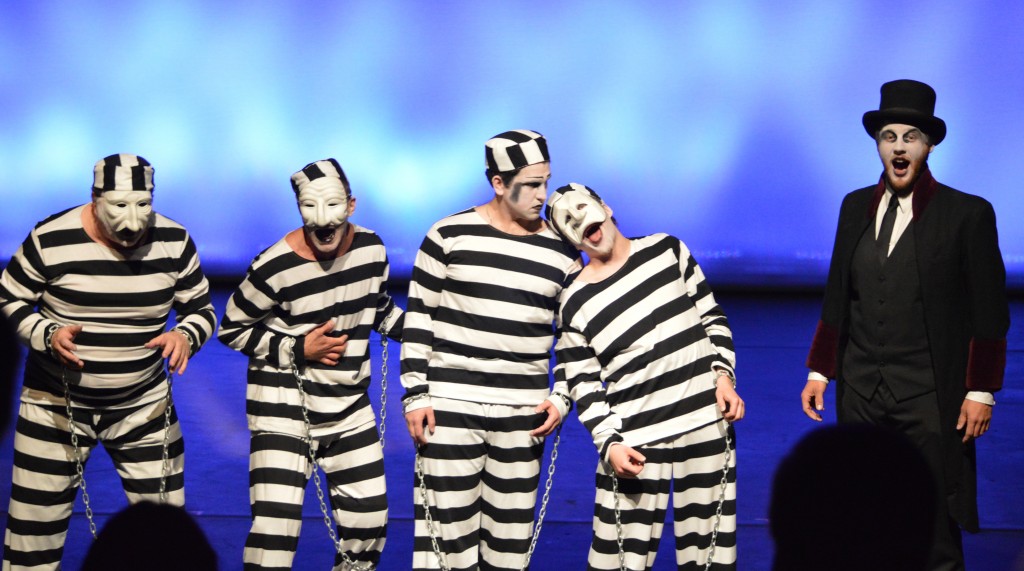 The shuffling of chairs and tables, silhouettes and other stuff should not compete with the story that goes like this: Mr. Peachum (Linden Banks) deals in stolen goods, much of that provided by Macheath (Nick Fontaine), a very successful thief who, however, spends most of his money on whores. When Mrs. Peachum (Rob Gillespie in an outrageous, mile-high, white wig) hints that her daughter Polly (Tallulah Winkelman) seems soft on Macheath, Polly's father goes ballistic before he sees some advantage in a union between Polly and Macheath. But it seems the philandering Mack might already be married to working gal Lucy Lockit (Kayla Deorksen).
The score is nicely varied, ranging from oompah-pah vaudeville ditties to sort of Country Western and torchy ballads. But some of the songs seem unnecessarily long – one in particular in which one after another, every one on stage sings, "La-la-la-la-la".
Altogether, it takes too long to get to the funny twist at the end.
Some of Gay's words are, like these words from Polly's mother, delightfully subversive: "Why must our Polly, forsooth, differ from her Sex, and love only her Husband? And why must Polly's Marriage, contrary to all Observations, make her the less followed by other Men? All Men are Thieves in Love, and like a Woman the better for being another's Property."
Gay takes witty jabs at the gentry, marriage and inequality. (Newham evens works in a line or two about The One Percent). There are relevancies here (different laws for the rich and for the poor, for example), but you have to listen attentively to pick them out.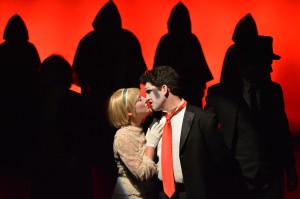 Ambitious it is and not without some very fine work. Beautiful auburn-haired Tessa Trach is a standout as Jenny Diver (and she could have nailed Jenny's Song from The Threepenny Opera had Newham chosen to include it). Winkelman's Polly, all in white, is sweetly played and sweetly sung; Kayla Deorksen rocks Performance Works with "Lucy's Song"; and who can take their eyes off Emily Nadeau who, as Bonnie Twitcher, jitter-bugs her way into our hearts. It's a big role for Fontaine who comes close to having the amount of charisma to be Macheath. Gord Myren and Banks are reliably tuneful and interesting as Mr. Peachum and Mr. Lockit, respectively.
I think Newham could use fewer performers, shorten some of the longer musical numbers, cut even more extraneous dialogue and perform it in a smaller space. I can easily see a tighter version at Studio 58.
As it is, it's an ambitious labour of love that, unfortunately, isn't likely to make anyone (unlike John Gay) rich. But I don't think we've seen the end of this Beggar's Opera. There's enough going for it to warrant writing a few more drafts.