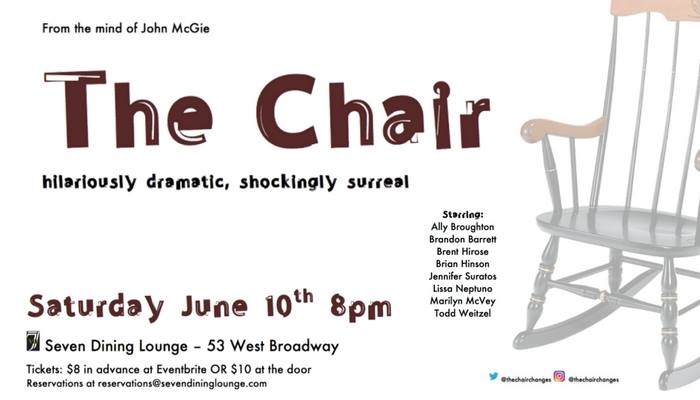 At 53 West Broadway
No more performances until September 16, 2017
Posted June 11, 2017
I could have stayed home on Saturday night with something white and dry in my wine glass and watched the sun go down. But instead, I headed off to 53 West Broadway for The Chair, a once-a-month event written by John McGie and produced by David C. Jones.
I'm glad I went; the sun sets every day – sort of – but The Chair, finished for the season, doesn't resume again until September 16.
It's a really interesting idea. Here how it works:
Between Jones and McGie a group of actors are chosen and they all get together with McGie casually over coffee. At the end of that informal get-together, McGie asks each actor for a word. That's all the input they get: one word.
McGie goes away and writes a monologue based on that one word for the actor who suggested it. The monologues, McGie told me, are written in about 4 days. Once a performer is off-book, there is one rehearsal: one-on-one with McGie. The rest of the group does not get to hear the other monologues until showtime. As this past season progressed, actors suggested more words and got as many as five monologues written for them out of which one or more were chosen for particular nights. Last Saturday, for example, Kathy Daniels performed three, Todd Weitzel, two. All together there were thirteen sketches with a brief intermission.
Everyone gets paid out of the ticket sales including front of house, Jones and McGie.
Once the monthly event has been performed, the actors are free to join forces, put a program together, find a venue and do it all over again, giving a writer's fee to McGie and a producer's fee to Jones. Says Jones: "Any actor can produce a show. They can assemble a team of eight, they can arrange a venue, ticket price, etc. But John will put the show content together."
Nice, eh? Everybody gets a little piece of the pie.
53 West Broadway is the address of Seven Dining Lounge, closed to the public from 7:30PM until the show is over – about 9:30. Poutine, hamburgers, calamari, Caesar salad with chicken breast are part of the menu; I can vouch for the salad. And, of course, you can drink.
The evening is nicely balanced and it's fun. The monologues are not all funny; some, like "Green", performed by Brian Hinson, are quite political. Mocking our sanitized world, the out-of-work farmer scoffs, "Air don't need air freshener if it's clean." Or Lissa Neptuno's "Travel" in which a traveller in a post-apocalyptic world is strip-searched before being allowed to leave Earth and fly to another, cleaner planet. Ironically, the huge price of the ticket was made in the oil and gas industry.
Many have great little twists at the end. I particularly loved "Yarn Bombing", performed by Jennifer Suratos. It all began innocently enough with a bunch of older women in a rest home "knitting things and putting them on things" like trees and corpses. Eventually they were digging up the freshly deceased and putting toques on them – until the cops came. There's a law, apparently. Ends wonderfully with the old gal getting back at the relatives who put her in the old folks home in the first place.
Siobhan McCarthy came pretty close to getting all dog lovers in tears with her tale of old Rufus in "The Power of Prayer". I might have had to make a weepy retreat if that old hound had bitten the bullet.
Kathy Daniels did a dynamite job of "Garden Rap"("Mother Nature's a bitch/Gotta respect that girl"); Brandon Barrett clopped along as a hayseed on the lookout for sasquatches around Harrison Hot Springs, and Todd Weitzel played a surfer dude in "Surf's Up" and a ticked off guy wanting to buy a moo-moo for his mother.
Writer McGie is a very funny guy and the writing is smart. No fart jokes, although now I've mentioned the word, I can almost hear his wheels turning. As with all writers, they reveal themselves in the writing; I'd have to say McGie probably does not vote Liberal provincially or Conservative federally. He's on the side of the little man although he's a big guy. He worries about homelessness, corporate greed, has a highly evolved sense of the ironic. And he loves dogs.
About himself, McGie says he's a "vegetarian caffeine addict with no fashion sense beyond what he gets for Christmas." Of The Chair, Jones has this to say: "I produce the show because I think it is a fascinating and spectacular collection of talent and imagination."
Check back in September. By that time you will have had all the sunsets you want to watch and be ready for an interesting evening that's a win-win for everyone involved. Interesting concept and the only props needed are a bunch of wooden chairs for seven or eight actors. That and a whole lot of writing and performing talent.