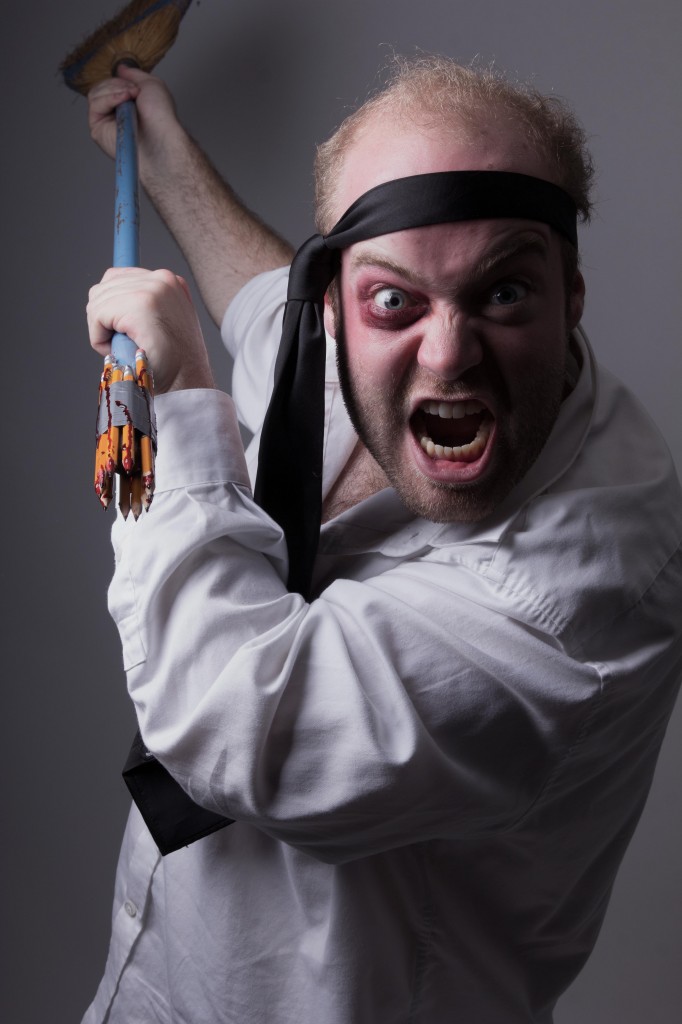 At The Shop (125 East 2nd) until March 22, 2015
www.brownpapertickets.com or cash at the door. Limited seating; reservations are strongly recommended
Posted March 12, 2015
Lauchlin Johnston's set for the 2014 ITSAZOO's acclaimed Killer Joe, directed by Chelsea Haberlin, was so squalid and the play so violent, I felt like rushing home and standing in a hot, cleansing shower. On the other hand, Jennifer Stewart's design for ITSAZOO's The Competition is Fierce, also directed by Haberlin, is so blazingly bright and so sterile you could be in the OR: white walls, white floors, white ceiling, white furniture. Sharp surgical lighting by Conor Moore enhances the OR effect but his projections of gleaming towers locate the play in the upscale offices of big business. But – spoiler alert – there will be (as there was in Killer Joe) blood on the floor. A dead rodent. And worse.
Haberlin, co-artistic producer of ITSAZOO, says that the company has always believed that "theatre should be a party – a night out that is as cool as a concert" but most concerts don't have guys running around bare-assed with their manly parts dangling, throwing poo or stabbing each other. Well, most concerts.
Written by co-artistic producer Sebastien Archibald, The Competition is Fierce was inspired by Archibald's turn as a telemarketer in a highly competitive environment where the staff was treated with contempt; more recently, he became interested in the well documented successes of psychopaths in the corporate world.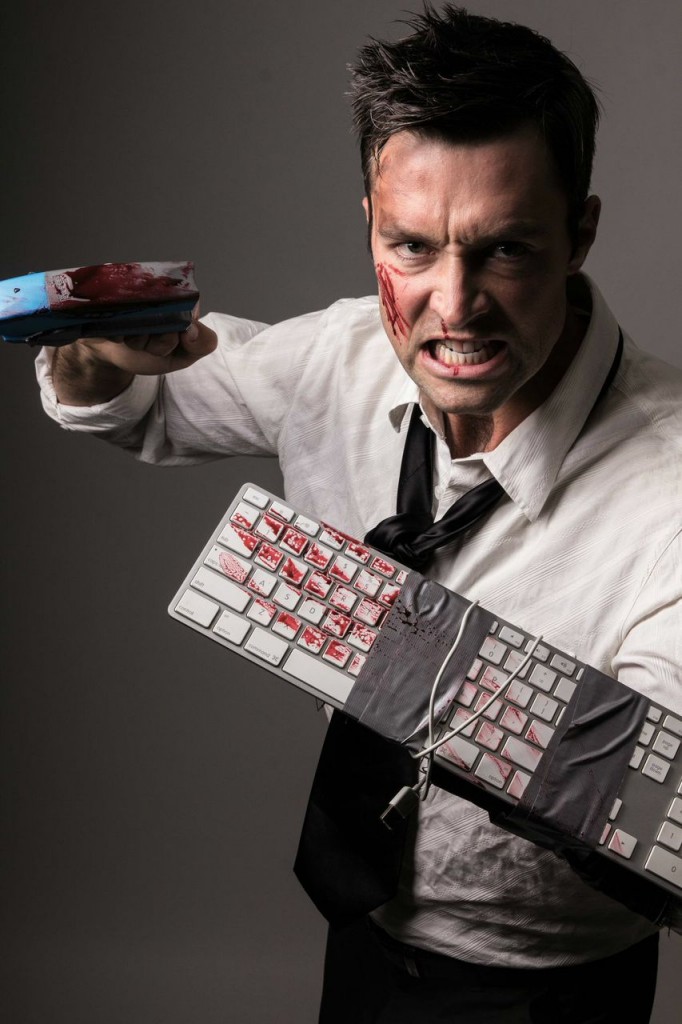 The play is set in the not-too-distant future, indicated by attractive, slightly futuristic costumes by Carmen Alatorre, and some cool techie gadgets. It could be as soon as tomorrow or next week. The recent suicide of Paul, the Director of Finance, has left a job opening in a vast capitalist empire run by Madeline (Marilyn Norry); filling the job has been left to Carlyle (Andrew Wheeler), a brutal, psychotic guy who lurches about with a cane. Company rules necessitate a competition for the position: the winner gets the job, the loser gets castrated – really, not metaphorically. Running for the job are nerdy, decent John (Chris Cochrane) and charming but nasty John (Carlo Marks). As well as the high-paying job, the prize will also turn out to be Claire (Rachel Cairns) who works in Accounts, several floors down from the big guys.
The Competition is Fierce is stylish and, without patronizing a younger audience, I think it might work better for the under 30s than for those of us who have been around for a while. Rooted in realism – albeit slightly futuristic – the play spirals off into a kind of sci-fi, futuristic, gladiatorial bloodbath. Kudos, however, to Olivier Lunardi, the fight director, who choreographed some very slick combat, especially some precision knife-work by Cairns.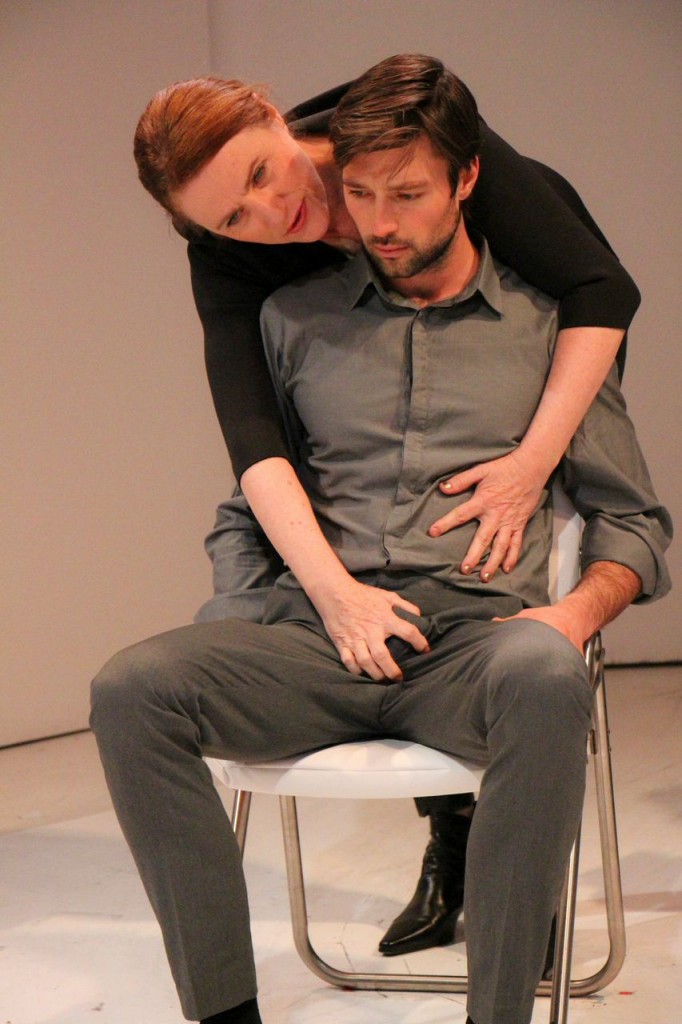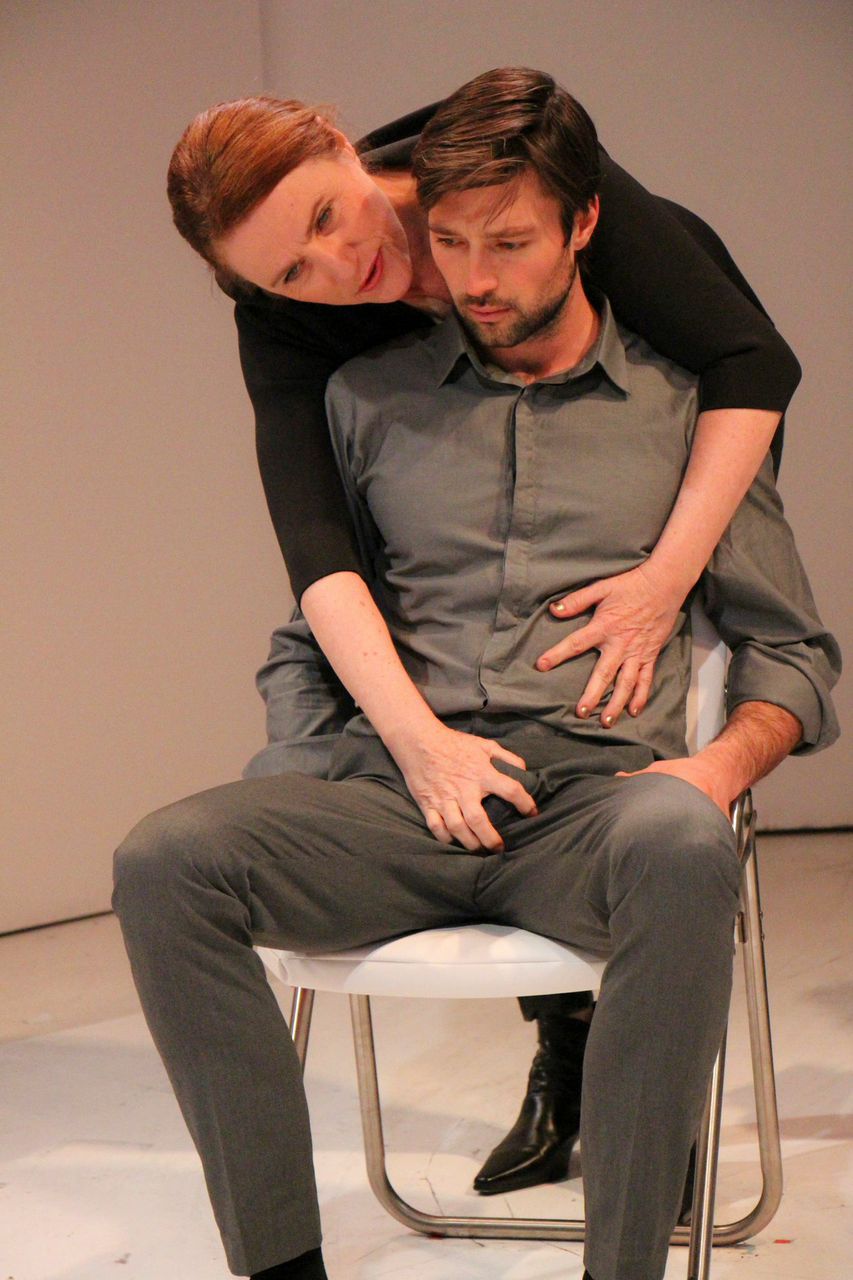 Director Haberlin has secured some of the best actors in town for this production. Nobody does horny, nasty, cougar like Norry and Wheeler will step easily from manipulative Carlyle directly into the remount of Proud, in which he plays Stephen Harper. Add a hard-shell wig and a tie, et voilà. Cochrane and Marks are well contrasted: Cochrane bumblingly, nervously sweet and Marks charmingly, confidently wicked. Claire is the most interesting character because it's not immediately apparent what she wants; she's not ambitious, she needs the job she has and she's willing to overlook the toxic work environment in which she finds herself. Cairns is so straightforward and pure in her approach to the role that she's like a breath of spring in corporate hell.
At a little over two hours, The Competition is Fierce is too long to support itself. Like Killer Joe, the direction, production and performance exceed the script. With nudity, a little bit of sex and lots of violence it's not for kids but it is, as Haberlin suggests in a press release, a "theatre event" and one that the younger set might find more satisfying than those of us who have been around that particular block.