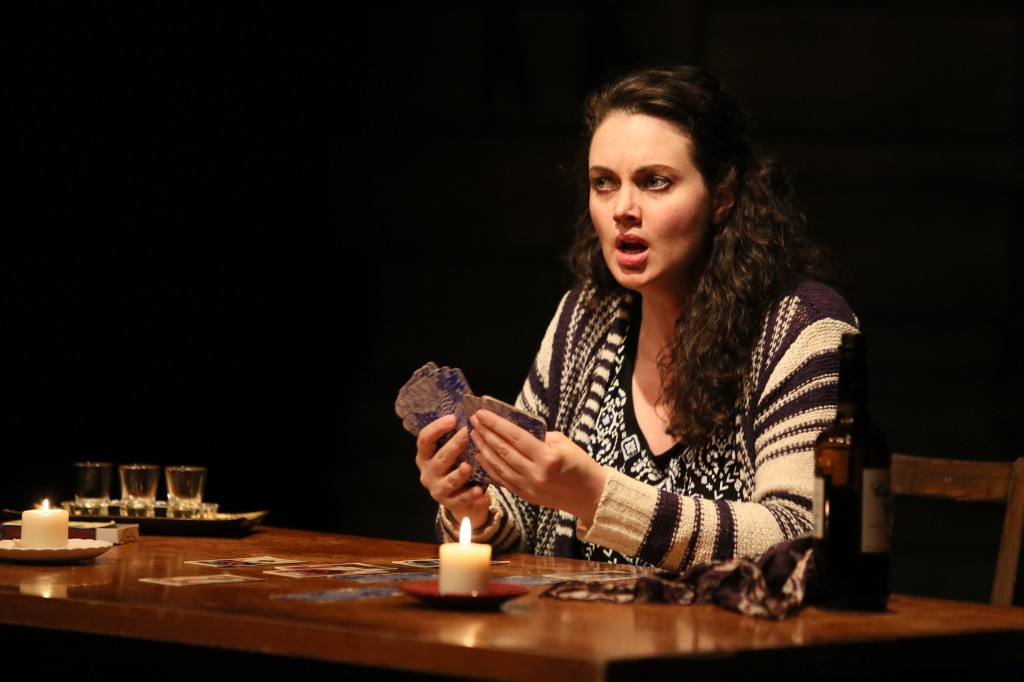 At the Firehall Arts Centre until June 14
604-689-0926/firehallartscentre.ca
Posted June 12, 2014
"So, what's your sign?"
That's a question that sends me running to the other side of the pool party where they're probably talking about the price of housing in Vancouver. Astrology, Tarot cards, palm reading, tea leaves, I Ching – it's all kind of 'out there' and 'fringe-y' to me – and if that's the way you feel, too, The Concessions is probably not for you.
The protagonist in Briana Brown's play is Fay (Emma Slipp) who reads Tarot cards for a living in a small Huron County town. Fay has a loyal fan base including Sarah (Jillian Fargey), a local radio host with delusions of becoming a bigtime investigative reporter. For me, that was problem #1: someone who leads her life according to the reading of Tarot cards believing she has what it takes to move on to CBC – which is where she ends up at the conclusion of the play. This woman is so obviously wingy she wouldn't get past security at The Mother Corp.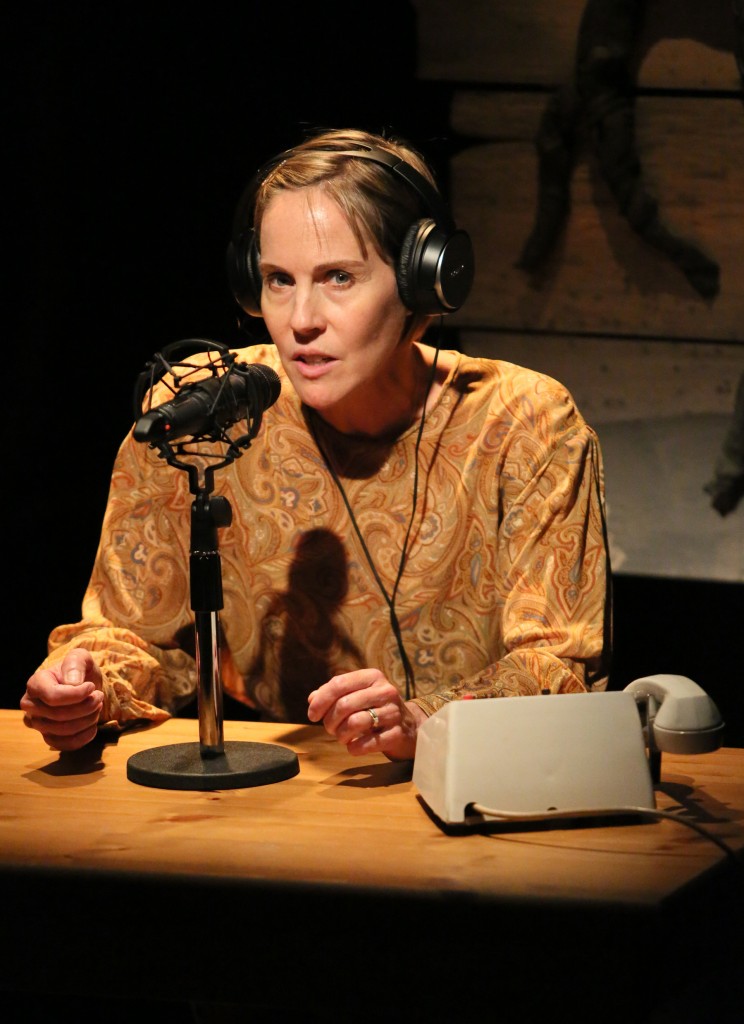 The Concessions is a memory play and Fay moves back and forth in time to the murder of 17-year-old Bridget, for whom Fay had just done a reading. That session ended with, "There are great things in store for you." Bridget walked out and met her murderer. Fay could hardly have been more wrong and, to her credit, she's now suffering self-doubt and remorse.
Directed by Touchstone Theatre's artistic director Katrina Dunn as part of the company's Flying Start program, The Concessions feels like a first play by a young person. And it is. But Touchstone gives playwright Brown a flying start with a fine looking production. David Roberts' set is woodsy with panels of rough planks, leafless trees and a centre stage, candlelit table where Fay, after downing three shot glasses, plies her trade with the invisible – and now deceased – Bridget.
Problem #2 is the ill-defined relationship Fay has with John (Sebastian Kroon). They appear to be lovers but there's no sexual energy between them. He's a hard-drinking, guitar-playing bartender with both feet on the ground. It doesn't feel like a match.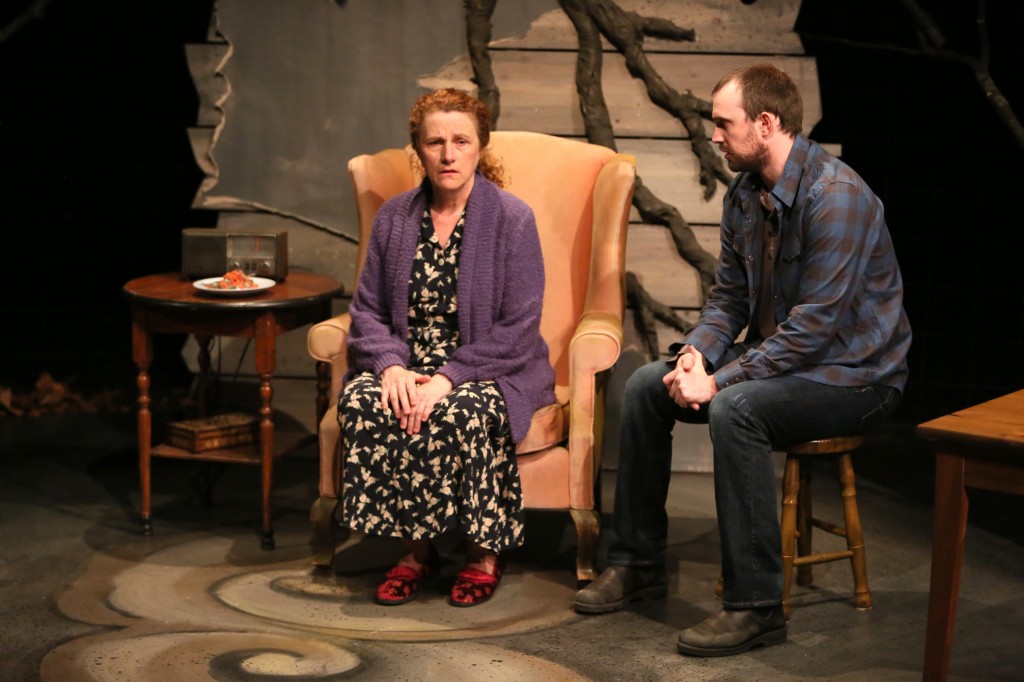 But Brown really gets it right with Julie (Marilyn Norry), Bridget's mother. And Dunn's casting is right on with Norry. If the play does nothing else, it really hits home with Julie's rant at the 'Celebration of Bridget's Life'. Aren't we all sick to death of clichés like, "The healing can now begin", "Now we can move on" or "We can now get past this". For some people there is no moving on. "This is all bullshit", Julie rages. A young woman – her daughter – has been tied to a tree and shot. How does a mother move on? The rest of us can move on because it's not our grief. We can go forward until yet another catastrophe strikes – to someone else, not to us. Norry just lets 'er rip and it feels so authentic, so right. Of course the bereaved continue with their lives but there are holes left that time does not fill. Finding the murderer dead by his own hand doesn't bring your loved one back. Time does not heal all wounds. These are platitudes we all use to get us through the night.
Also perfect casting is Alec Willows as Stan, the local police officer. Somehow that gravelly voice and slow gait speaks to pragmatism and solidity – so lacking in Fay and Sarah.
I don't know if it is Brown's intention to point out the dangers of Tarot card reading; Fay does, actually, send Bridget out to her death. Is this a cautionary tale?
For this skeptical reviewer, I couldn't invest in Fay – despite a terrific performance by Slipp – and that was the last, insurmountable problem. If Brown can 'move past' this play and recapture the honesty, wrath and insight of Julie's big scene, she can 'go forward' with another, better play. Flying Start has given her the opportunity; it's now hers to run with.