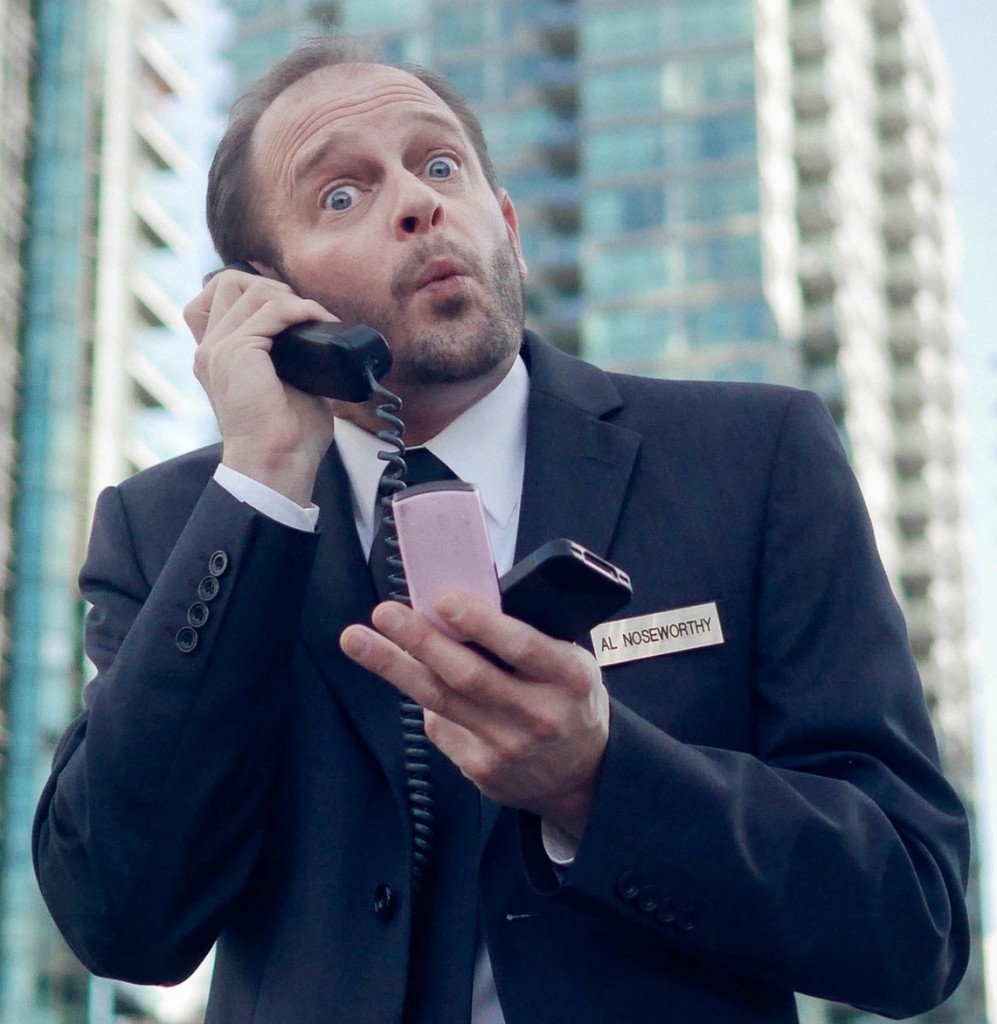 At Studio 1398 until October 16, 2016
theatrewire.com
Posted October 13, 2016
The script, written by Shaul Ezer, is rather slight and silly but the idea behind the plot is brilliant. All those empty condos in Coal Harbour? Rent them out to well-heeled tourists at $2000-$5000/night. Don't bother getting permission from the non-resident condo owners who would probably say 'no.' Just do it. And the best part – and it's not really a spoiler because you see it coming a mile away – is that the money, and there's lots of it, gets turned over to charity and to helping those who have been priced out of the market. The risk of the condo owners arriving to find their investment property occupied is slight since, generally, they let the concierge know their plans beforehand.
The actual concierge (Mr. Noseworthy) in Ezer's Coal Harbour condo building, told him the place was more than 75% empty and that the owners – "offshore investors and wealthy Canadians" – might stay a couple of nights per year in the place while sitting back and watching their investment doubling and tripling. Noseworthy challenged Ezer to write a play about it and the result, The Concierge of Vancouver, is making its world premiere here in world-class, obscenely expensive Vancouver.
There are a couple of surprises apart from the big reveal and that's a good thing because the production feels a little like a sitcom. In fact, it could make a very funny MOW with owner after owner arriving to find, say, rich, non-English-speaking tourists in the owners' beds or their spas or looking out their floor-to-ceiling windows at the spectacular mountain scenery. Imagine the concierge, caught red-handed, making excuses and shifting tourists out of one condo into another, calling it all a big mistake. That would truly be the stuff of farce.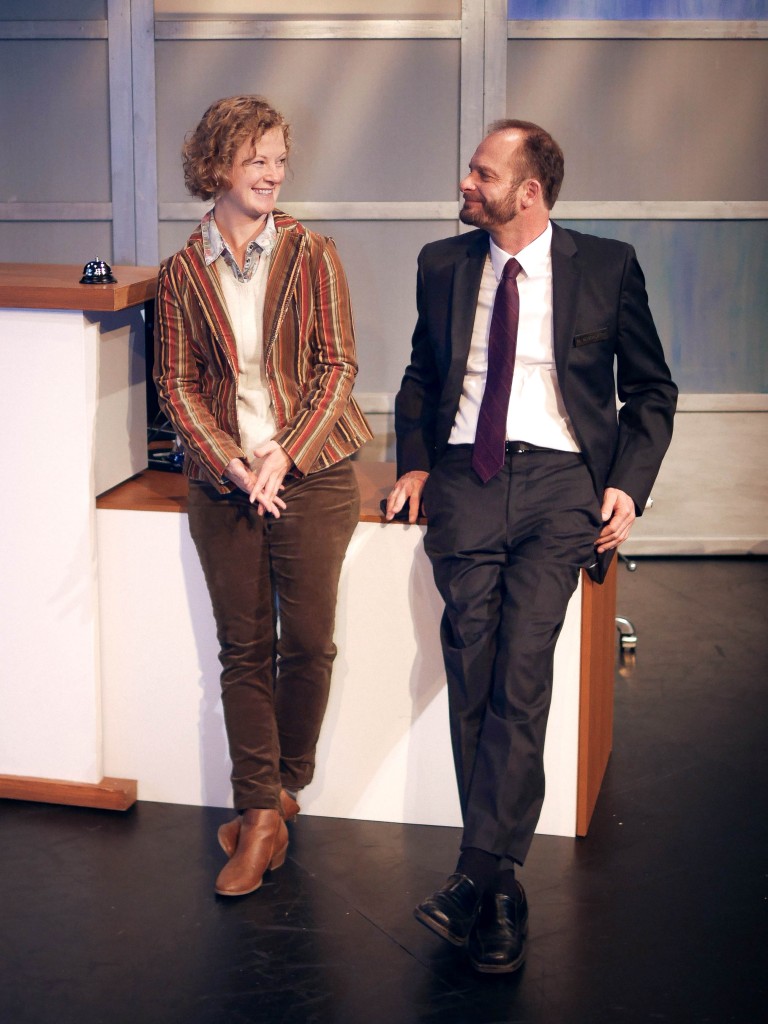 Directed and dramaturged by Ian Farthing, with a little help from John Lazarus, the performances are often over the top. Part of the problem might be that Studio 1398 is small and the performances are too big for the space. I didn't quite believe in the marketing skills of Fred McCashel (Frank Zotter) nor the media credentials of Agnes Harrington (Elizabeth Kirkland); they both seem too young and bushy-tailed. Bank executive Samantha Wright (Sharon Crandall) looks every bit the part but her relationship with Fred doesn't seem likely. Samantha is basically a bitch so where's the romance? There's an over-abundance of enthusiasm; it's as if The Concierge of Vancouver hasn't decided whether it's a farce or a comedy.
Outstanding, however, is Art Kitching as Al Noseworthy. He gets it right: appearing proper, for the most part, while carrying on a perfectly wonderful scam. As Noseworthy so succinctly puts it, "Just because it's illegal doesn't mean it's the wrong thing to do."  While the little dances Noseworthy (yes, they use the playwright's concierge's real name) does when he thinks he's alone are very funny, they don't feel quite right for this otherwise proper gent. But who knows what outrageously wild side hides within the most staid?
The really big appeal of The Concierge of Vancouver, presented by Matchmaker Productions, is that instead of fanning our rage at Vancouver's housing situation, it makes comedy out of it. It posits – in the action of the banker Samantha – a possible, if unlikely, act of philanthropy and reminds us that there are people out there, like the character Noseworthy, who are willing to take things into their own hands to do the right thing. Where are the Robin Hoods when we most need them? One of them is in The Concierge of Vancouver.