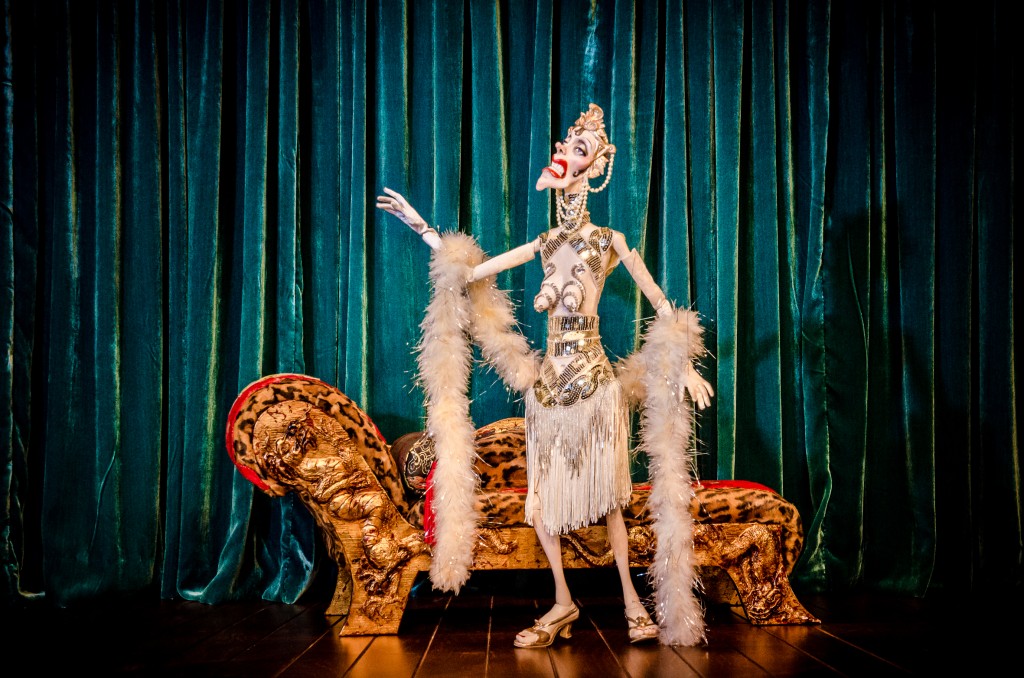 At The Cultch until October 12, 2014
604-251-1363/thecultch.com
Posted September 26, 2014
It's time to trot out all the superlatives; critics and audiences alike are falling all over themselves trying to come up with bigger and better words to describe Ronnie Burkett's bigger and better Daisy Theatre. Fantastic. Brilliant. Hilarious. Amazing. Transfixing. Everyone loves naughty (and getting naughtier by the year) Ronnie Burkett.
And what's not to love? Burkett brings back some of our favourites – tiny, elfin Schnitzel shaking his cute little butt in his frilly little tutu; aging diva Esmé Massengill who demands we almost tear the Cultch down in our enthusiasm when she makes her entrance – and we do, whistling, shouting, stamping our feet and taking flash photos with our cellphones; General Leslie Fuqwar who makes a second entrance on stage in full drag to sing, "There Are Fairies in the Bottom of My Garden" accompanied on a teeny, tiny piano by the General's mother (whose strings are pulled by an unwitting audience 'volunteer'); and Edna Turnip, the Prairie widow who, since indifferent husband Stanley died, finds she has way too much dill growing in her garden so she begins making pastry with dill in it: dill dough. Say it fast. Oh, yeah.
There are some new marionettes, too – the best one being ventriloquist dummy Little Woody Linden, whose eyes no longer move because his ancient, damn-near-dead master, Meyer Lemon, can't move all his fingers anymore. So what's poor little Woody to do if Meyer dies? Is there life for Woody after Meyer? It raises the question that, no doubt, Burkett himself has pondered: what happens to all of his gorgeously, lovingly built puppets if he decides to stop pulling their strings? Avenue Q, coming back this season to the Arts Club, does puppet sex but The Daisy Theatre does puppet existential angst.
Some of the delights: seeing all the puppets hanging in the shadows before the show – a cabaret of sorts – starts. Waiting their turn, are they nervous, anxious, excited? And will they even be called upon because Burkett mixes it up every night. Not all of them will make an entrance. As Burkett tells us, "I'm gonna make shit up tonight" and to some extent, The Daisy Theatre is improvised.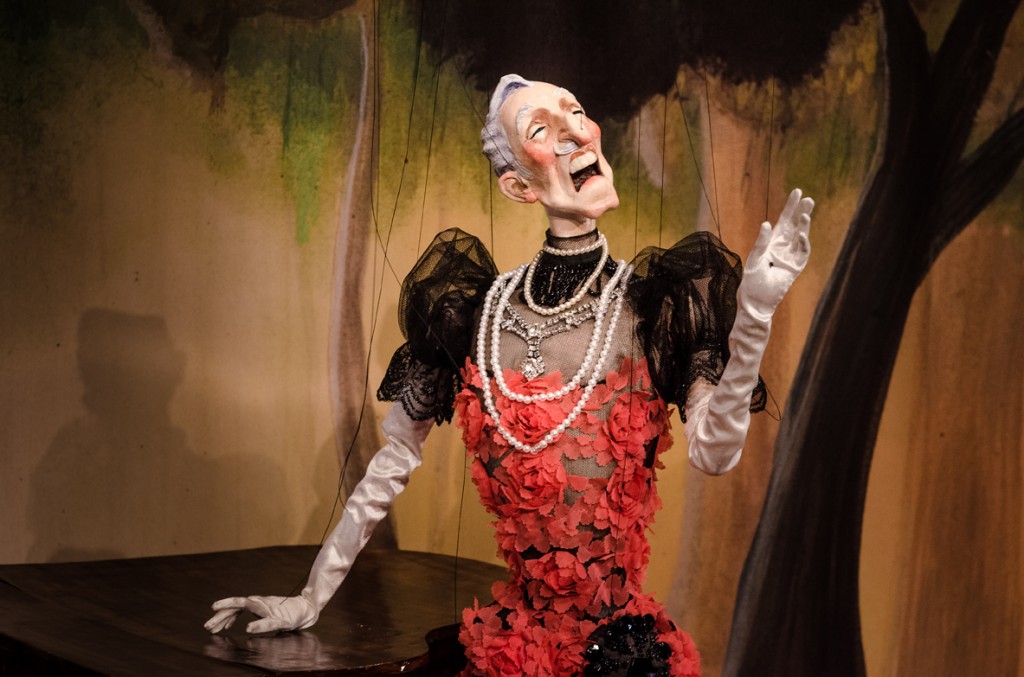 What Burkett can't control are those he 'volunteers' to help out. And these make for some of the funniest moments. Good sport Clayton, prone on the little stage, endured scrawny Esmé dabbling her little wooden hand in the area of his groin while saying, "Clayton, I don't think you're a eunuch." Burkett has a way of choosing just the right guys – always guys, so don't worry, ladies. Mouth to mouth with a puppet? That, too.
In spite of all the puppets, what we really go to see is Burkett himself. He's always visible, open, engaging, funny, smart and vulnerable. He even surprises himself, obviously, with some of his ad-libs. The night I saw the show, when one of the volunteers looked up at Burkett, the puppet cracked us all up with, "What're you looking up there for? My tits are down here." Even Burkett seemed surprised at what had just come out of his mouth.
Burkett, a national treasure, is naughty but he's also nice. Who but Burkett can get away with the dearest little puppet (Schnitzel) telling an audience, "I love you"? We love Schnitzel, who some day might actually get the wings he so desperately wants; and Vancouver loves Burkett, too.
The Daisy Theatre is not for children; it's a 19+ audience and drinks are allowed in the theatre – not that you'll need one to make this a memorable night at The Cultch. The Daisy Theatre sold out all its shows last year so don't waste a minute. If you don't hurry, you may have to pull some strings to get a ticket.