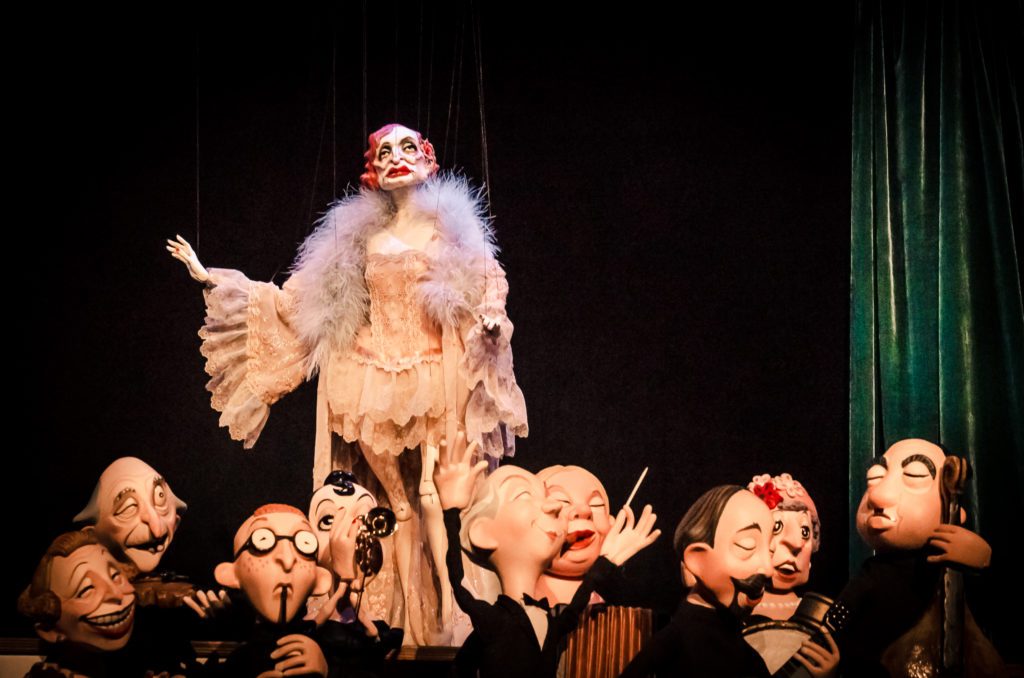 At The Cultch until April 9, 2017
604-251-1363/thecultch.com
Posted March 22, 2017
Oh, Ronnie Burkett, did you really say that out loud? Yes, you did. Something like, "Fourteen inches of fun-in-the-dark east of The Drive". Of course, master puppeteer Burkett is talking about Schnitzel, his dear little androgynous marionette with a daisy sprouting from her/his bald head. The show is peppered with naughtiness so don't take the kiddies to this show.
Burkett, born and raised in Medicine Hat but now living in Toronto, is a celebrated Canadian theatre artist who has been dazzling audiences here and internationally since 1970. The Daisy Theatre – a cabaret of Burkett's lovingly, meticulously handcrafted marionettes – has been to The Cultch twice before but each time Burkett adds some new characters to the old favourites and every night will be different. Forty marionettes hang in the shadows behind the little Daisy Theatre stage; some will be called upon, others will have to wait patiently for another night when the spirit moves Burkett to pull their strings.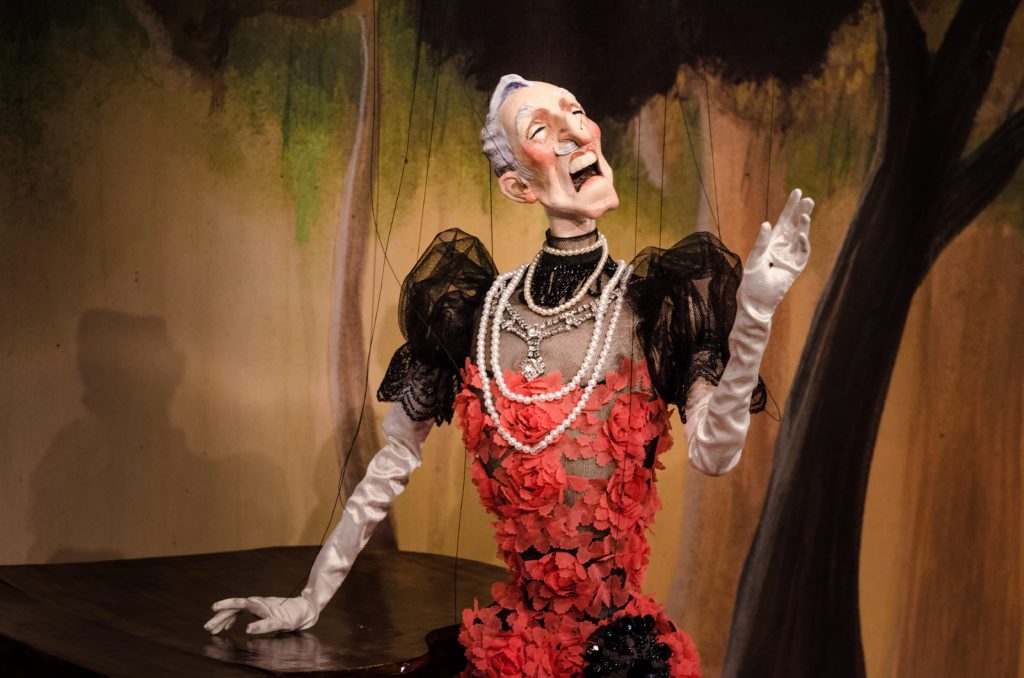 Always at the centre of The Daisy Theatre is Schnitzel and it's tempting to say Schnitzel, first appearing in a frilly tutu and later in long johns, speaks for Burkett. Well, of course, Burkett speaks for all of them but that's so easy to forget as we sit in the dark, utterly beguiled by his 14"-24" wood, papier-mâché and cloth creations. About the audience, Schnitzel (Burkett's alter-ego?) says, peering out into the audience, "They sit in the dark. They judge us." And Schnitzel/Burkett's existential, sort-of-sad self-doubt? "I'm just a diversion".
But what a brilliant diversion. Much more than a diversion. The Daisy Theatre is full of sharp social/political barbs. One new character, transvestite Dinah Dooya, has no legs due, she says, to "cutbacks in the arts". (She may have no legs but she waggles her butt like a semi-trailer out of control on the Coquihalla highway in a snowstorm.) And about the opening night, freebie-heavy audience of friends, relatives and critics, "There are no critics anymore" – a funny but sad commentary on the disappearance of print media critics across the country.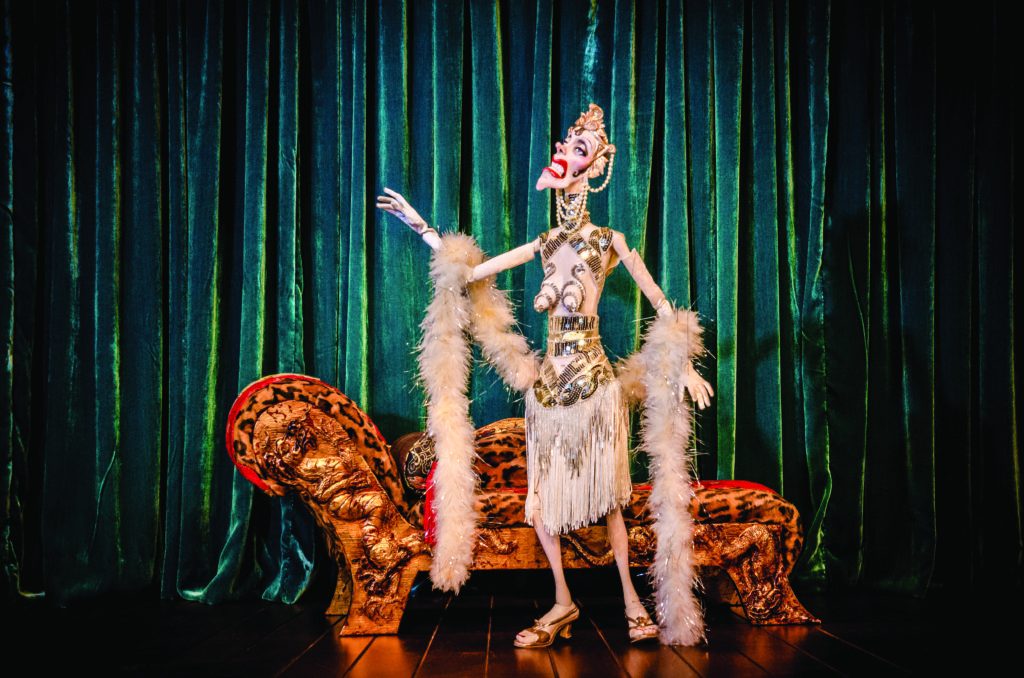 New this year to The Daisy Theatre is Jesus, a pale, toga-wearing, f-bombing marionette who sacrilegiously comments on the forthcoming Easter holiday; "You know how my Easter plays out . . . Nice dinner then they stab you in the back." The end, Jesus says, is nigh, so "Covet all you want. Go for it."
Mr. Tinkler, in tails, is back at the teeny-tiny grand piano soon to be joined by Mrs. Clara Dribble, still in her petticoat and fluffy slippers; together with the help of a 'volunteer' from the audience they perform "a beloved English folksong, The Chicken and The Duck."
But probably the most technically interesting – and one that tugs hard on your heartstrings – is old, comatose ventriloquist Meyer Lemon and his dummy Little Woody Linden. On their last theatrical legs, Woody ponders what will happen to him when Meyer falls silent forever and his old arthritic hand can no longer manipulate Woody's jaws.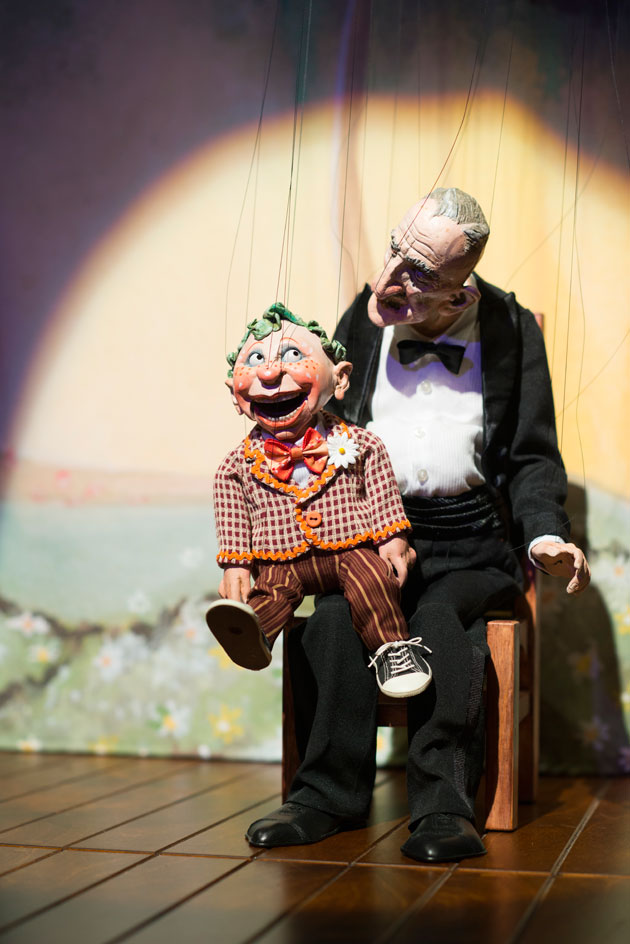 Burkett is not at any risk of falling silent although Schnitzel confesses he/she lost her voice for two weeks. Audience will keep roaring, whistling and stamping their approval and waiting to see which characters Burkett turns loose on The Daisy Theatre stage – a tiny proscenium arch stage, with velvet curtains and scaffolding above, from which vantage point Burkett manipulates the puppets.
Burkett is, quite simply, brilliant and a national treasure. He's naughty but charming, funny but thoughtful; you'll love his puppets – even the old woman who merely walks across the stage with her walker, glaring out at us – but you will love, even more, Burkett who has legions of fans in Vancouver.
If The Daisy Theatre is already sold out, you may have to pull some strings to get a ticket. Do what you have to do. Just don't take the kids.