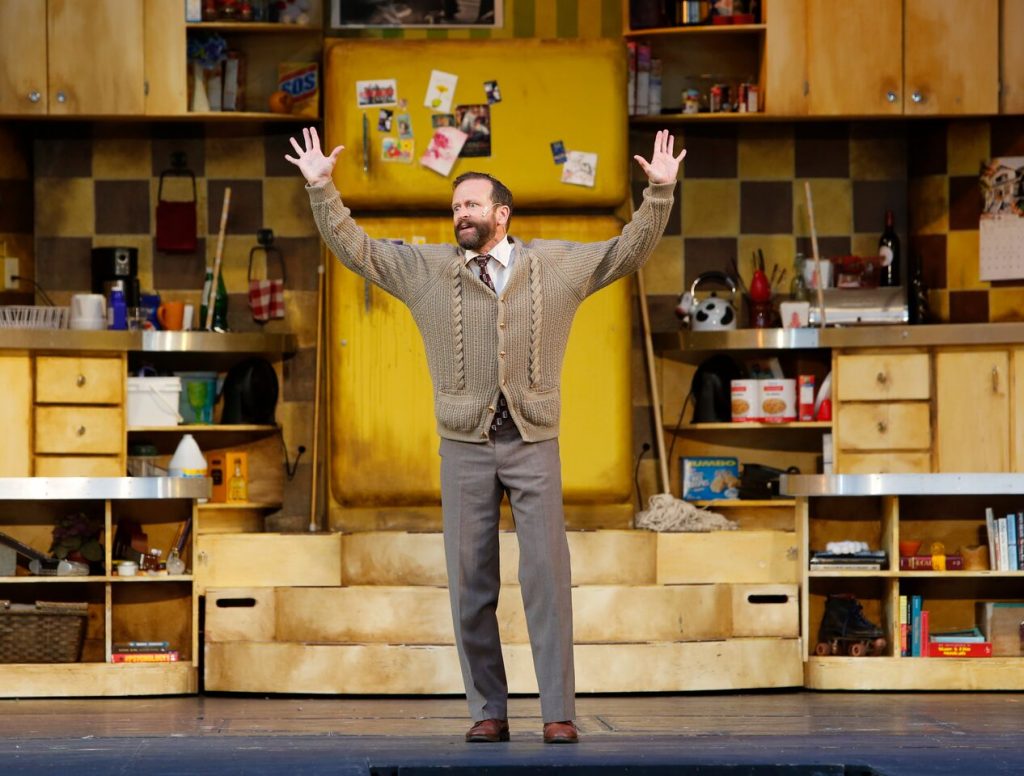 At Theatre Under the Stars (TUTS) until August 19, 2017
Tickets from $30 at 1-877-840-0457/ticketstonight.ticketforce.com
Posted July 15, 2017
There's nothing snoozy or sleepy about this TUTS production of The Drowsy Chaperone: it's flat-out, full-on fun. Plus it's wickedly clever.
With book by Bob Martin and Don McKellar, music and lyrics by Lisa Lambert and Greg Morrison, it's an affectionate spoof on 1920s romantic musical comedies. All that glitz, all that glam, all those exaggerated emotions and ridiculous plots.
Originally a skit written in 1997 by McKellar, Lambert and Morrison as stag party entertainment for Bob Martin's upcoming marriage to Janet van de Graaf, The Drowsy Chaperone was subsequently rewritten for the Toronto Fringe Festival and, later, with Martin on board as a co-writer, it was expanded and opened at Toronto's Theatre Passe Muraille in 1999. Success followed success and The Drowsy Chaperone – a made-in-Canada musical comedy – opened on Broadway in 2006.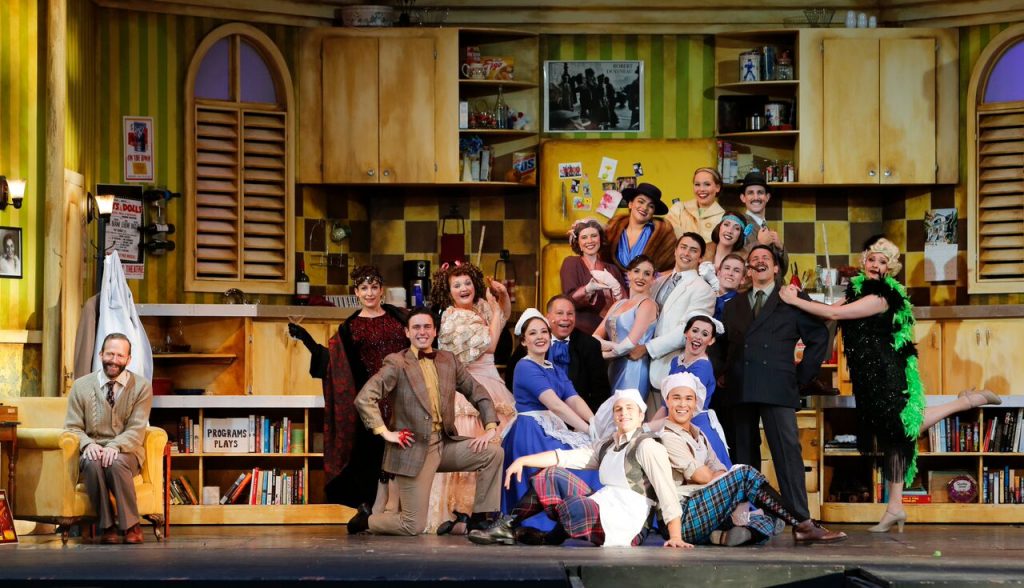 Middle-aged, sad and lonely, and a total musical comedy fanatic, Man in Chair (Shawn Macdonald), sits alone in his run-down apartment. Once he sees us – the audience – he tears down the fourth wall to share with us his two-record album of his favourite musical, The Drowsy Chaperone. That's the first level of smart-alecky-ness: there was no Drowsy Chaperone until McKellar and Co. wrote it.
The real-life engaged couple – Bob Martin and Janet van de Graaf – appear as characters in the musical-within-a-comedy. Fictional Janet (Shannon Hanbury) is a Feldzieg's Follies star about to give up her career to marry Robert (Stuart Barkley), formerly the guy in the ad for AllBright Toothpaste (fifth ingredient – cocaine). Janet, clearly loving the spotlight – swanning and posing – sings "Show Off", in which she declares she "I don't wanna show off no more." The lady doth protest too much.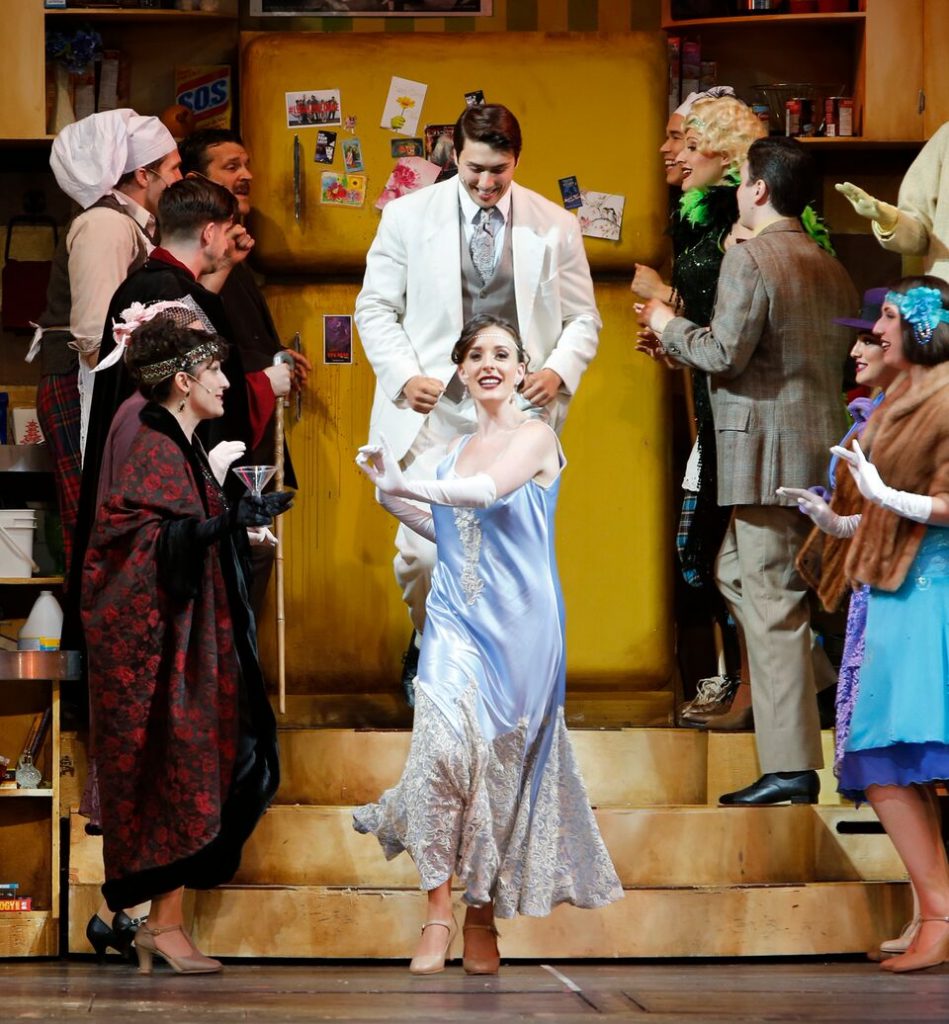 Soon Man in Chair's apartment is full of singing, dancing characters: jealous, ditzy Kitty (Lauren Gula); Follies producer Feldzieg (Stefan Winfield); Latin lover Aldolpho (Dimitrios Stephanoy); gangsters #1 and #2 (Kai Bradbury and Nicholas Bradbury); Underling, a butler (Peter Stainton); George (Blake Sartin), the best man; Mrs. Tottendale (Sheryl Anne Wheaton); Trix, The Aviatrix (Ali Watson) and an ensemble of another fourteen singing, tap-dancing characters.
And, of course, there's The Drowsy Chaperone (Caitriona Murphy) whose job it is to keep the bride and groom from seeing each other on the wedding day as tradition requires.
It's all completely, charmingly over-the-top and under the direction of Gillian Barber, no one is asleep at the wheel.
What's the glue that keeps this all together? Shawn Macdonald, as Man in Chair, is adorably self-effacing, definitely fey if not gay and clearly mad about musicals – especially this one. His character comments throughout the recording – "Don't listen to the lyrics", "I love this part", "Don't you just love her?" as well as pointing out the ironies like, for example, "As We Stumble Along" being an anthem to alcoholism and the risqué double entendre like, "Love is Always Lovely In the End".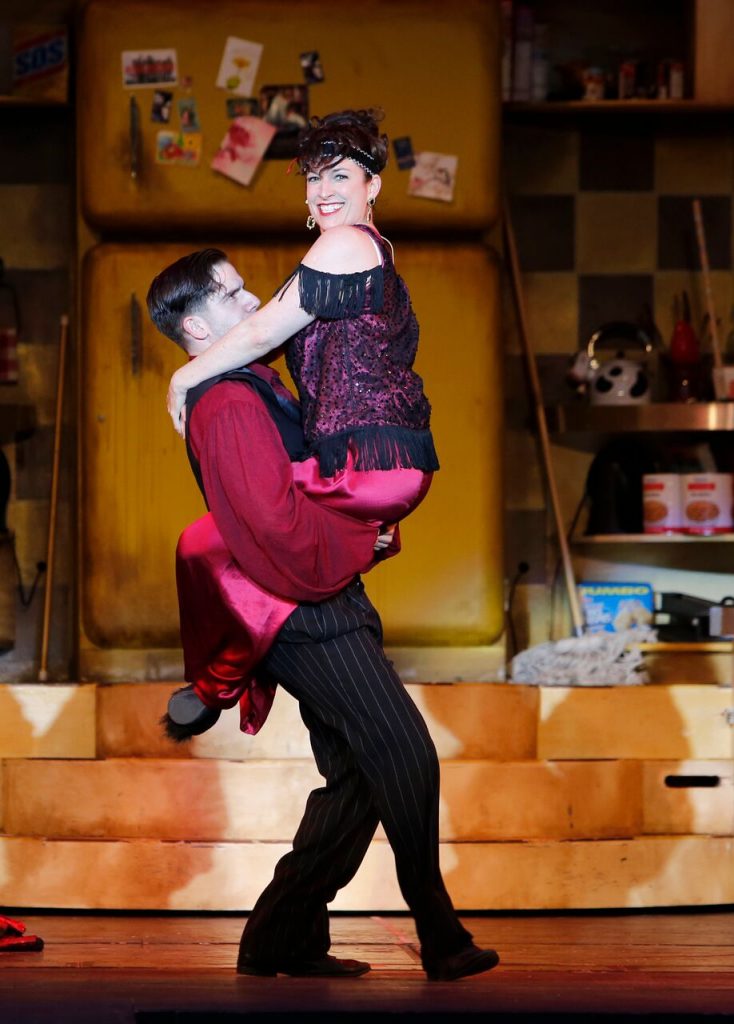 Caitriona Murphy is on fire as the constantly imbibing chaperone. It's the booze, of course, that makes her character drowsy. At one point, flat on her back – making herself available to clueless Aldolpho – she gets handed a glass from the below-stage conductor Kevin Michael Cripps who leads a spirited orchestra of twelve.
The show is full of smarts: the power goes off and the record dies and, with it, all that singing and dancing stops until the power is restored; the record sticks and everyone keeps repeating what they were doing; the Man in Chair has to pee so it's intermission; Man in Chair's cleaning lady puts the wrong record into the sleeve and a completely different musical begins.
Musicals don't generally have a message – but this one does. You'll have to see the show to find out what it is because I'm not telling.
The Drowsy Chaperone alternates nightly with Mary Poppins, which is the better bet for kids. But for grownups who love musicals as well as those who think musicals are just plain dumb, this is a lot of good, very smart fun.