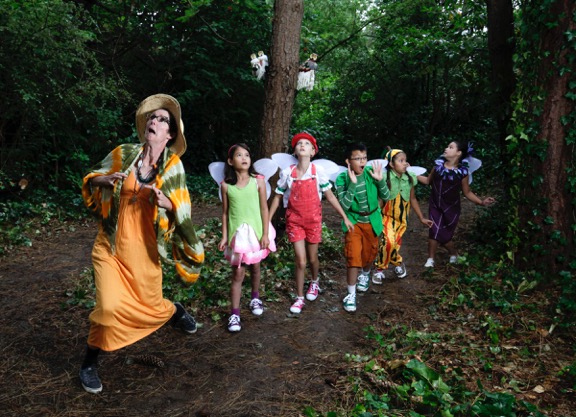 At The Sharing Farm (2771 Westminster Highway, Richmond) until August 15, 2015
3:30PM and 6:30PM daily; 75 minutes. No shows August 13
www.brownpapertickets.com or cash (only) at the door; children under six – free
Posted August 8, 2015
If you're looking for a little magic in your life, you should check out The Faerie Play, presented by Mortal Coil Performance, written by Lois Anderson and Cathy Stubbington, and directed by Peter Hall. Produced by the same team that created Salmon Row, a huge hit in Steveston back in 2011 and again in 2013, The Faerie Play walks you through The Sharing Farm, a three-acre working farm situated within Richmond's 63-acre Terra Nova Rural Park. While the play is full of magic, The Sharing Farm itself is amazing and well worth a visit. Now a non-profit society, The Sharing Farm Society began in 2001 with volunteers picking surplus fruit from Richmond gardens and delivering it to the Richmond Food Bank. The project has grown like zucchinis planted in compost and since its inception has now distributed over 230,000 pounds of fruit and vegetables to the food bank. Kale the size of small trees and the colour of eggplant stands in proud rows alongside bright green chard and cabbages almost as big as SmartCars. The place – and the concept – are magical.
The Faerie Play, a site-specific theatrical experience, is designed to delight families with children from about the age of two to eight. That being said, at the opening performance, I caught many a smile on the face of longtime Richmond councillor Harold Steeves as puppets, designed by Frank Rader, Iona Paul, Joseph Paul and Amanda Kenoras popped up and did their bit.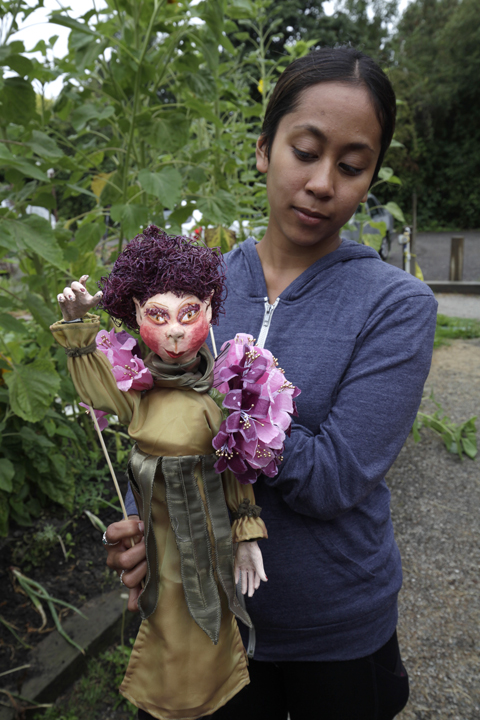 It's not all puppets, however. There are real live little girls and one little boy (dressed up by costumers Barbara Clayden and Stephanie Kong, as Tomato, Basil, Sweet Pea, Dandelion, Squash and Sage) who are all, so the story goes, the students of the outrageously theatrical Miss Potts (Sharon Bayly) at the "Young Persons Dramatic Society of Richmond." When mischievous Dandelion (adorable Mackenzie Paul) goes missing, Miss Potts is frantic and rallies everyone – audience included – to go looking for her. Through a rhododendron 'forest' we go, through the vegetable patch, past the bee hives (alternate route available for those afraid of or allergic to bees) and into a fantastic sunflower maze. The sunflowers, grown specifically for this production vary from pale yellow and tawny orange, multi-flowered stalks to platter-sized giants with nine-foot stems like tree trunks.
It all wraps up in tiny magic circle with a puppet snail (handled and voiced by Sean Sonier), whose name is Time, explaining that the play is running out of it.
To keep the grownups entertained, there are asides to give us a giggle, like frenzied drama teacher Mrs. Potts declaring, "This is the last time I do children's theatre" when one of her pupils goes missing and gets turned into a faerie.
Just being in The Sharing Farm is wonderful: fruit trees espaliered against rustic fences, stacks of prickly straw bales, compost heaps the size of buses and good karma everywhere. If you're an urban dweller and you want your kids or grandkids to know where food comes from, this is the place. Farmers' markets are grand but this is where it all begins.
Maximum audience is seventy; if it rains more than just a sprinkle, everything moves into a great big red barn. Parking is free and only a few hundred meters down the road in a gravel lot. The farm is easy to find and if you arrive early, half a block west is an entrance to the West Dyke Trail that has a magic all its own.
Park your adult expectations; rediscover your inner child. There's magic afoot – not the least of which is the huge contribution of fabulously fresh food that goes from The Sharing Farm, under the executive directorship of James Gates, to the disadvantaged.