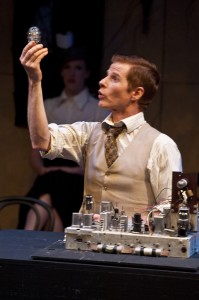 At Jericho Arts Centre until August 9
www.ticketstonight.ca
Posted August 1, 2013
Presented by Ensemble Theatre Company (ETC), this is a brainy play about brainy people and it crackles with nastiness and intrigue. If you don't know how your TV works, you won't know much more when the curtain falls on The Farnsworth Invention. But you will know about the struggle Philo T. Farnsworth, the inventor of television, went through to maintain control of his discovery. Snapping at his heels was David Sarnoff of Radio Corporation of America (RCA) who offered Farnsworth $100,000 in 1931 for his early TV. Farnsworth rejected the offer and Sarnoff, according to playwright Aaron Sorkin (The West Wing), then planted Vladimir Zworykin in Farnsworth's lab to spy on him. What ensued, in real life, was lawsuit after lawsuit as both Zworykin and Farnsworth tried to secure the patent.
Hard to believe that young Farnsworth, a Mormon farmboy from Idaho, got the idea for television while plowing the family's fields: all that back and forth motion used to prepare the ground. But just before his fifteenth birthday Farnsworth presented drawings of his first 'image dissector' to his highschool chemistry teacher and by the age of twenty-one he demonstrated his first working prototype.
But the field-plowing idea makes for an interesting intro to the play and director Matthew Bissett makes the most of it with his players marching back and forth in straight lines like a marching band but without the trumpets and drums.  Bissett's direction throughout is very creative with Sarnoff (Yurij Kis) and Farnsworth (Michael Smith) often picked out in bright spots on either side of the stage; a kind of 'in this corner, wearing the beige suit' approach to the fight for recognition that consumed them. The playwright confesses that the play isn't completely true to life: Farnsworth initially won the lawsuit over the patent because of those early drawings that, wisely, his highschool teacher had saved. But it is true that Farnsworth suffered from depression, lost his business and became an alcoholic. Sorkin simply collapses time.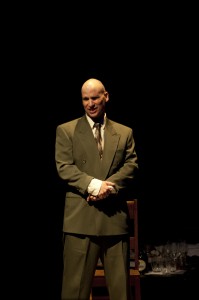 Kis and Smith are extremely well matched to go toe-to-toe. Kis, as Sarnoff, is the embodiment of the capitalist credo: it's not about how you play the game, it's about who wins. With his head shaved and always looking sharp in a business suit and tie, Kis looks primed for corporate battle. It's lines like, "I burned his house down so he wouldn't burn my house first" that define Sarnoff's 'all's fair in love and business' attitude.
Smith, on the other hand, always has his sleeves rolled up and his hair unruly. The farmboy that was Farnsworth is still there. And Smith exudes a kind of boyish excitement, a real desire to, for example, get the Dempsey/Carpentier fight on television so hundreds of thousands could see it. For Farnsworth it was less about the money, more about the thrill of invention.
By his side, through thick, thin and the death of their son Kenny, was Farnsworth's wife Pem, portrayed by Rebecca Walters who exudes, despite her youth, motherly warmth and caring.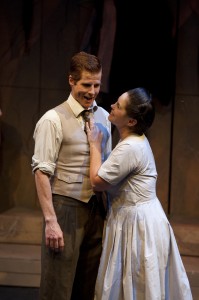 It's a cast of a dozen playing more than two dozen roles. Bissett keeps them all the time on stage – a simple set designed by John Bessette: an upstage wooden wall hung with hooks for costumes, and chairs for players to sit on when not in the scene.
It's a Brechtian approach that's appropriate to a play that doesn't engage on an emotional level. The playwright lays it all out but, while you hope Farnsworth doesn't get completely screwed, you wouldn't really lose sleep over it if he did.
Fast-paced and with playwright Sorkin's brisk and snappy dialogue, The Farnsworth Invention may make you think twice when the many screens you now own – cellphone, iPod, iPad, computer and all those other electronic gadgets that glow in the dark, in addition to your TV – light up.