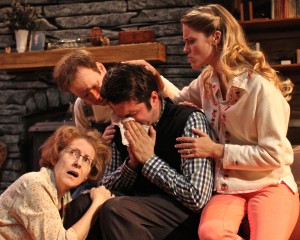 At Pacific Theatre until October 12
604-731-5518/www.pacifictheatre.org
Posted on September 22, 2013
If the grey skies are making you feel blue, Pacific Theatre has a show for you. It's such a sure-fire winner that this is the third time the company's artistic director Ron Reed has included it in Pacific Theatre's season; the first time was in 1995, the second in 2001. With one exception, this is a completely new production and that one exception is one of this show's best features: Erla Faye Forsyth is Betty, the proprietor of a backwoods Georgia, USA fishing lodge. Forsyth reprises the role she played back in 1995; she was hilarious then as a mousy little widow fighting city hall over building codes and she's every bit as funny, maybe even funnier, now that Forsyth is a little older. She adds such exquisite detail to her characterization that Betty is just bursting with idiosyncrasy: the way she touches her hair or musses 'the foreigner's' hair, the way she cocks her head or frowns – it's always such a rich, fully-formed picture. Best of all is when Betty figures she's got something right and cracks a smile. How could she possibly have known that "chopping wood" is "dooley-dooley" in the foreigner's language? You just have to laugh at Betty's self-satisfaction.
It's a ridiculous set-up: Charlie (John Voth), whose wife is dying, has been deposited by his friend Froggy (Ryan Scramstad) in the inn for some much-needed rest. Charlie's wife has been unfaithful with twenty-three 'friends', he confesses to Froggy, but he still loves her. Pathologically shy, he doesn't want to stay at the inn so Froggy 'fixes' it by telling Betty that Charlie doesn't understand or speak English; that way, he can avoid all conversation with Betty (Forsyth), Catherine (Kaitlin Williams) and her fiancé Reverend David Lee (Mack Gordon), Catherine's brother Ellard (Peter Carlone) and the white supremacist Owen (Byron Noble). Charlie becomes a great listener and in the process hears some scheming that, if successful, will drive Betty out of business.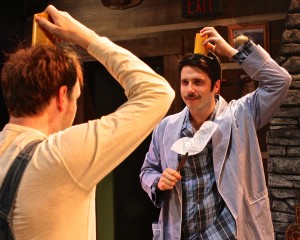 So silly is this plot that without a great cast, it would really be stupid. But director Evan Frayne brings together seven real pros that make all the antics over-the-top fun. For a while it looks like Voth will just have to sit around and shut up but eventually Charlie develops 'personality' and his gobbledygook storytelling is a wonder to behold. Voth really warms to the task and makes what is not at all simple look easy. Williams nails the bored and lonely southern belle while Gordon shows the two faces of David. To Noble falls the job of villain and he turns in a performance that's like a snake winding up to strike.
Playwright Larry Shue does it all with compassion for these characters – especially slow-witted, slack-jawed Ellard who miraculously 'teaches' Charlie how to read in a matter of hours. And what does he read? Shakespeare's Sonnet 18: "Shall I compare thee to a summer's day?" How sweet is that?
Embedded in all the hijinks is a chilling scene with a home invasion by the Klan. It reminds us of just how terrifying those visits were – not only for black Americans but for anyone outside the mainstream.
My review of the 1995 show says the staging was "modest" and "unpretentious". Lauchlin Johnston's interior set this time around  – a fully-packed lodge interior complete with woodstove – is far from modest and, in addition to winning multiple Jessies, is just another indication of how far Pacific Theatre has come over its thirty year history.
Two of the most popular Pacific Theatre shows are bookends for this 2013-2014 season beginning with The Foreigner and closing with Lucia Frangione's Espresso. While Espresso is more obviously an exploration of Christian faith, for all its silliness The Foreigner celebrates caring and decency, goodness and tolerance. Those qualities fit right in with Pacific Theatre's mission – and it's a guaranteed giggle.