At Studio 1398 until March 2
brownpapertickets.com or at the door
Posted on February 25, 2013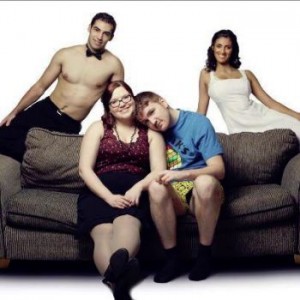 If you were watching TV in the 60s, The Girl in the Frame (book, music and lyrics by Jeremy Desmon) will remind you of I Dream of Jeannie. That half-hour show was light and romantic and silly and this is light, romantic and silly, too.
Under the direction of Julie Tomaino, and the musical direction of (and the always spirited piano accompaniment by) Wendy Bross Stuart, the talent and commitment of the quartet of singer/performers is evident. The songs – about a dozen of them – are difficult; they don't go where you think they're going to go, in other words. But Joey Herbison, Robyn Leigh Johnson, Synthia Yusuf and Paul Almeida are confident, accomplished singers and hot on the trail of Desmon's tricky melodies.
Alex (Herbison) and Laney (Johnson), engaged for four years, share a small, New York apartment. Laney is getting antsy about a wedding date or lack thereof. We don't know what he does for a living but she, rushing home from work, takes a lot of what seems to be urgent phonecalls. Not fifteen minutes into their romantic fourth anniversary celebration – a snuggle-up-at-home dinner (a bottle of wine, two glasses and a brown paper bag that looks like it might be popcorn), she rushes off to solve some problem in Madrid but not before they exchange gifts.
Now, I don't know but somehow I think the occasion would call for more: he gives her a small, 8" x 10", off-the-shelf picture frame with a display photo of a pretty girl "mid-twirl" in a white sundress. They both have the same minimal expectations, obviously, because Laney gives Alex the very same picture frame with the very same display photo. Hasn't he heard of jewellery? Or a day at the spa? Hasn't she heard of tickets to a ballgame? Or a pass to the local gym?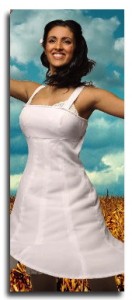 Anyway, you guessed it: he falls for the girl in the picture (lithe and leggy Yusuf) et voilà, she comes to life while Laney sorts things out in Spain. She cooks (but only apparently chicken Florentine and chocolate soufflé), she cleans, she knows all the ballgame scores, she's a killer at strip poker, she's a knockout and, as she says, "And, oh, I'm not wearing any underwear." Alex has hit the jackpot.
From that point on, you can pretty much see what's coming.
Kim Rosin's set looks as if the best has been done with little money. Forming the background are black and white painted flats with a central street-scene framed painting that looks sort of Eiffel Tower-ish; as the story heats up, colourful 'cut-out' bits are added: a sombrero, a motorcycle, (not sure why), a suit of armour (ditto). I suppose with the genie-like appearance of the girl in the frame (who is Evelyn to Alex; Carmelita to Laney), anything goes.
Produced by Intimate Theatre Productions under the artistic direction of Aaron Lau, this is a decent little hour-and-a-half production of what really is – tops – an hour comedy sketch. It is, however, finding an audience; February 27 and 28 are sold out and tickets are going fast for the following weekend.