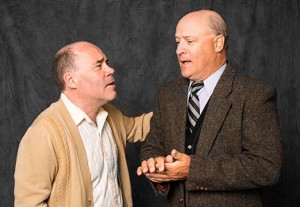 At Jericho Arts Centre until September 29
604-224-8007/unitedplayers.com
Posted September 16, 2013
What happens when artists who were once considered avant-garde grow old and begin to look passé? Amongst a plethora of themes, that's a big one at the heart of Alan Bennett's The Habit of Art. Bennett chooses poet W.H. Auden and composer Benjamin Britten – both at the cutting edge of their respective creative activity as young men – to illustrate the inevitable uncertainty and decline in their later years. The habit of art, nevertheless, keeps writers writing and composers composing; it's what they do and to do otherwise would be inconceivable.
At 79, British playwright Alan Bennett must be looking at his own professional life and wondering what boundaries he can push to stay in front of the pack. The unconventional framing of this play is one attempt.
The play is set in 1972 in a rehearsal hall of London's National Theatre where a new play, Caliban's Day, is being rehearsed. Neil, the playwright – a man who appears to be in his 60s or 70s – is on deck as are all the players and the crew – stage manager, assistant stage manager, sound designer, dresser and rehearsal pianist. The play-within the-play is set in Auden's Oxford University office where he awaits a 'rent boy' whom he plans to – as was his wont – fellate.
It's in Act 2, that The Habit of Art gets interesting. Britten, whom Auden worked with on several projects a couple of decades previously, arrives at Auden's office. Britten is working on a new opera based on Thomas Mann's Death in Venice and he's not sure the librettist is 'getting it'. He also fears he is exposing his own formerly well-concealed passion for young boys in the work. Auden, well into his cups, is immediately keen to replace the librettist and have a go at it. His eagerness is rather pathetic and Britten does not oblige him.
We see Caliban's Day through the interplay of the writer, the cast and crew during rehearsal. It's a little like a three-dimensional game of Naughts and Crosses. Fitz, the actor playing Auden can't remember his lines and we can't be certain the whiskey his character continuously drinks isn't real whiskey as Fitz stumbles through the script. John Prowse, playing Fitz-playing-Auden keeps us constantly wondering whether Fitz is faithful to his subject. Murray Price, as Henry-playing-Britten, is in sharp contrast to Auden; where Auden is dissolute, Britten is controlled, repressed. These are two excellent performances that make compelling what could be pedantic in less skilled hands.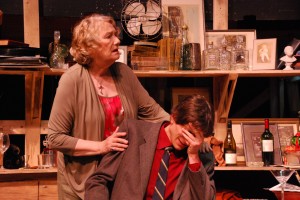 Joan Bryans as Kay, the stage manager, is the patient conciliator, the necessary buffer between writer and actors, actors and actors. Bryans is so natural in the role you know she's been observing stage managers for a long time.
The Habit of Art is, undeniably, work for the audience. The setup is so multi-layered and the themes so intertwined you can get lost. Names are dropped; 'Larry' is Laurence Olivier, 'Tippett' is composer Michael Tippett. While the reviews from the play's 2009 premiere at London's National Theatre are all raves, they unanimously reference the play's complexity. There are elements of comedy – the ridiculous drag routine of the biographer (Kurtis Maguire in the role of Carpenter) to spice up his otherwise uninteresting role, for example. But The Habit of Art is definitely not a comedy. Witty, yes. Comedic, no.
The issue of creating art over the span of a long career is a compelling one. Who hasn't wondered how Woody Allen keeps re-inventing himself? Or Leonard Cohen? Robert Lepage? Can an artist still be fresh and exciting at 70, 80 or 90?
Ably directed by William B. Davis and produced by United Players, The Habit of Art is not casual viewing but it's definitely stimulating and thought provoking.