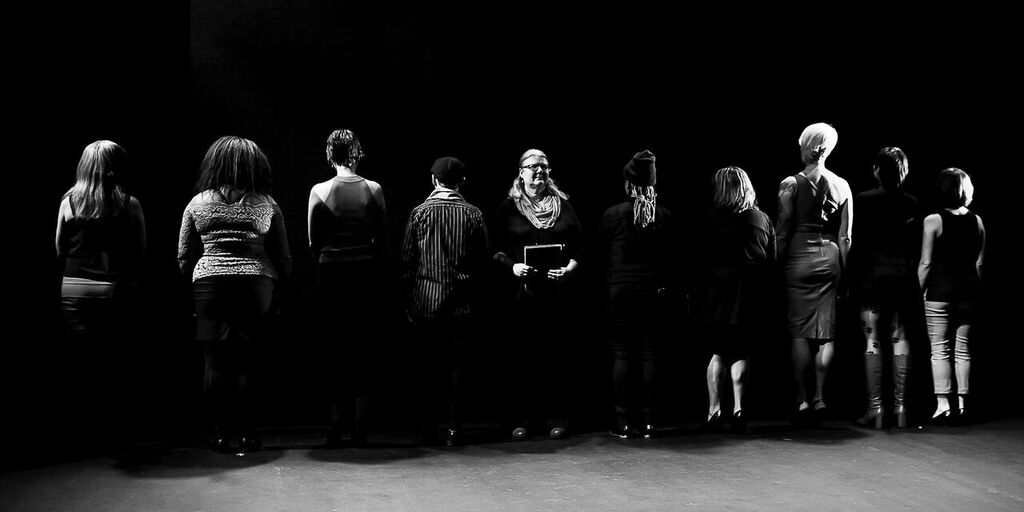 At The Firehall Arts Centre until March 13, 2016. All performances sold out. Wait list for the Sunday, March 13 performance opens at 2PM for the 3PM curtain
Posted March 12, 2016
Sorry, some of the links may not work. Please cut and paste the addresses into your browser in that case.
There's gutsy and then there's GUTSY. That's The Hooker Monologues, enjoying a sold-out run at The Firehall until March 13. A former PACE  (Prostitution Alternatives Counselling & Education) executive director, Raven Brown got the idea for The Hooker Monologues – very roughly – from Lee Ensler's The Vagina Monologues. A collective of sex workers – past and present – "allies", Mindy Parfitt (director) and Camille Gingras (dramaturge) set to work. The show, while not yet earning the millions of dollars Ensler continues to make, surpasses The Vagina Monologues in depth, intelligence and engagement. It's an eye-opener.
Feminists, as performer, advocate and self-described "radical feminist" Esther Shannon says, have always had a problem with the sex trade. The argument is that prostitutes are exploited and that women in the trade betray the goals of the feminist movement.
This is only partly true: some women – and we hear from several of them – freely choose to be in the business. The money, at the high, indoor end of the spectrum of sex work, is great. And women like Carmen, a well-coiffed, slim, good-looking woman in her late twenties/early thirties, say they are in the service industry providing comfort, counselling, touch, conversation and intimacy that their clients don't find anywhere else. Some of them work with the disabled providing a service that physiotherapists and social workers don't offer. Carmen, by the way, is hilarious as she gives a very graphic description of oral sex with a customer whose dick is "floppy as a flounder". She compares giving him a blow job to "gargling a fish wrapped in plastic." N.B. This show may not be for everyone.
At the other end of the spectrum, however, the street workers get only enough money – if they're lucky – to keep them in cocaine or heroin.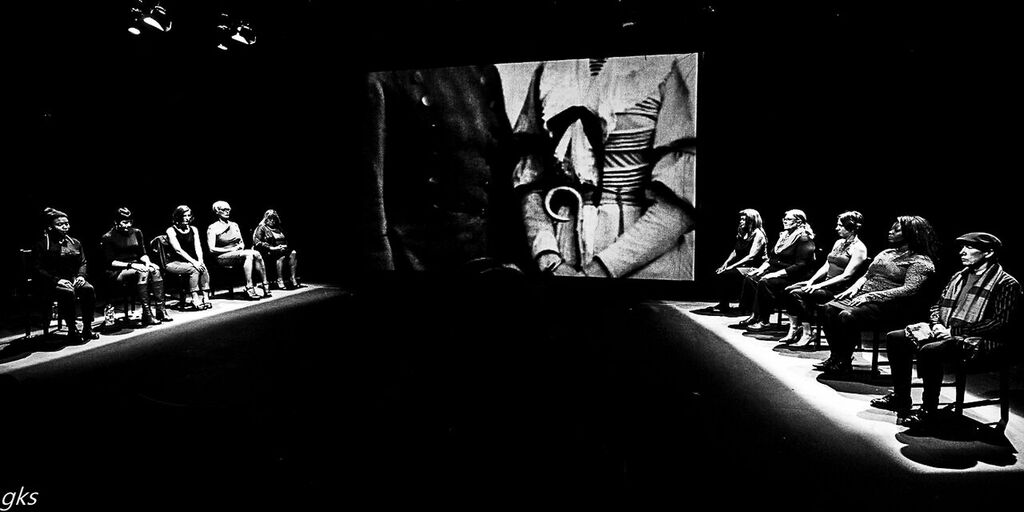 Maggie de Vries is not a sex worker but she lost her sister Sarah to the streets and eventually, on April 14, 1998 to Robert Picton. (Her TED talk is articulate, passionate and persuasive. See it here: http://vancouverunitarians.ca/ucv/events/the-hooker-monologues/
Working from Sarah's journals, de Vries tells her sister's story and it's a heartbreaker from Sarah's adoption at eleven months through a childhood of sexual abuse by a neighbor – about which her parents knew nothing – to the DTES, addiction and murder. De Vries mourns the fact that, so committed to changing Sarah, she didn't accept her as she was.
With her Twitter handle – "Canada's hottest post-op transsexual fetish lady" – Velvet Steele, in a red, off-the-shoulder dress and over six feet tall in stilettos, loves fetish and ritual. She takes us step-by-step, concluding with the application of "Forever Red" on her lips, as she prepares for a client. Standing tall and proud, Velvet still feels the stigma of "the oldest profession" but knows she provides a service to those don't find their needs fulfilled elsewhere. And, yes, she's into fetishes and looks fabulous in black leather.
Ten women (no men were willing to participate and half of the original women backed out over the year it took to put the show together) tell their stories. All dressed in various outfits in black and red, they sit on chairs, move around, turn their backs to us, step up to speak. Far from ten women coming to the microphone one after the other, Parfitt keeps them on the move – seldom provocatively, but confidently. Lighting designer John Webber makes things interesting with shifting shadows and light; and Cande Andrade's video design brings it home to Vancouver where, over the years, sex workers have been located and re-located until all they are allowed to work in is a dark, thin, dirty strip north of Hastings and east of Main. A very scary place to do business and it's still illegal.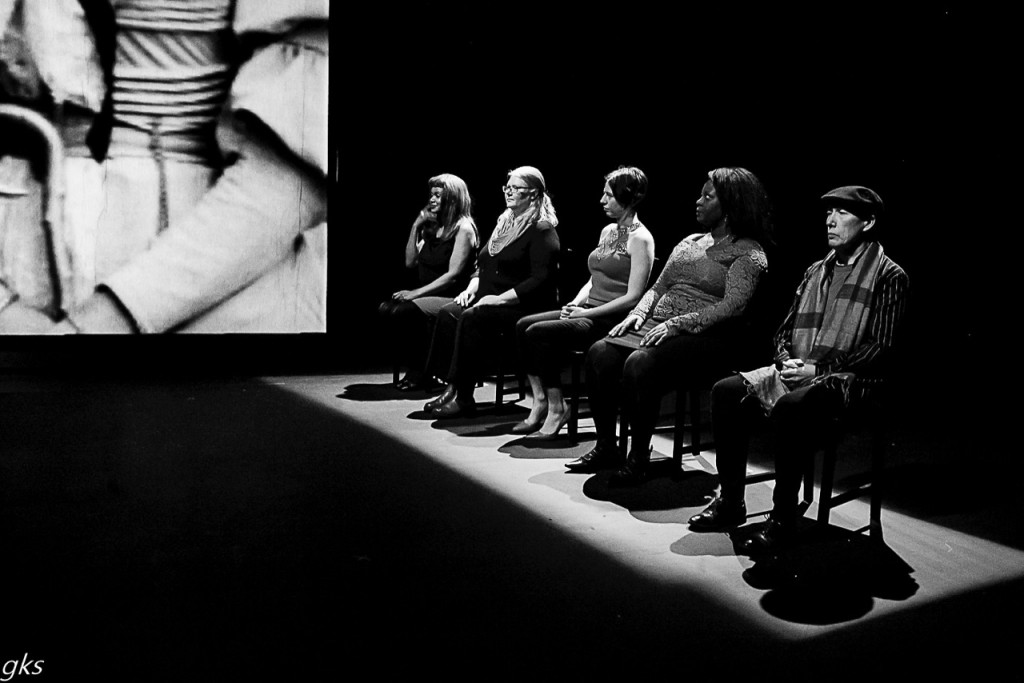 So what's the way forward? What do sex workers want? Legalization and a safe work environment. The only country in the world that has got it right, according to the sex workers themselves, is New Zealand where the industry was decriminalized back in 2003.
Let those who freely choose to be a prostitute (and that word is going out of circulation because of the heavy stigma attached), go freely into the business. As for those who don't make the choice but have fallen into it via pimps, addiction, mental illness, poverty and just running out of options, there are laws to protect them. Any other citizen who is assaulted is protected by law. So should sex workers.
What stands in the way of legalization? Stigma. And there's the rub. It's a slow process to turn around hearts and minds. While some of these women have come out to parents and friends (and sometimes lost their support), they don't tell their children. That won't happen until the stigma is removed – a stigma that for many of us found its genesis in the Bible's Mary Magdalene. Thousands of years of intolerance underlie the reticence to legalize sex work. The Hooker Monologues is just one step on a long journey to acceptance – but it's a gutsy step.
Here are some links to very interesting, very informative articles and videos.
http://news.nationalpost.com/news/canada/there-are-sex-workers-all-around-us-the-hooker-monologues-reveals-secret-world-of-prostitution
http://www.cbc.ca/radio/q/schedule-for-thursday-march-10-2016-1.3484733/the-hooker-monologues-confront-sex-work-stigma-with-storytelling-1.3484736
http://www.straight.com/arts/656821/hooker-monologues-aims-shatter-stigma-around-sex-work