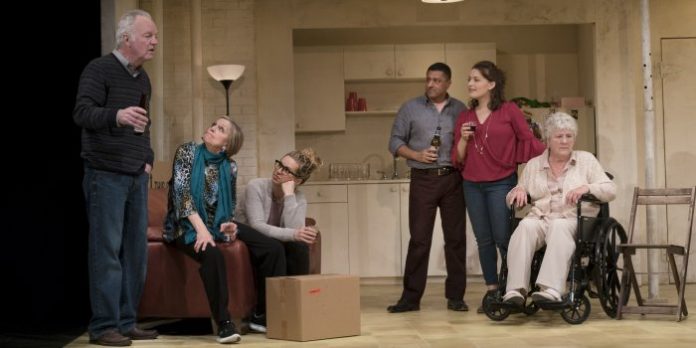 At The Stanley until April 22, 2018
Tickets from $29 at artsclub.com or 604-687-1644
Posted March 30, 2018
"You're okay". "Are you okay?" "I'm okay." "We're okay." All through Stephen Karam's The Humans, the Blake family keeps saying they're okay but they're not. Things are going bump in the night and it's not just the "little old Chinese lady" living upstairs.
Karam sets the play at Thanksgiving in Brigid Blake's newly acquired but just-okay New York duplex. Brigid (Samantha Rose Richard) and somewhat older partner Richard Saad (Parm Soor) have recently moved in and the rest of Brigid's family is seeing the place for the first time. A single, barred window looks into what could be called a courtyard but is actually a cigarette butt-strewn alley; it's a down-at-the-heels, two-storey place (set design by Drew Facey). Thanksgiving dinner appears to be served on paper plates; the table is decorated with colourful, paper foldout turkeys at each place. An effort to be festive has obviously been made by Brigid and Richard, who appears to be doing all the cooking and serving.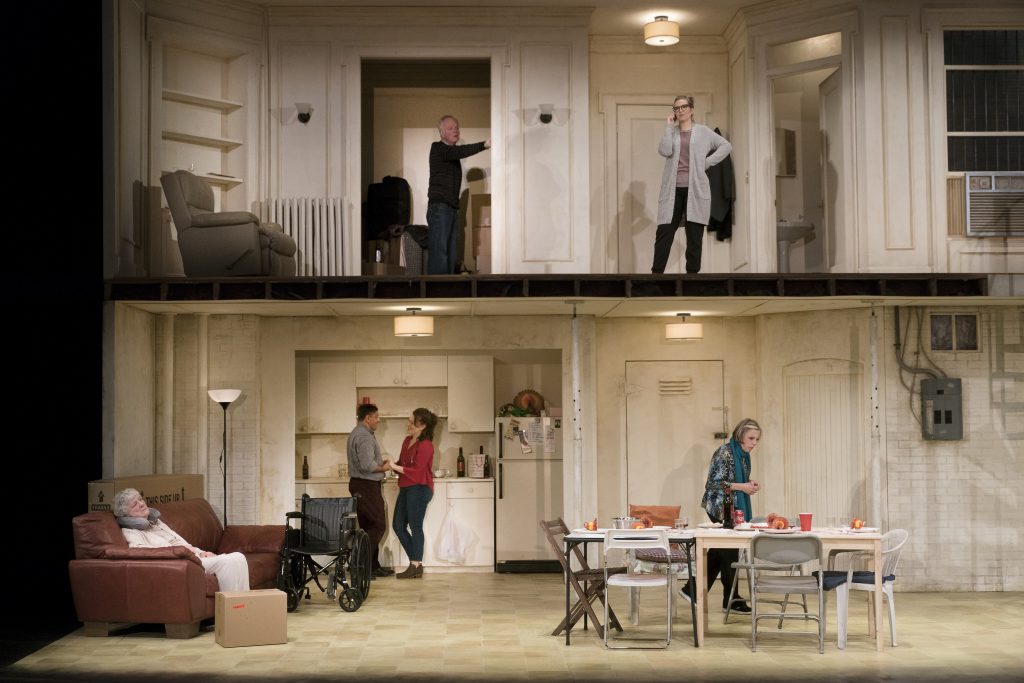 Arriving from Scranton are Brigid's parents Erik (Kevin McNulty) and Deirdre (Nicola Lipman); along with them is Brigid's grandmother "Momo" (Gina Stockdale). Momo is in a wheelchair, suffers serious dementia and is highly agitated. Brigid's sister Aimee (Briana Buckmaster) – broken-hearted over a breakup with her lesbian partner – has also come to be with the family. Aimee suffers from colitis, makes frequent trips to the bathroom and apologizes for the smell.
We don't smell turkey cooking but we sure smell trouble especially when Deirdre asks Erik, sotto voce, when is he "going to tell them?"
It begins as a domestic family drama like many we've seen before on stage, on film and on TV. Years ago, Tolstoy posited, "All happy families are alike; each unhappy family is unhappy in its own way." But if the Blake family has ever been happy it's now losing its grip.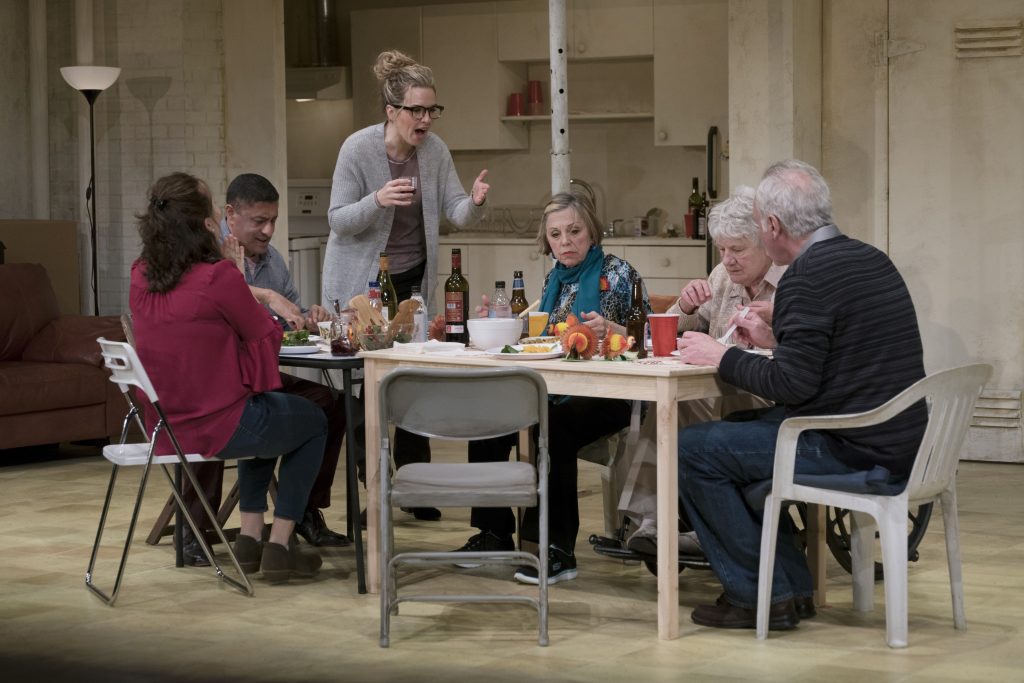 Although The Humans begins super-realistically, it goes sideways. It's pretty clear what the playwright's intention is: life is falling apart for Erik Blake and his physical world is deteriorating, too. But Erik has not been the focus of the play up to this point and our sympathies have not been with him: he's grumpy and sniping. So what could be seen as an 'everyman' tragedy – up there with Willy Loman, for example – just doesn't pack much of a wallop. He's a patriarch – and there's a lovely scene between Erik and Aimee when he overhears her talking on the phone to her ex – but he's been judgmental and grumbling from the outset.
While the end of the play suggests that the story is more Erik's than the rest of the family, it is Deirdre that we like. Give a role like this – scrappy, abrasive and tell-it-like-it-is – to Nicola Lipman is to strike gold. She's does deadpan like no one else and is just completely believable as an aging boomer, saddled with her ailing mother-in-law and a husband for whom she appears to have lost affection. Under Amiel Gladstone's direction, all the performances are solid; Buckmaster is especially successful as Aimee who fears her colitis means that she will end up "pooing out of hole in my abdomen" and alone for the rest of her life.
The set is plain-Jane and the lighting, until the end, is just lighting: nothing special. That's probably the point: there is nothing special about this family. It's a generic family and we are expected to see our own family reflected. Billed as "bitingly funny and poignant", this production is more poignant than funny. There's really not a lot of humour in seeing a family – a microcosm of our society – come apart at the seams.
Stylistically, the playwright takes a big risk in the last scene. It didn't work for me but it's bold and one can't help but admire the attempt to take what is essentially  kitchen-sink drama to another level.