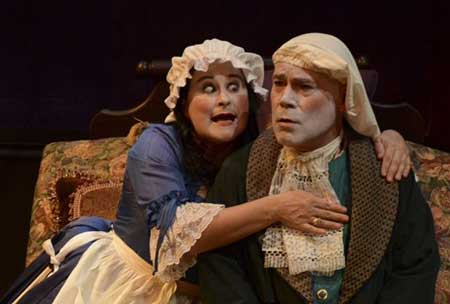 At Jericho Arts Centre until June 28, 2015
604-224-8007/unitedplayers.com
Posted June 20, 2015
Director Michael Fera frames this Molière classic in a fresh way: it is Paris, February 17, 1673 and we, along with King Louis XIV, are in the Palais Royale for a performance of Le Malade imaginaire (in English, sometimes called The Hypochondriac but more often, The Imaginary Invalid).
Back in 1673, playwright/director/actor Molière played Argan, the hypochondriac, a slave to Mr. Purgon, his doctor (Bronwyn Henderson) who perpetually prescribes medicines, injections, bleeding and purging. Molière himself suffered from tuberculosis and during this particular performance, he collapsed on stage and died a few hours later. We view, therefore, The Imaginary Invalid within the framework of that particular 17th century production. While the Palais Royale audience was presumably bravo-ing, Molière, shielded by the other actors, coughed blood into his white lace handkerchief and was carried offstage.
Not knowing this backstory, however, can be bewildering to those who don't already know it. Why is John Prowse, for example, sometimes Molière, sometimes Argan? And why does the imaginary invalid, who is obviously perfectly healthy, haemorrhage and collapse at curtain?
Molière's plays included music, dance and some elements of commedia dell'arte; director Fera re-introduces these, too. Music, under the direction of Pat Unruh, is performed live by Victoria Bass on baroque cello, Cody Kearsley on bass recorder and Olesia Shewchuk on alto recorder and harpsichord. Lyrics, however, in English, Latin, possibly Italian and maybe French, are very difficult to understand so the value of having lyrics is all but lost.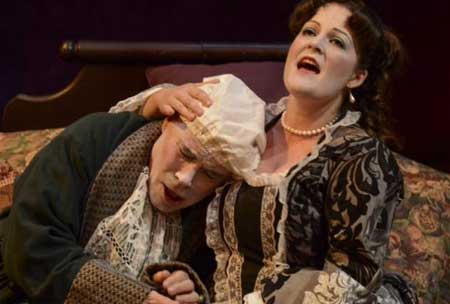 As for commedia dell'arte, Fera introduces Punchinello (Brad Bergeron) and, much as in Shakespeare's plays, the character is there for comic relief. While the fellow two seats away from me thought Punchinello was "hilarious", I found the schtick simply tedious. If Fera can add to the play, he can also cut swathes of it away beginning with Punchinello and ending with the "entertainment" near the conclusion. Poor Parisians, including the Sun King, who had to sit through this.
But there's some very good work from this mainly non-professional cast; professionals include John Prowse and Maria J. Cruz (as Toinette), both Equity members.
Prowse captures the slyness of Argan, as if the character knows all along that there is nothing wrong with him except some excess gas, which is, no doubt, caused by all the so-called medicines he's being prescribed. With the white nightcap, however, he could be confused with Ebenezer Scrooge. I imagined Prowse at some point rushing to the window and hollering, "You, boy, what day is it today?"
While Argan is ostensibly the main character, it's as much the maid Toinette who's pulling the strings. Maria J. Cruz, black curls bobbing and just about popping out of her royal blue low-cut gown (by Jackie Talmey-Lennon), sparkles in the role. As the fake doctor, however, Cruz could be pulled back a notch or three.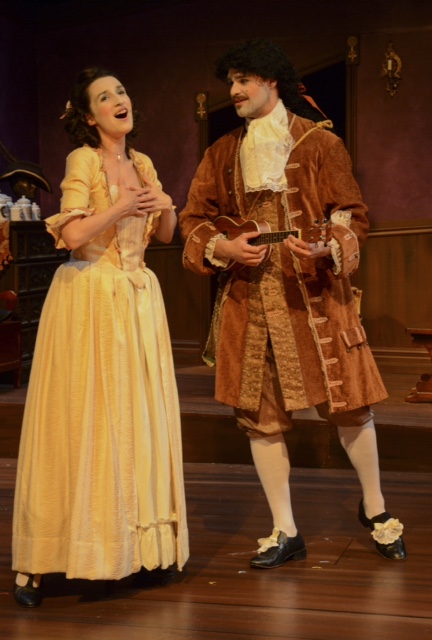 As the young would-be lovers, Olesia Shewchuk (Angélique) and Cody Kearsley (Cléante) are well paired; and Victoria Bass (in another gorgeous gown by Talmey-Lennon) is nicely nasty as Argan's eager-to-be widow. In a smaller role but a very well executed one is JD Dueckman as Thomas Diafoirus, Angélique's intended. It's especially fun watching Diafoirus, in an outrageously blond curly wig, watching the other characters. Emotions and thoughts seem to race across Dueckman's face: a simple, open book.
Presented by United Players, this is an ambitious undertaking. Set design by Todd R. Parker is handsome with its glittering chandelier. The production comes in at just over two hours, shorter than some productions I've seen – although it feels longer. But there are successes here, too, especially in Fera's fresh framing of the play within the context of 17th century France and the life and death of Molière.