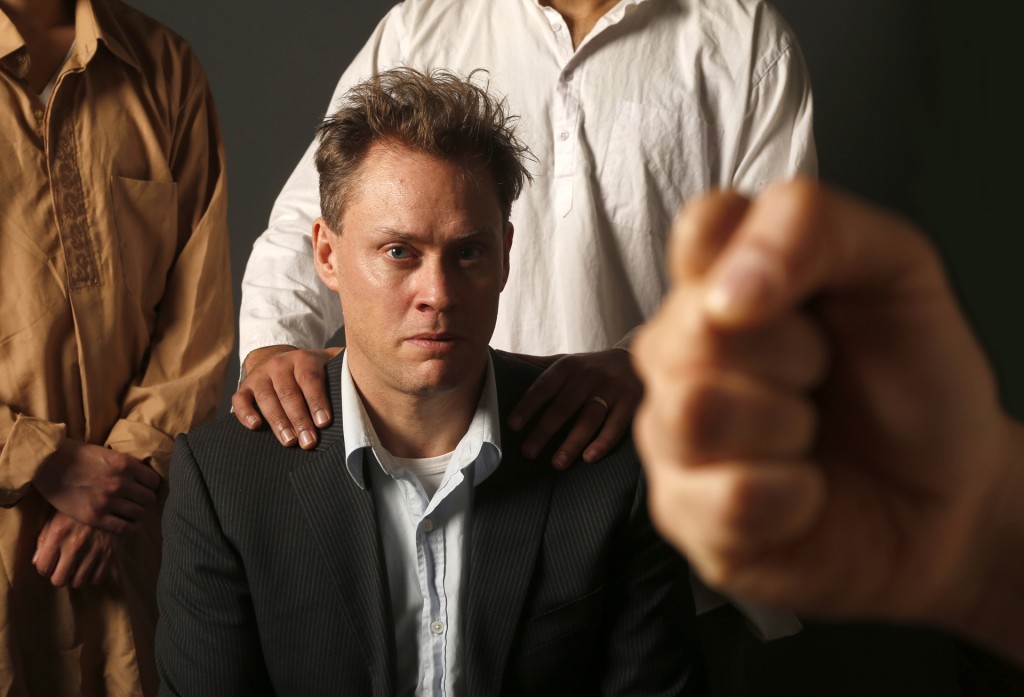 At The Cultch until April 23, 2016
604-251-1363/thecultch.com
Posted April 8, 2016
In his book "An Inquiry into the Nature and Causes of Wealth of Nations" (1776), economist Adam Smith wrote, "Every individual necessarily labours to render the annual revenue of the society as great as he can." The invisible hand, a term he coined, describes what he called the natural correction of the market as the various participants attempt to maximize their profit. The market, he wrote, strikes its own balance thus making government intervention not only unnecessary but also undesirable. Not only the players but also all of society benefits from this invisible hand – so said Adam Smith. Huh.
Take that argument, as playwright Ayad Akhtar does, to contemporary Pakistan where American banker Nick Bright (Craig Erickson) is being held hostage by Bashir (Munish Sharma) and his reluctant cohort Dar (Conor Wylie).
Bashir is Pakistani by birth but grew up in England where he suffered the humiliation of racial and religious intolerance. Now in Pakistan, he's full of hatred for the British and the Americans, who are now using drones to bomb villages in an effort to oust ISIS. Innocent villagers are dying.
Behind the hostage taking is snaky, smooth-talking Imam Saleem (Shaker Paleja) who is demanding ten million US dollars in exchange for Bright's release.
Pleading for his life, Bright says he can personally raise as much as three million dollars and, using his aptitude for making money – as he does so successfully for City Bank, his employer , he will raise the rest on the stock market while still confined and in handcuffs.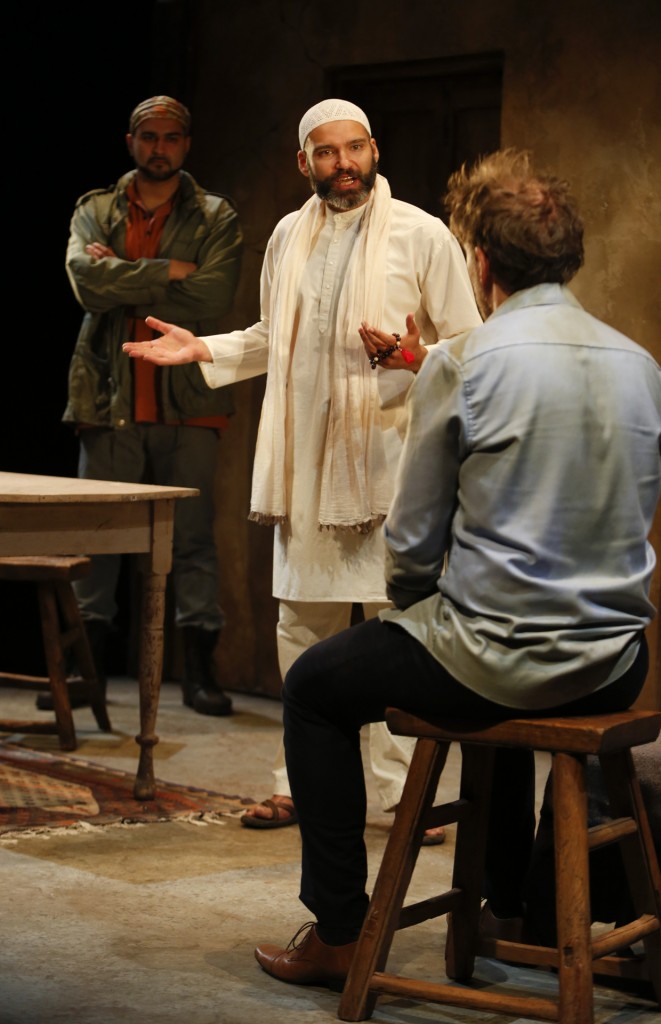 If the audience isn't already on the edge of its seat, it will be and it will remain there until the curtain falls.
This riveting production marks the Canadian premiere of The Invisible Hand by New York-born, Milwaukee-raised Akhtar, winner of the 2013 Pulitzer Prize for Drama in 2013 for his play Disgraced, which won critical and audience acclaim at The Stanley last season. Richard Wolfe directs for Pi Theatre, a company always on the forefront of edgy, political theatre, and he brings together a superb cast of four for a tense, taut ninety minutes.
Nick Bright is a terrific role for Craig Erickson who always brings restless, nervous, almost savage energy to the stage. As Nick he's scared almost witless and Erickson signals that terror so palpably. But once Nick – an aggressive, high-powered investor – starts earning money for the Imam, Erickson is on a high: cocky, confident and brash. "Making money can be intoxicating", Bright tells Bashir.
It's a real strength of this script that the characters are so multi-faceted: neither totally bad nor totally good. Bright is ostensibly 'the good guy' and Bashir, 'the bad'. Munish Sharma's Bashir is physically big, powerful and potent, pacing the Cultch stage, spewing anti-American hatred. But as the play progresses Bashir exposes an eagerness to learn from Bright, even friendliness toward his victim, that makes the character almost likeable. Bright, on the other hand, is revealed as predatory, a true follower of Adam Smith's theories.
Wylie, as Dar, does an extremely fine job in a terrifying, pivotal scene involving a gun while Paleja's Imam Saleem is calm, falsely charming and deadly.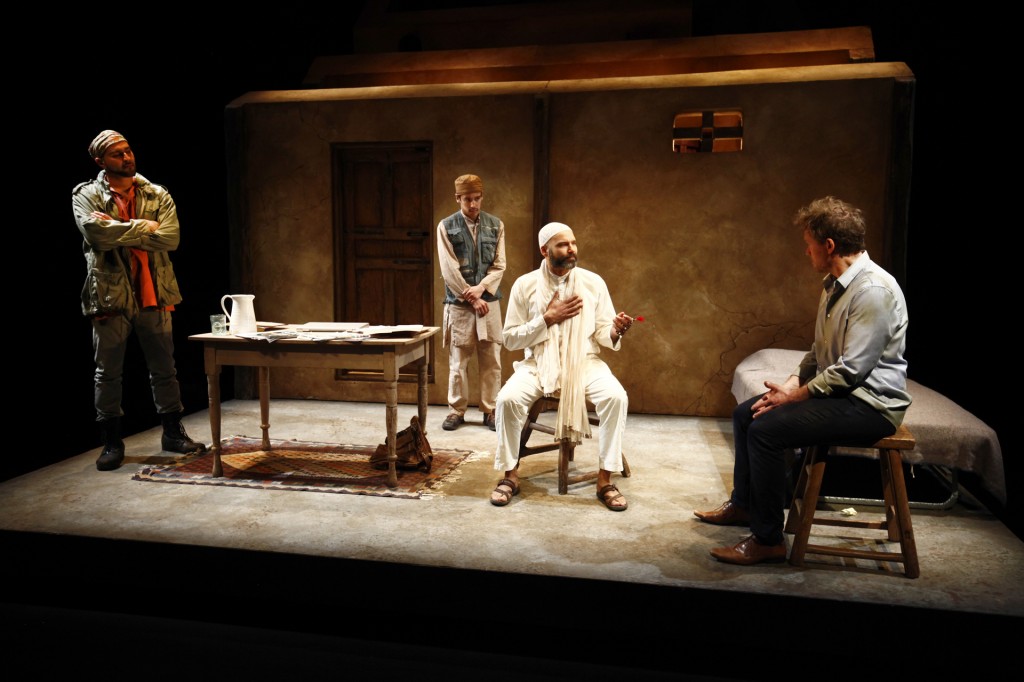 The action takes place, ironically, on David Roberts' warm, terracotta-coloured, Middle Eastern-inspired set: three ochre, receding walls, warmly lit – as if in desert sunlight most of the time – by Alan Brodie. Musical director and composer Gordon Grdina provides a gorgeous soundscape sung by Fathieh Honori, one of Canada's premier Persian vocalists.
The Invisible Hand is theatre that makes you think and, perhaps, rethink. A quote from the playwright sums it up: "In our day and age, not to understand how deeply finance has informed and defined our relationships is to miss an important part of what it means to be alive right now, in this civilization."
Don't miss The Invisible Hand. It will rattle your cage.