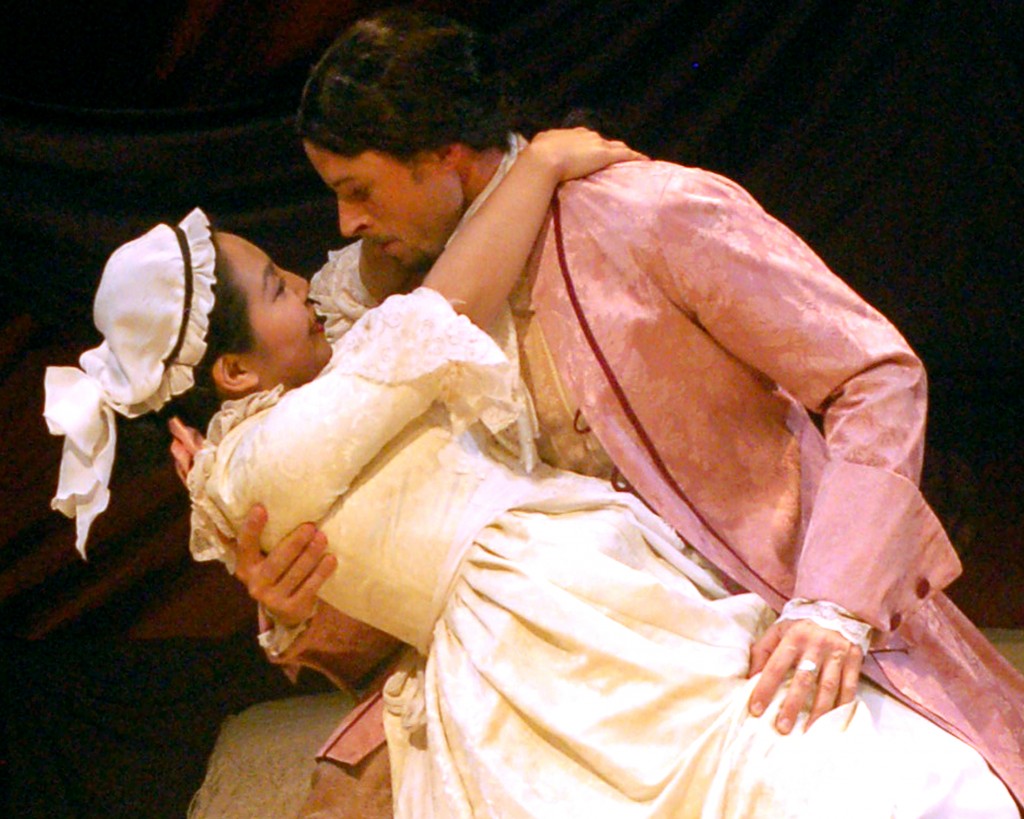 At Jericho Arts Centre until June 29
604-224-8007/www.unitedplayers.com
Posted June 9, 2014
"Flamboyant, flowery, fancy frippery" reads the press release for this production by United Players, directed by Adam Henderson. This Marriage of Figaro – the play, not the opera – is all that and more.
To begin with, it's gorgeous: John R. Taylor draped the set with meters and meters of silky, satiny 'swags' in warm, rosy colours; lighting designer Randy Poulis burnishes the set so it all seems to glow with the imagined warmth of the countryside in Andalusia where playwright Pierre-Augustin de Beaumarchais set the play. Director Henderson, who also adapted the play for this production, gives it all a very Spanish feel: Spanish accents, music and dance with castanets, foot stomping, hand clapping and flamenco-style dancing. Choreography by Sydney Cochrane is hot, Spanish and sexy.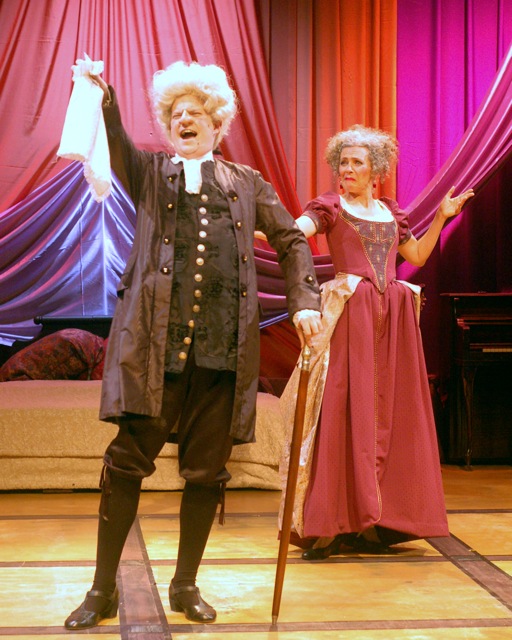 And, of course, Figaro is all about hot and sexy: who's trying to seduce or evade the advances of whom. Count Almaviva (Chris Robson) is at the centre of most of the sexual entanglements; he's a Don Juan of the first order. One of those he's pursuing is Suzanna (Mayumi Yoshida) about to be wed to Figaro (Patrick Spencer), a servant in the Count's household.
The plot is as tangled as the Count's infidelities to his wife Countess Rosine (Anna Theodosakis). If you don't know the opera – I don't – it's very easy to get lost – I did. And it's easy to lose interest in all the romantic shenanigans – and now and again, I did. But I was always entertained by the look and the sound of the show: by the fabulous period costumes (Chanel McCartney) – bouffant gowns bedecked with lace and ribbons, velvet and buttons. And I loved the music, the singing and the dancing; it lifted the show right up.
Googling The Marriage of Figaro will lead you to a plot summary that reads like a never-ending afternoon TV soap. But something revealed there is interesting: it would appear Beaumarchais didn't see it as quite the farce that characterizes this production. The playwright asked the Count, for example, to be played "with great dignity yet with grace and affability". He is definitely caricatured here as is Dr. Bartholio (Seth G. Little) and Antonio (David C. Jones). Indeed, the whole production sticks close to the play's subtitle, La Folle Journée (The Mad Day) with characters hidden behind chairs, Cherubino (young Dexter van der Schyff) cross-dressed, overheard conversations, mistaken identity – in short, the stuff of farce. Sending Figaro up as Henderson does is a wise decision; it simply wouldn't fly any other way these days.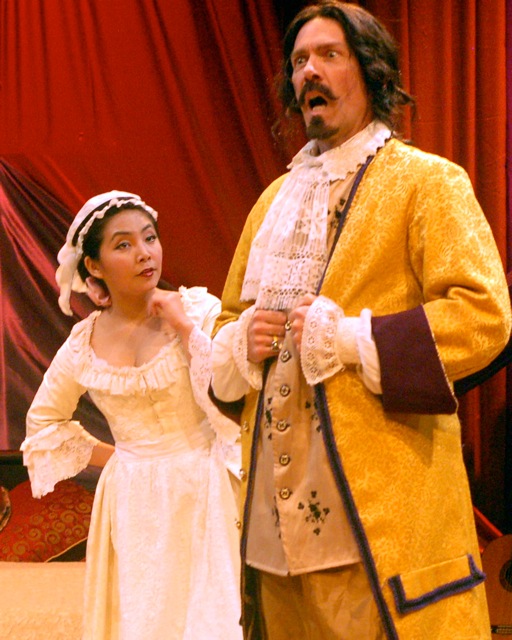 One of the most interesting facts about Figaro is that Beaumarchais originally set the play in France but when Louis XVI saw it, he closed it down because its condemnation of the aristocracy hit too close to home. The playwright revised the play, set it in Spain and it became the hottest ticket item in Paris in the spring of 1784.
Henderson has seriously cut Beaumarchais original five acts down to two manageable halves and he's working with some extremely fine actors. Mayumi Yoshida, as Suzanna, is as saucy a Spanish wench as you can imagine; Jackie Minns makes a fine high-strung Marcelina. Anna Theodosakis is not only elegant and refined as the Countess Rosine but she has a beautiful operatic voice and, for a moment, we think we could be at the opera. Patrick Spencer, in the titular role, is not quite so broadly played as some of the others and that's a smart move, too; we do hope he out-maneuvers the licentious Count.
This very ambitious, very challenging Marriage of Figaro brings to an end the fifty-fifth season of United Players presenting live theatre for our enjoyment. Next season includes Facts by Arthur Milner, a psychological drama that deals with the ongoing Israeli/Palestinian conflict. Directed by Henderson (who several seasons ago directed the hugely successful Democracy) this promises to be a chilling, thought-provoking night at the theatre.