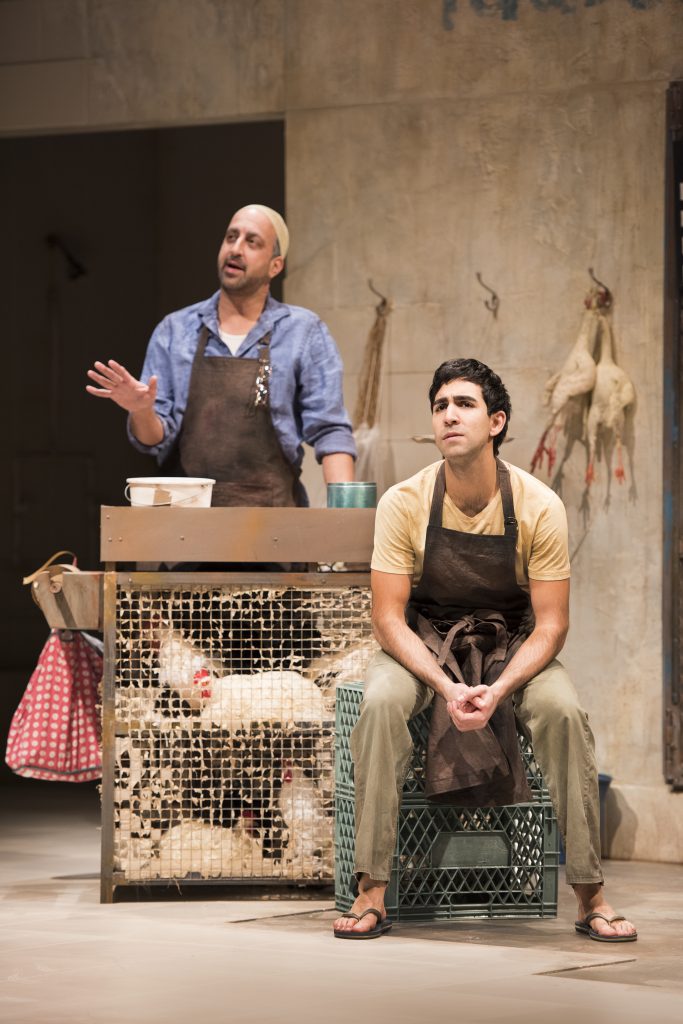 At the Arts Club Granville Island Stage until March 11, 2017
604-687-1644/artsclub.com
Posted February 24, 2017
Novelist/playwright Anosh Irani (Bombay Black and The Matka King) takes us again to India – half of the time – to a poultry shop where young, goofy Hasan butchers chickens under the watchful eye of Baba, the proprietor of the place and the man who adopted him when Hasan was orphaned. The other half of the time – and the other half of set designer Amir Ofek's set – is the locker room at Brockton Oval in Vancouver's Stanley Park where the men in white play cricket.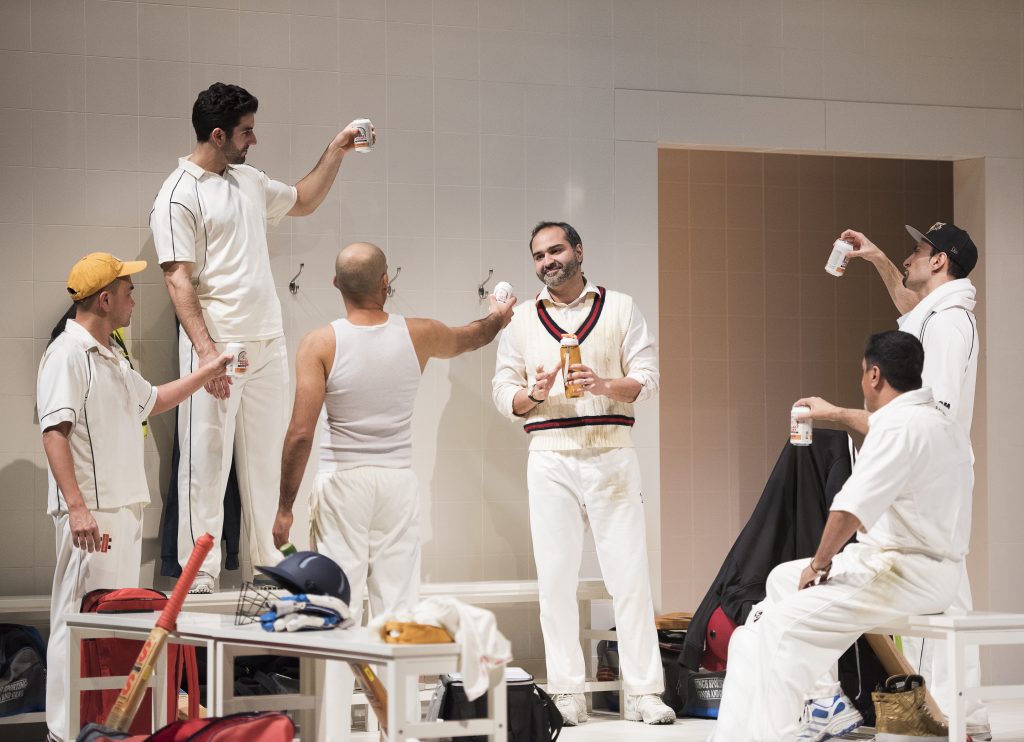 The cricketers are a motley bunch: Doc (Munish Sharma), Randi (Parm Soor), Sam (Raugi Yu), Ram (Anousha Alamian), Tony (Kamyar Pazandeh) and Abdul (Shekhar Paleja). They are losers, bottom of the cricket league and looking for a hero. Hasan, Abdul's younger brother, is apparently a terrific player so a plan is hatched to bring Hasan to Canada to break the team's losing streak.
But it's complicated and, yes, there's a girl in Dongri, a suburb of Bombay, involved. Beautiful, clever Haseena (Risha Nanda), for reasons not totally credible, fancies Hasan who, on his part, is awkwardly ridiculous around her. He keeps putting his foot in his mouth; she gets irritated, goes off in a huff but keeps coming back. Haseena is studying to be a doctor; all Hasan wants to do is to play cricket. Not a likely match.
The woven threads are much like an Indian carpet: lively, bustling and an interesting cross-section of Indian society. If you've ever been to Delhi, Calcutta or Bombay, you'll know what I mean. Everything all mixed together, all moving together, all struggling for a little bit of luck.
Unlikely as the lovers are, Nanda and Phillip make a sweetly innocent would-be couple. She, shy and him, falling all over himself.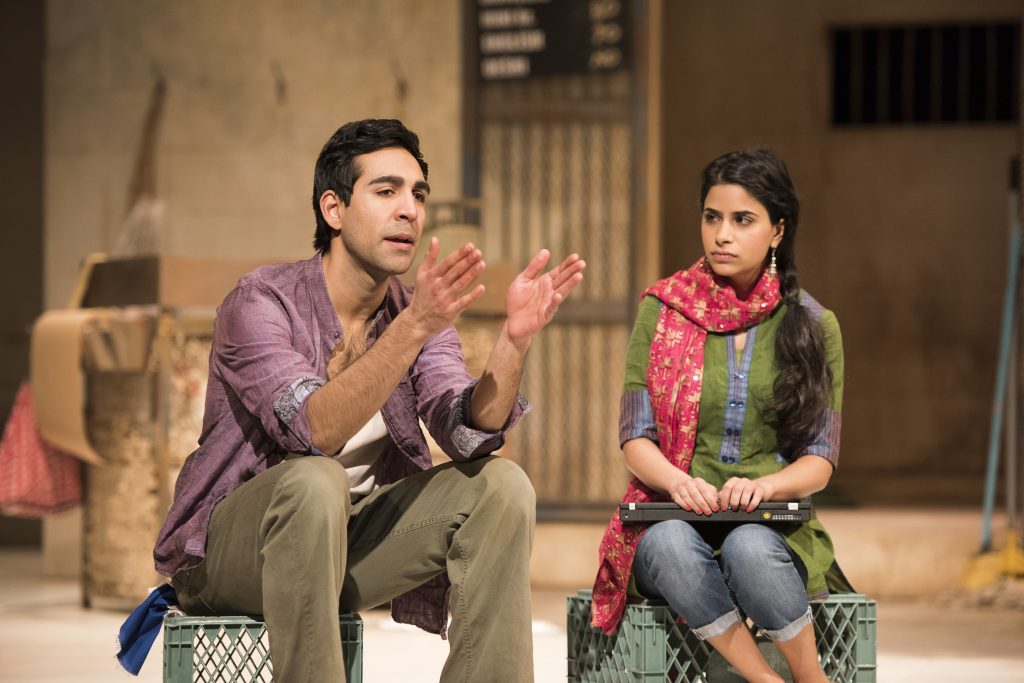 Each of the characters is given an expansive speech in which we get a sneak peek into their motivation. Strongest of these soliloquies is Paleja's Abdul's possibly because this character is the most miserable. Abdul's rationale for loving cricket so much is, for example, his capacity for turning the other team into "enemies" that need to be beaten and bloodied. Only when playing cricket can he vent the anger and frustration that he feels he rest of the time.
Sharma's character on the other hand has done fairly well; Doc is a Parsi and a successful doctor, clearly better educated than the others. But it is Doc's repressed fury over the death of his son at the hands of Muslims that eventually overwhelms him and makes him explosive.
Some of the best scenes, played for comedy, are those between Phillip's Hasan and Talwar's Baba – the older man mocking the younger for wanting more in life than taking a cleaver to a dead chicken and for wanting to wear white and not the blood-stained apron. But the affection between is palpable and Baba's loss when Hasan leaves for the airport to join his brother and the cricket team in Stanley Park is sadly felt.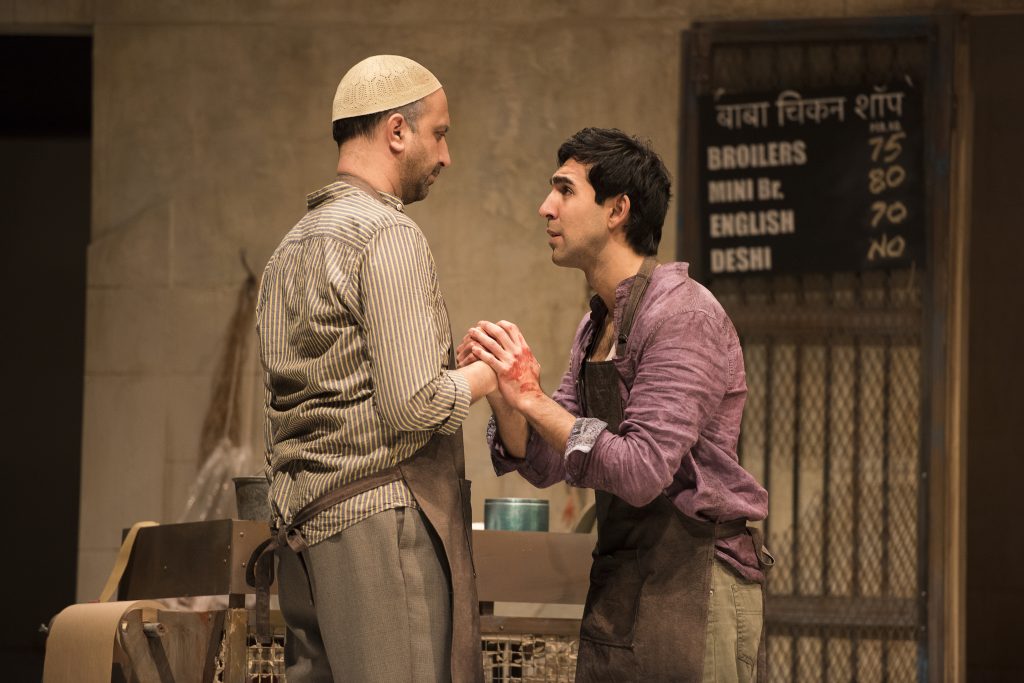 The Men in White takes a turn that I certainly did not see coming. All sorts of scenarios suggested themselves but Anosh Irani turns all those expectations on their head.
A world premiere, The Men in White was commissioned by the Arts Club as part of their Canadian play/playwright development program. Kudos to Bill Millerd, about (he says) to retire. As one actor said to me, "I'll believe it when I see it". What we have seen over the years is the Arts Club's expansion from very funky digs on Seymour Street to Granville Island, The Stanley and more recently the BMO Theatre Centre that it shares with Bard on the Beach. Hopefully, Millerd's successor will have the same commitment to producing new plays like The Men in White.