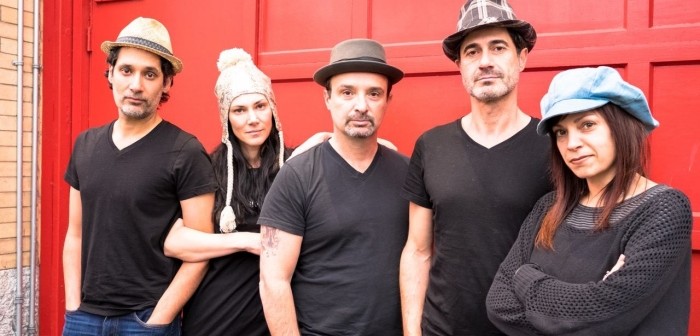 At the Firehall Arts Centre until January 30, 2016
604-689-0926/firehallartscentre.ca
Posted January 27, 2016
American playwright Stephen Adly Guirgis handed publicists a marketing nightmare with the title of his 2011 play, The Motherf**ker with the Hat. The asterisks weren't part of the original title but cautious newspapers inserted them and broadcasters avoided using the full title, sometimes simply calling it The Man with the Hat. But the play isn't about a man with a hat, it's about a "motherf**ker" who leaves his hat – as well as the smell of his aftershave and his "dick" – in the bedroom of his best buddy's girlfriend. Purging the title also fails to alert sensitive theatregoers to the use of the word 'fuck' in all its various forms that emanate from the Firehall stage like a blizzard on the Sea to Sky Highway.
The Motherf**ker with the Hat is the inaugural production of Haberdashery Theatre Co. (founding members John Cassini, Stephen Lobo, Jenn MacLean Angus, Brian Markinson, Lori Triolo and Kyra Zagorsky) whose mandate it is to produce "edgier, issue-driven" plays. Co-produced by the Firehall Arts Centre, this play is definitely edgy and provocative. Even before it opened, it caused a controversy: the roles of two Latino lead characters had been filled by non-Latino actors, causing a storm of Facebook postings and consequently a public forum to discuss the issue of sensitive casting, a delicate issue in this multi-ethnic town.
Latino Jackie (Stephen Lobo), just released from prison on trafficking charges, has scored a real job and arrives at girlfriend Veronica's (Kyra Zagorsky) place to celebrate. He's off the booze and the drugs as a result of the "sponsorship" of Ralph (John Cassini) who's been taking Jackie through the 12 Step Program. Veronica, however, is still drinking and doing drugs. And she's been 'doing' some other guy, too, as Jackie finds out when he sees a man's hat in her bedroom. But everyone in this play, with the possible exception of gay Julio (Francisco Trujillo), has been doing someone else and the central issue becomes one of integrity or ethical relativism.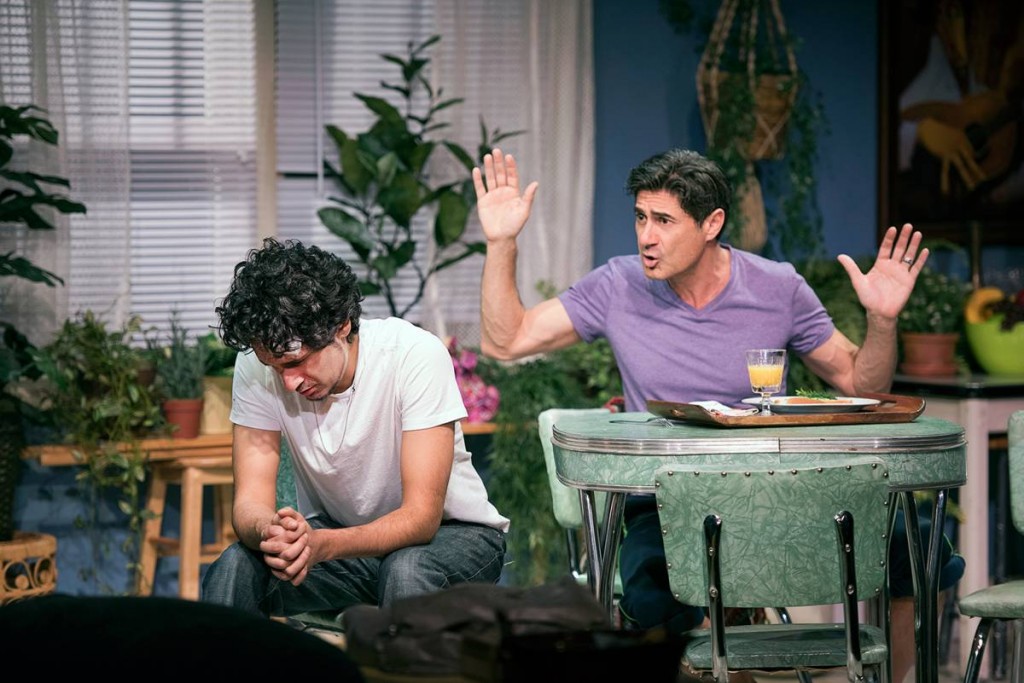 Under the direction of Brian Markinson this production is as good as it gets. Lori Triolo, fantastic in the recent Rapture, Blister, Burn, turns in another stellar performance as Jackie's weary, constantly betrayed wife. Her character's misery hangs in the air like stale cigarette smoke while Cassini, whose character's lack of decency forms the moral focus of the play, is both snaky and hapless. Zagorsky and Lobo, as the couple around whom the story turns, are well matched: Lobo delivers dialogue that makes David Mamet's look downright slow and Zagorsky is wonderfully tough on the outside, vulnerable on the inside.
Called blisteringly funny by some critics, The Motherf**ker takes a hard look at addiction and betrayal. But it also veers unsettlingly close to something like condescension. The playwright encourages us to laugh at these characters: Veronica snorting a line of coke while talking to her addict mom on the phone; Ralph hung up on healthy, green "beverages"; Victoria begging Jackie to fuck her; and Julio going on about being Van Damme. The street language comes so fast and furious – and is so superbly executed – that it leaves you breathless. But funny? Not so much.
Eventually, however, these New York characters – drunks and addicts – appear less New York, less Latino and more like Downtown Eastside Vancouver. Even more, they start to look like everyone else: struggling with problems, trying to make positive change and hoping to find – and keep – love. Here's where Guirgis, The Motherf**ker with the Hat and Ralph take us: if everyone is betraying everyone else, is it okay?
A terrific, graffiti set by Lauchlin Johnston and tension-cranking percussion on pails and plastic buckets by Eric Banerd significantly contribute to the high production values. Hold on to your hat; here comes Haberdashery Theatre Co.