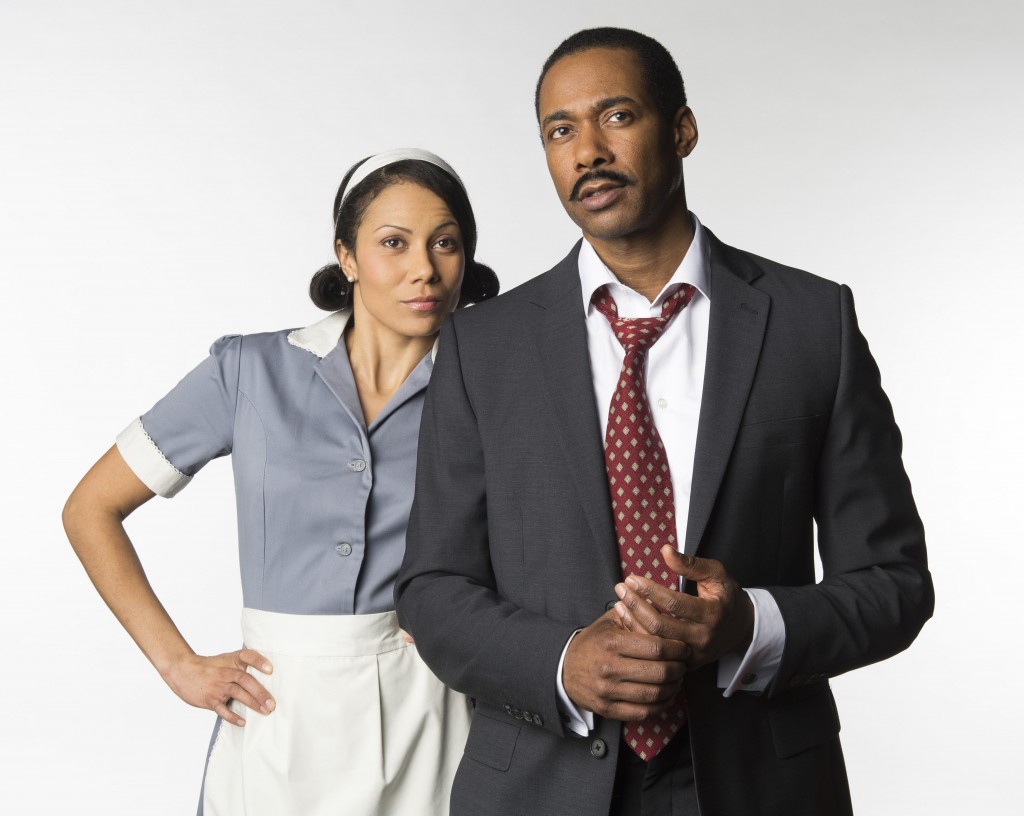 At the Arts Club Granville Island Stage until March 14, 2015
604-687-1644/artsclub.com
Posted February 17, 2015.
This is a review of a preview performance.
Portraying Dr. Martin Luther King, Jr. must be like portraying Mahatma Gandhi or Jesus Christ: it comes with a lot of responsibility. And we all know how the story ends.
Under Janet Wright's direction, Dion Johnstone does a fine job of humanizing the man who, for most of us, is more myth than man: freedom fighter, civil rights and anti-war activist, preacher, Nobel Peace Prize winner (1964).
But King was first of all a man: a man who, according to rumour, was a womanizer. On occasion, he lied to his wife about the Pall Malls he smoked. And he took the occasional drink of something alcoholic. Of these three 'weaknesses', playwright Katori Hall spins a tale of the hours before King's assassination at 6:01 PM, April 4, 1968 on the second-floor balcony of Room 306 (meticulously rendered by set designer Ted Roberts) in the Lorraine Motel, Memphis, Tennessee.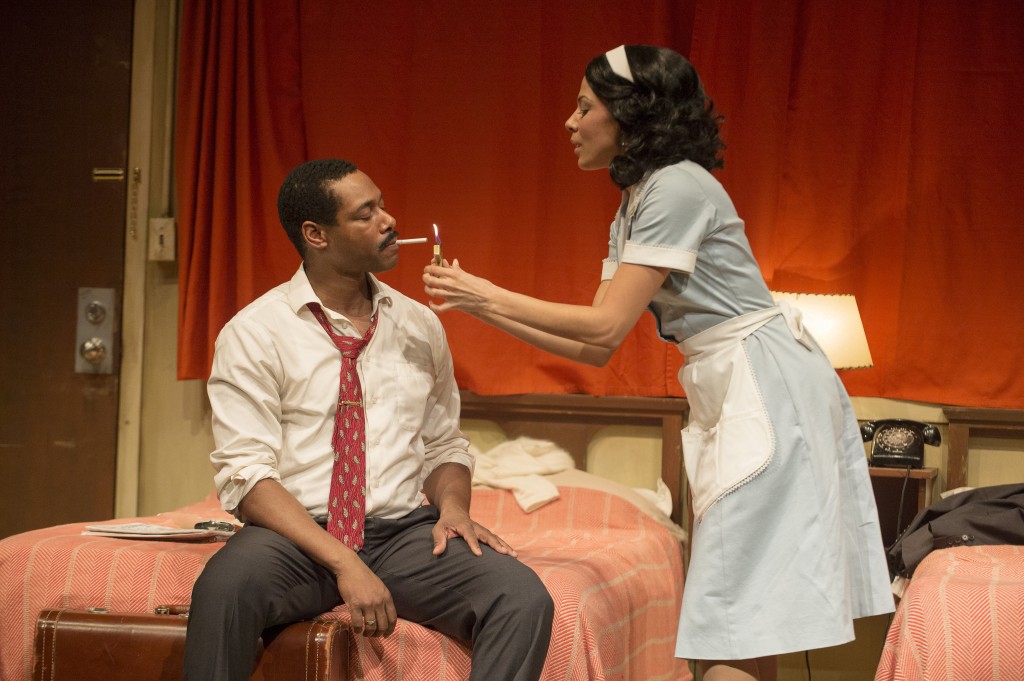 The title, of course, comes from King's famous speech, "I've Been To The Mountaintop", delivered in support of striking sanitation workers, in Memphis's Mason Temple on April 3, 1968.
In the play, the writer introduces us to King, despondent over the less-than-anticipated turnout at Mason Temple and desperately wanting a cigarette, a cup of coffee (also on wife Coretta King's banned listed) while trying to write a speech that picks up on the elements of his "I Have a Dream" speech. His regular companion on these tours, Reverend Ralph Abernathy, has gone out looking for cigarettes – Pall Malls, nothing else will do – when King calls for room service, which, it turns out, has ended for the night.
But, regardless, up comes room service in the form of pretty, flirtatious, sometimes foul-mouthed Camae  (Crystal Balint). She not only brings coffee but she has cigarettes and they're Pall Malls, wouldn't you know? And she's got a flask with something stronger than coffee in it. If you don't twig to something at this point, you will later.
There's good chemistry between Johnstone and Balint: he's handsome and sexy; she's sassy and full of attitude and it looks like that's where the play is going although Camae is turned off by men with "smelly feet" and King has already sniffed his shoes in disgust. Still, there's sexual attraction and they are together on a twin bed.
But The Mountaintop does a one-eighty at this point and turns into something akin to "It's A Wonderful Life." For me, this was a major disappointment and, for a while, it sucked the life out of the production. There's a lot of talk about "God's plans" for King and the useful function of martyrdom – which, in the present global crisis, rings alarm bells not church bells.
Fortunately, the powerhouse that was Martin Luther King, Jr. begins to build again – prompted in part by a rousing 'if I were you' speech that Camae, in King's jacket and shoes, comically delivers standing on the bed.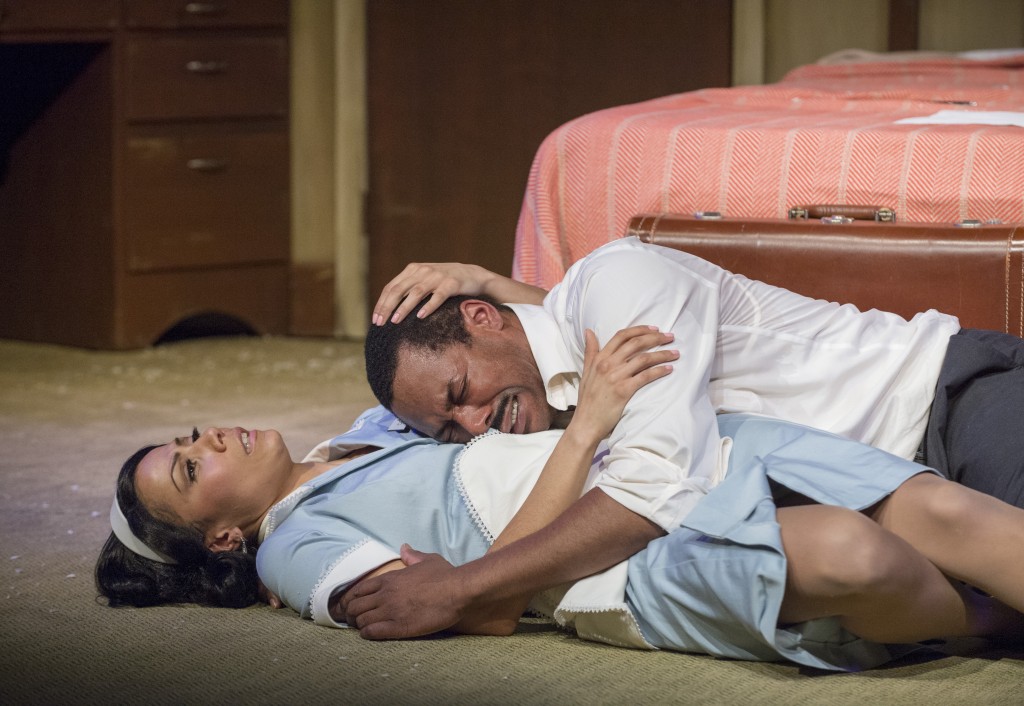 She concludes with "Fuck the white man, fuck 'em" but King's speech – the speech he never got to deliver – ends more peaceably with, "The baton may be dropped but anyone can pick it up"; the "promised land" is almost here and his "dream" of a peaceful world is imminent.
Projection designer Candelario Andrade puts together an amazing collage of people and events who have shaken the world, underscored by King, on the eve of what he knows will be his assassination, describing a world where "hunger is no more", where "destruction is no more", where there is only "love."
Actor Dion Johnstone is very powerful in these final scenes. And, of course, it's the message we all want to hear.
And then we go home to the TV news. "Nobody said it would be easy", says Camae. She got that right.