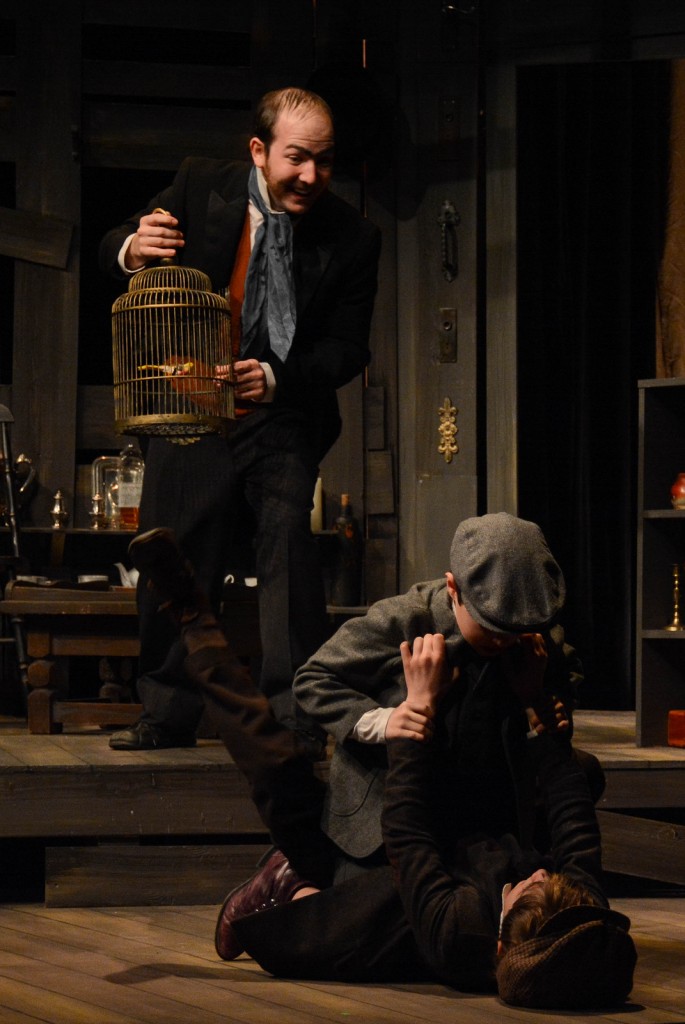 At Jericho Arts Centre until April 20
604-224-8007/unitedplayers.com
Posted April 6, 2014
The Old Curiosity Shop is a bit of a curiosity in itself. It's a Charles Dickens novel set back in 1825 and serialized weekly in 1841. Director Sarah Rodgers writes that New York readers "stormed the wharf when the ship bearing the final installment arrived in 1841." It would have been the equivalent of TV audiences awaiting the final installment of Dallas, before 2007 and PVR.
Actor/artist/writer/director Simon Webb adapted The Old Curiosity Shop for United Players and, really, the only thing missing is the pleasure of seeing Webb on stage, too. Webb himself is a bit of a curiosity (a clever, talented Shakespearean who does Mamet with equal ease). I can see him as Mr. Quilp, the villain of the piece, or Grandfather, the gambling-addicted grandfather of Little Nell.
Kazz Leskard, however, makes a very fine Quilp, the kind of nasty, slimy piece of work that Dickens wrote so well:  smiling oilily, breathing down necks, listening at keyholes. Throwing himself headlong into the role, Leskard portrays the character that, were this a panto, he would be enthusiastically booed.
Pat Unruh is referred to in the program as 'musician' but she's really a one-woman orchestra playing the violin, viola da gamba, piano and the recorder. The music is incidental, much in the style of musical accompaniment to old silent films. Twice, however, there's a very jolly, full ensemble, knee-slapping dance, choreographed by Shelley Stewart Hunt.
Carolyn Rapanos' set – a skeleton of planks to indicate Grandfather's old curiosity shop where he lives with Nell. Above the shop appears to be a pub or an upstairs room in the Brass household; below is a cubbyhole where Grandfather gambles away the money he has been putting away for his granddaughter. The set, lit by Darren W. Hales, is worthy of The Stanley.
Period costumes – cotton frocks, gowns, cravates and top hats – are creatively whipped up by costume designer Catherine E. Carr.
There is nothing in this United Players production that looks anything less than topnotch.
The Old Curiosity Shop follows a very Dickensian melodramatic plot and, under Rodgers careful direction, this cast of eighteen gets it right. A little over the top but not too much: Dick Swiveller (Graeme Thompson) is giddy enough; Quilp, nasty enough; and Brass (Paul Griggs), toady enough.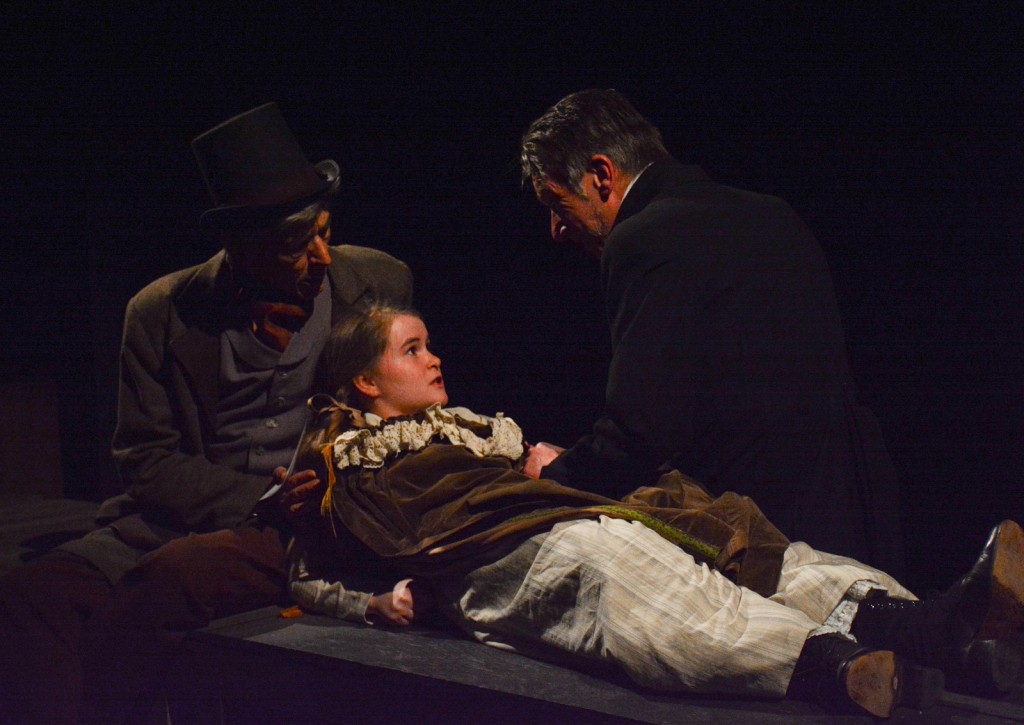 Olivia Huntsman, a grade nine student, makes a lovely, innocent Nell – a huge role for such a young adult; and Amitai Heyl and Toby Verchere, Grade 5 and 6 students respectively, are excellent as the perpetually squabbling little boys in short pants.
The connective tissue is provided by Louis Phillips as sprightly Mrs. Jarley, proprietress of a travelling waxwork show, a feature that director Rodgers jumps on with theatrical élan. Phillips and Douglas Abel (Grandfather) are the only two professional actors on this near-as-it-gets-to-professional stage.
Criticism of this Dickens novel abounds: Oscar Wilde is quoted as saying, "One would have to have a heart of stone to read the death of little Nell and not burst into tears . . . of laughter". But he also famously said, "I am so clever that sometimes I don't understand a single word of what I am saying."
Adapting a Dickens novel into an hour-and-three-quarters is challenging but Webb has succeeded in quickly introducing the characters and getting into the plot while retaining the full flavour of Dickens.
In spite of what Wilde had to say, it wouldn't surprise me if eager readers in 1841 threw themselves off the New York wharf when they read the last episode of The Old Curiosity Shop. Lace hankies were no doubt dampened in many a household as they read of Little Nell's body being lowered into the grave.
Rodgers wisely has Unruh strike up band with song and dance – a rollicking "Run to Jarley's" to bring the curtain down.