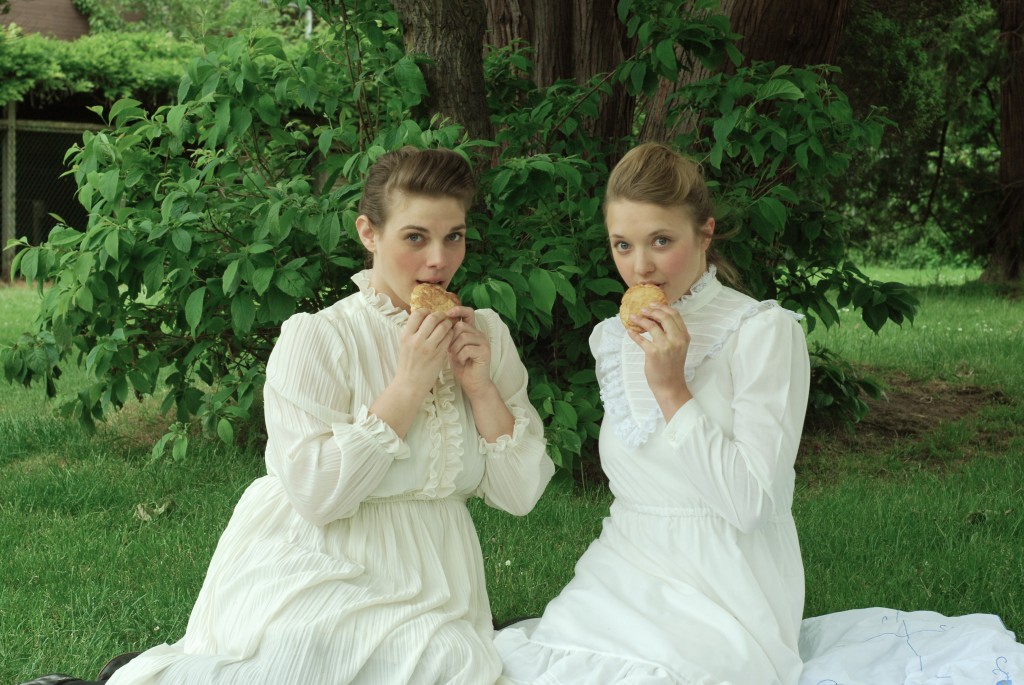 At The Cultch. Last show tonight, Sunday, May 31 at 7:30PM
www.tickets.thecultch.com
Posted May 31, 2015
"Keep sweet" chime Mercy Eve Parker (Pippa Mackie) and Eden Grace Parker (Emmelia Gordon), the "sister-wives" of "The Prophet" of Plentiful, British Columbia. The old guy has at least seven wives (Eden is #1, Mercy is #7) and between them they have so many children, they've lost count and can't remember who's whose.
Yup, this is a send-up of Bountiful, BC where the older men are bountifully endowed with many wives, the younger men work in the fields or are sent away, and girls, starting as young as fifteen, start producing babies. With a population of about one thousand, it's estimated that most of the children are fathered by one of only six men.
If this doesn't sound like the stuff of comedy, it really isn't but Gordon and Mackie are a hoot in long cotton frocks, black stockings and boots. Their hair in pigtails, they've come to Vancouver to correct some misconceptions about the Fundamentalist Church of Jesus Christ of the Latter Day Saints aka FLDS, a breakaway group of Mormons.
These are two very funny young women: Gordon, a big-boned, big-bosomed gal, can bat her eyelashes with the best of them but she can also cut you down with a glare. Gordon takes Eden's praise of God – "Oh God, Oh God, Oh God" to orgasmic heights before she's shushed by Mercy for making those "midnight noises". As Mercy, Mackie is all sweetness, a little lightheaded and definitely interested in the older men in the audience. When told to "take the position", Mackie, as Mercy, bends over. Given the same instruction, Gordon, as Eden, shimmies up face to face with a fellow from the audience. Ah, different strokes for different wives, obviously.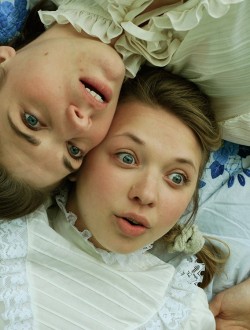 They're a team and a half, these two.
How do the women of Plentiful make babies? Well, Eden and Mercy can't bring themselves to say "sex" so babies come from "heavy petting." Questions are handed to the audience: "Have you ever had an orgasm?" Eden: "Trick question. Only men get those." And the audience groans.
Yes, it's cheeky but as I didn't see any FLDSers in the audience, I suspect no one was really put out. As we learned in The Art of Building A Bunker, some situations are fair game for mockery.
On free will? "God helps us make our own decisions". Fortunately for creators/performers Gordon and Mackie, God helped a lot of people decide to see this show. It sells out wherever it goes; last show is tonight, Sunday, May 31 at 7:30. It might take some serious prayer to score a ticket.