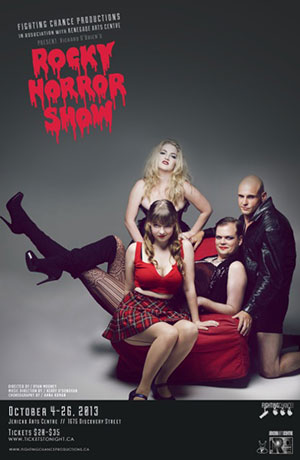 At Jericho Arts Centre until October 26
www.ticketstonight.ca or at the door
Posted October 25, 2013
It's rude, it's crude, it's loud and it's proud. Buy the $5 bag of authorized 'props' and throw your confetti, rice and cards. Wear the silly party hat; blow your party horn. In other words, get down. And if you don't want to see scantily clad babes and boys rubbing their naughty bits against each other – guys/girls, girls/girls, guys/guys – for the love of God don't see this; go and see Mary Poppins. What naïve, nerdy character Brad (William Hopkins) calls "folk dancing" makes the Bacchae look like a church picnic.
Fighting Chance Productions, under the artistic direction of Ryan Mooney, comes out fighting again with this cult classic. Past hits include Sweeney Todd, Hair, and Rent. Mooney, who just won Best Director at Theatre BC's  Greater Vancouver Zone Theatre Festival, trawls the theatre schools – especially Capilano University's Musical Theatre Program – looking for emerging talent. He finds it.
There are some absolute knockouts in this cast beginning with the creepiest hunchbacked Riff-Raff you've ever seen. Ray Boulay snakes his way around, fingers twitching as if he can't wait to get his hands on your body parts or anybody else's that happens along. Riff-Raff's sister, Magenta is played by bodacious Jessica Bryn whose boobs are barely contained in her bustier. Bryn has a voice that could peel paint – in a good way. Dr. Frank-N-Furter (Seth Little), who describes himself as a "sweet transvestite from Transsexual, Transylvania", is a Dr. Frankenstein-like character that is attempting to create a perfect bride for himself. Frank wears a bustier, too, as he vamps around the stage in stilettos emblazoned with sparkles. There's nothing little about Little: big guy, big voice, big presence. When his 'bride' – Rocky – stumbles out of the lab, it's a handsome young guy (Hal Rogers) with a fantastically big – uh, smile.
For those Rocky Horror 'virgins', here's how it goes: Brad and Janet (sweet, pretty and talented Erika Thompson), newly engaged, get caught in a rainstorm when Brad's car breaks down. They venture out and eventually find themselves outside a castle with a light in the window. They knock. And what's going on inside is a sexual awakening for both of them. Yep, Frank does 'em both. (Don't take your kids to this, folks.)
Oriana Camporese's costumes are a fabulous grab bag of ripped net stockings, push-up bras, corsets, leather and lace in scarlet and black. No two alike: ratty and racy. Anna Kuman's choreography is tits-and-ass sexy. When the entire ensemble is on stage doing possibly the show's best-known number "The Time Warp" it's rowdy and horny and very, very catchy. This young cast of eighteen, under Mooney's direction, gives it everything it's got – and that's plenty of youthful, hormone-fuelled energy.
And, of course, in the intimate Jericho Arts Centre performance area, this raunchy stuff is all going on right in your face. Audience participation is invited and there are shout outs in the order of, "Sing it, asshole, it's a musical".
The Rocky Horror Show emerged from the closet in 1973 and was penned by then out-of-work London actor Richard O'Brien. A couple of years later it was made into a film – The Rocky Horror Picture Show – and both have gone on to become cult classics.  The film holds the record for the longest-running release in film history. You can bet that O'Brien will never have to work again.
Under the musical direction of Kerry O'Donovan, The Rocky Horror Band –  O'Donovan (keyboards), Marisha Devoin (bass), Mark Richardson (guitar) and Alicia Murray (drums) – blast out big rock 'n roll sound – emphasis is again on big.
Audiences are asked not to bring props from home but Fighting Chance Productions is happy to supply them. When it's all over you're invited to join the cast in The Time Warp dance amidst a mess of rice, confetti and playing cards. "You're spaced out on sensation/Like you're under sedation/Let's do the Time Warp again."
It all began in the 70s and we're still doing "a jump to the left/a step to the right" and with our hands on our hips, we're bringing our knees in tight.
Now there's a 40-year time warp for you.