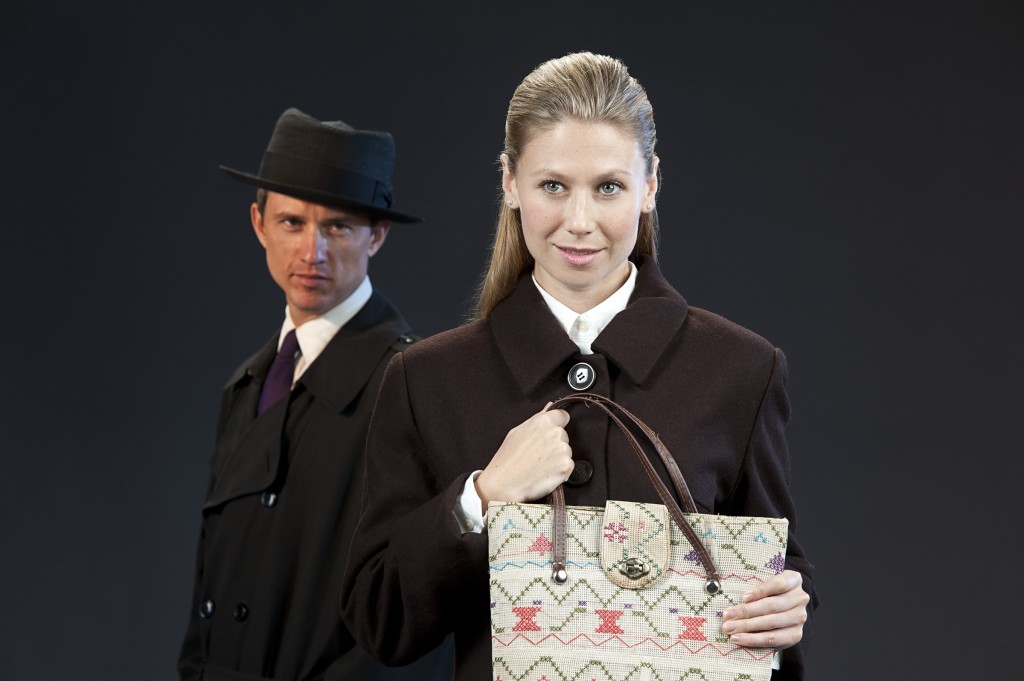 At The Vancity Culture Lab at The Cultch until November 24
604-251-1363/www.thecultch.com
Posted November 18, 2013
So intrigued was I by the end of Act 1 of The Romeo Initiative, I was almost vibrating.
Pretty but mousy Karin (Lindsey Angell) meets nervous, self-conscious Markus (Daniel Arnold) while both are holidaying in Bulgaria on the Black Sea coast. Pathetically shy – almost pathologically so – they eventually start up a conversation. He speaks of his mother, an opera singer in Stuttgart; he mentions Romeo and Juliet, Tristan and Isolde. She's been to the opera. They establish some common ground.
Their holiday over, they meet up again in Bonn where they both work. They talk a little about themselves: she works in the Federal Ministry of Economics; he's a fund-raiser for the Third World. She's impressed. But Markus doesn't want to be too pushy; he's so hesitant it's painful. Karin is so fearful it takes ages for this inexperienced couple to take it to the next level. But they do and the clothes come off in a tsunami of shirts and skirts. It's all rosy and happy and Pachelbel's Canon is playing. Oh, such joy.
But wait, we know there's something that's not quite right. End of Act 1.
Written by Trina Davies and directed for Touchstone Theatre by its artistic director Katrina Dunn, The Romeo Initiative has a unique structure: Act 1 is from Karin's point of view; Act 2 is from Markus's. That penny didn't drop for me for quite a while although Drew Facey's remarkable set should have alerted me. What begins as a large white, shoji-screen wall, is completely transformed during intermission into a vast storage unit: shelf after shelf of files, jars and sacks. On the top shelf are two old-style reel-to-reel recording devices.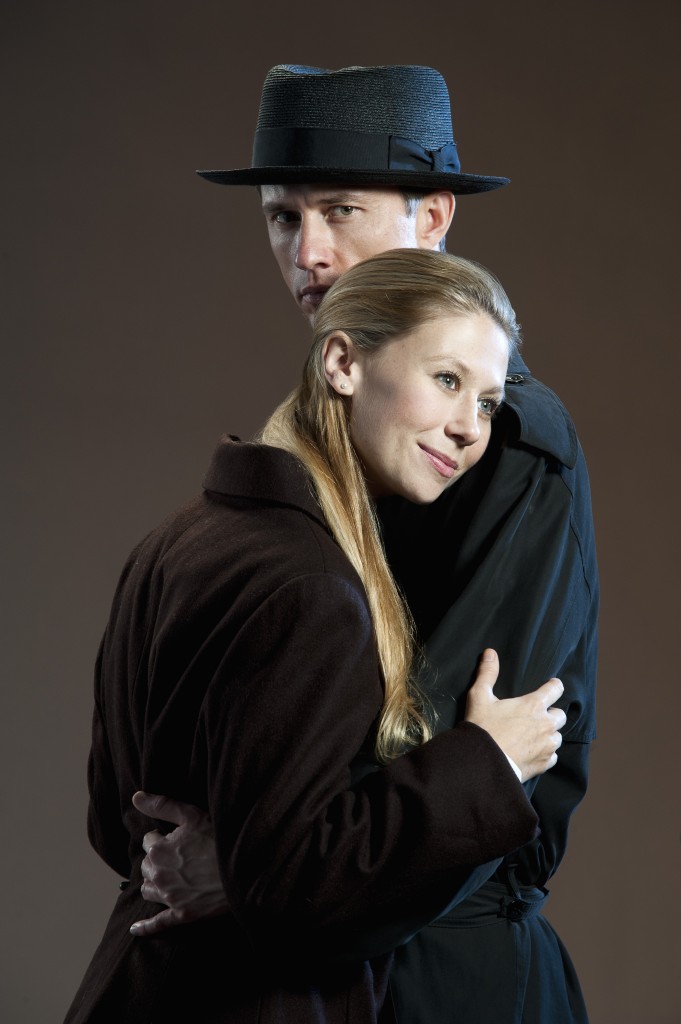 Director Dunn cranks up the romantic atmosphere in Act 1 by having all the scene changes done like a ballet; furniture and props are 'danced' onto the stage by slowly twirling performers and the simple act of putting on a coat is full of fluidity and grace. Even while we know it's rather silly, it's beautiful, too.
Act 2 begins with exactly repeated lines from Act 1. But the atmosphere is chillier, drab and almost menacing. There's no Pachelbel. The compass has swung from joyful to joyless.
Having just finished her very foxy role as Vanda in Venus In Fur, Angell shows astonishing versatility. From riding crop-wielding dominatrix to nose-in-book wallflower, Angell is a mistress of contrast. Her Karin is so vulnerable you think you can see right through her skin. Arnold is excellent as the gawky, too-good-to-be-true suitor. As Markus charms his way into Karin's heart, Arnold's very open, very readable face suggests that anything or anyone that looks too-good-to-be-true is, generally, too-good-to-be-true.
The third performer is Stephanie Izsak who graduated in the Spring from Studio 58. This is her first professional gig and director Dunn could have reined her in a little. Although Lena, the character she portrays, is slutty and scheming, fewer 'histrionics' would have made her performance more consistent with the others. But she's young and it was opening night.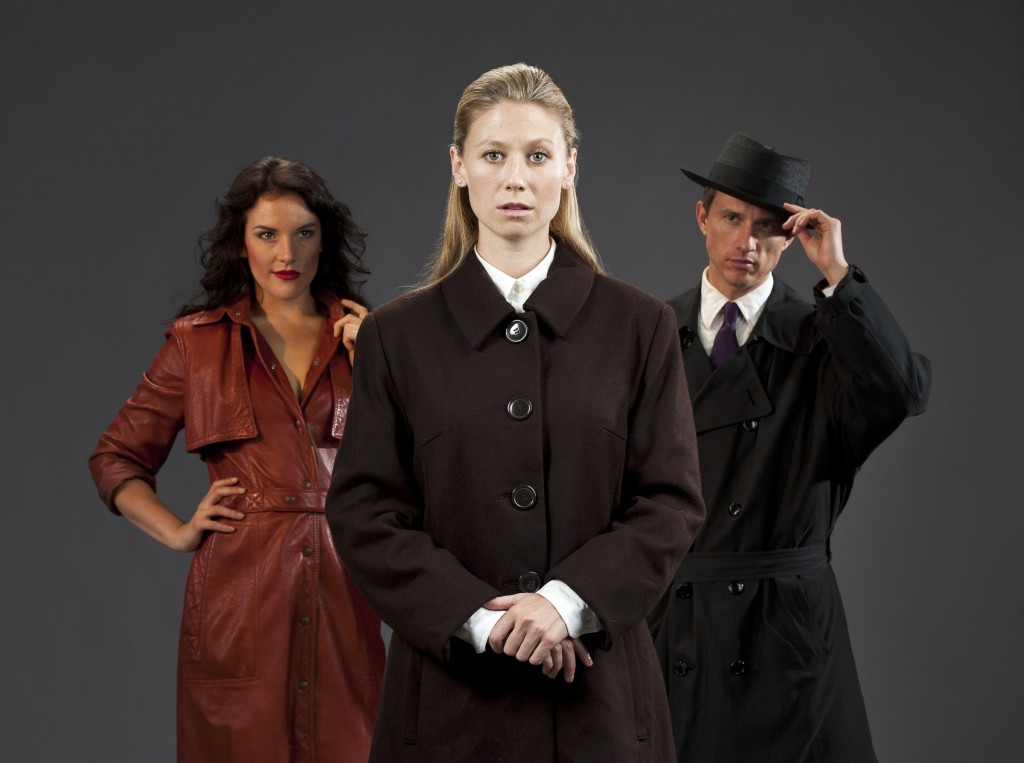 After the intriguing Act 1, Act 2 turns into a spy thriller involving the Communist Party in East Berlin back in the late 70s. Although I was always engaged, I was less excited by it. The story feels familiar and the mysterious quality so well crafted in Act 1 is gone. Another reviewer, however, didn't like Act 1 but loved Act 2. So there you are.
I find the way playwright Davies structures the play really invigorating. It speaks to how differently we view the same sequence of events and how being in love can completely cloud our thinking. And while there's nothing new there, splitting a play like that into its two halves is risky and bold.
Should you think that profiling is something new, The Romeo Initiative, set back before the Berlin Wall came down, will change your mind. As long as governments have wanted information they have found ways of getting it. It's not always about waterboarding. Sometimes it's easier just to send in a Romeo.