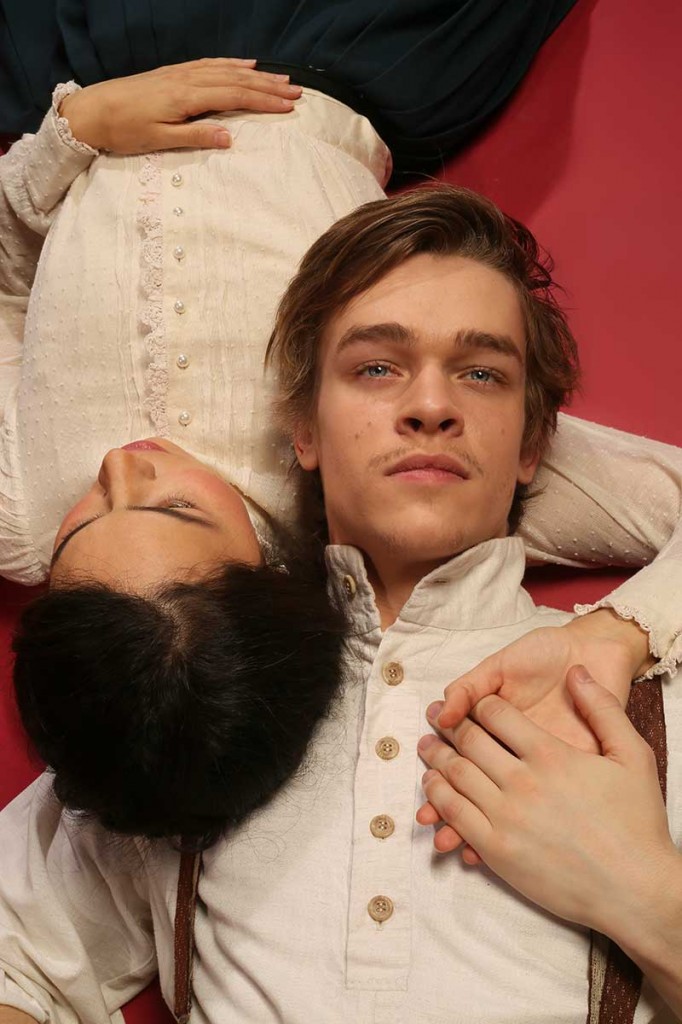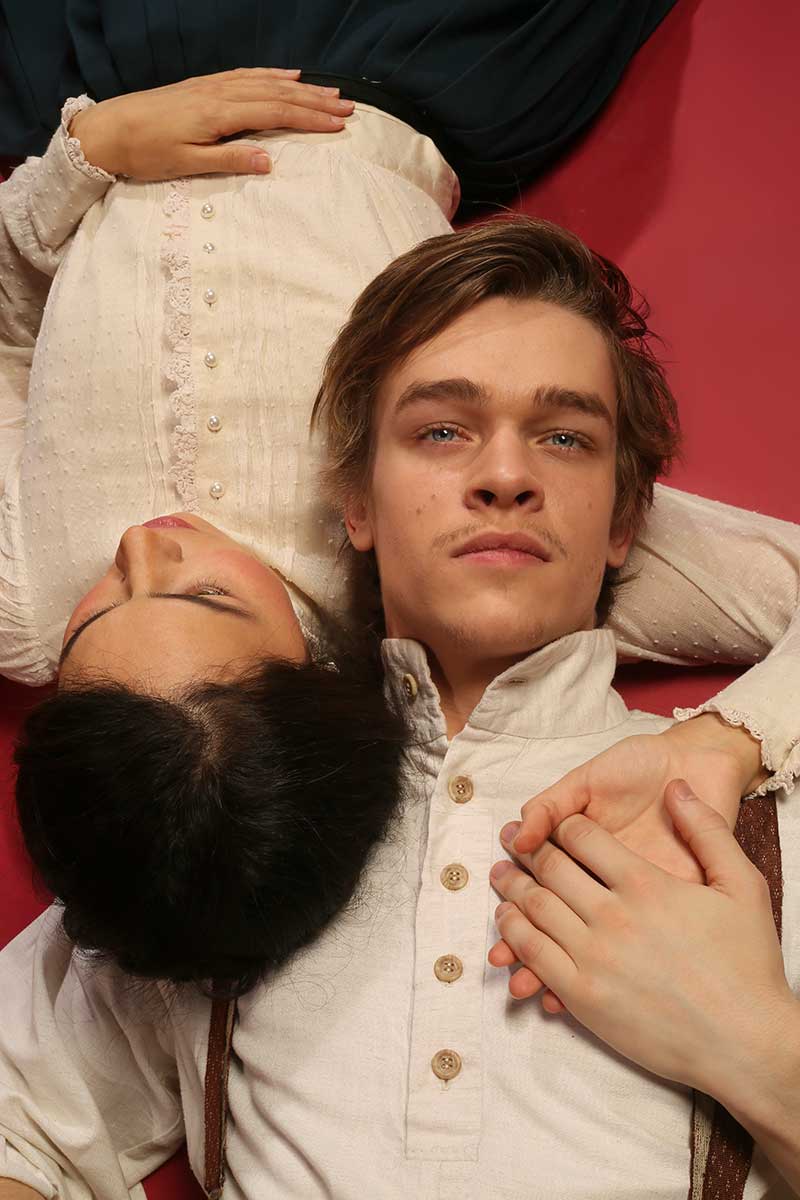 At Telus Studio Theatre (UBC) until February 8
604-822-2678/www.theatre.ubc.ca
Posted February 1, 2014
Anton Chekhov subtitled The Seagull "A Comedy in Four Acts" but the great Russian playwright has been hard pressed to convince audiences – spanning more than a hundred years – that this play is funny. It's true there's something ridiculous in all the romantic entanglements: Konstantin loves Nina but Nina falls for Trigorin; Masha loves Konstantin but Medvedenko loves Masha; Dr. Dorn loves Irina but Irina loves Trigorin; Polina loves Dr. Dorn but is married to Shamrayev.
And shooting a seagull and laying it at the feet of someone you love – but who no longer loves you – is more than a little over the top. But "A Comedy in Four Acts"? I'm not convinced,
This is a really tough play and an ambitious undertaking by MFA (Directing) candidate Kathleen Duborg but she pulls it off nicely. She draws some exceptionally fine work from her student cast of thirteen – a size that makes it too costly for most professional theatre companies to undertake. With the exception of Thomas Elms (Konstantin), Natasha Zacher (Nina) and Helena Fisher-Welsh (Masha), these student actors are much younger than the characters they portray so they are pushing boundaries that go beyond geography (Russia) and period (late 19th century).
But more than that, because the play is not primarily plot driven, these young actors really must work at character development. That's not easy because what the characters say is often at odds with how they feel. Dr. Dorn (well-played by Daniel Meron), for example, sings, "Tell her, pretty flowers . . . " shortly after Irina (Mercedes de la Zerda) goes on a rant about how boring it is to be visiting her country home. Infatuated with her, Dorn does not want to hear how bored she is but instead of speaking his heart, he sings a silly little ditty.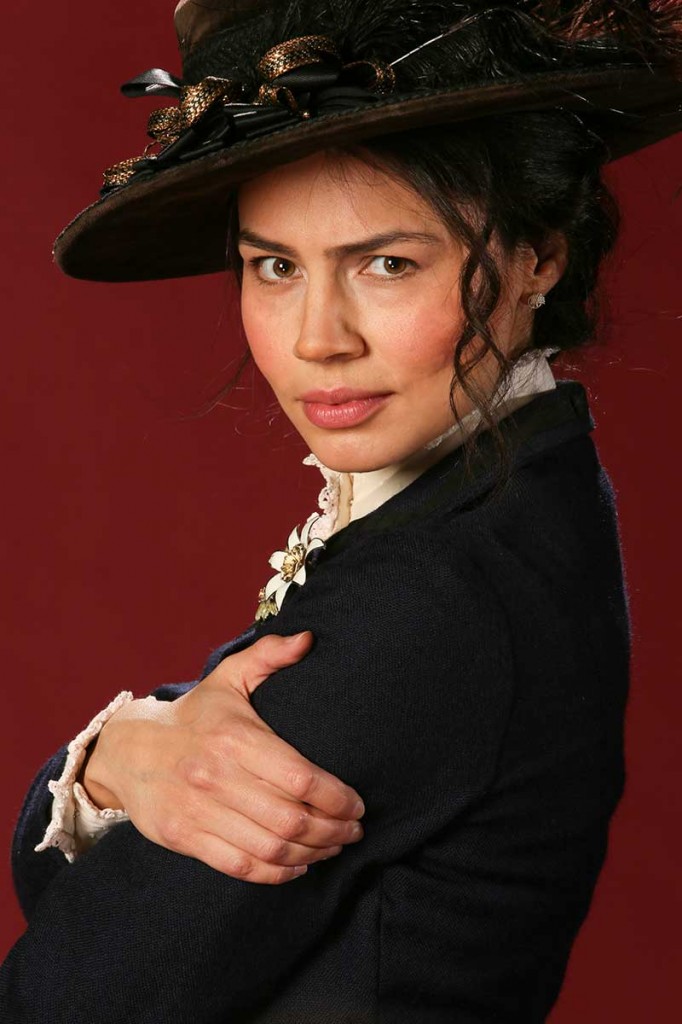 And while the celebrated writer Trigorin (Matt Kennedy) waxes eloquent about how young Nina will inspire him with "youthful, alluring, poetic love", he's not in love with her: he simply wants her and when he's finished with her, he'll cast her off. It's what he does.
Although Chekhov weaves an interconnected web of characters, the major characters are Irina Arkadina, Nina and Konstantin. Beautifully gowned by costume designer Sian Morris, de la Zerda is a fine Irina: charming and flirtatious but petulant, self-absorbed and miserly. So wrapped up in her acting career and her obsession with Trigorin, Irina scarcely notices anyone else. De la Zerda's performance is elegant and exquisite.
Thomas Elms' Konstantin is also self-centred but unhappy, brooding and melancholy. By Act IV, Konstantin has become a writer and is more settled. Elms shifts these gears smoothly and believably.
Zacher, as Nina, also has to make a big change in Act IV. Nina, so gushingly full of girlish enthusiasm in Act I, II and III, returns broken in the fourth act. While in the first three acts, Zacher simply bubbles she comes back with Nina's grief and world-weariness late in the play.
Helena Fisher-Welsh brings an attractive, slightly sharp, New Woman edge to Masha and Naomi Vogt's Polina is earthy and well grounded.
The first production of The Seagull in 1896, directed by Yevtikhy Karpor in St. Petersburg, was a dismal failure. Chekhov was breaking away from the traditional plot-driven melodramas of the past and it would take time for directors and actors to catch on. Under the co-direction of Konstantin Stanislavsky and Vladimir Nemirovich-Danchenko, The Seagull finally flew in 1898 at the Moscow Art Theatre and is considered one of Chekhov's four great masterpieces.
Chekhov died of TB in 1904 at the age of 44 leaving us all to wonder what he would have written had he lived longer. He was, in the late 19th century, already predicting environmental disaster.
The Seagull is a masterpiece and there are not many opportunities to see it. Just don't expect a comedy in four acts.