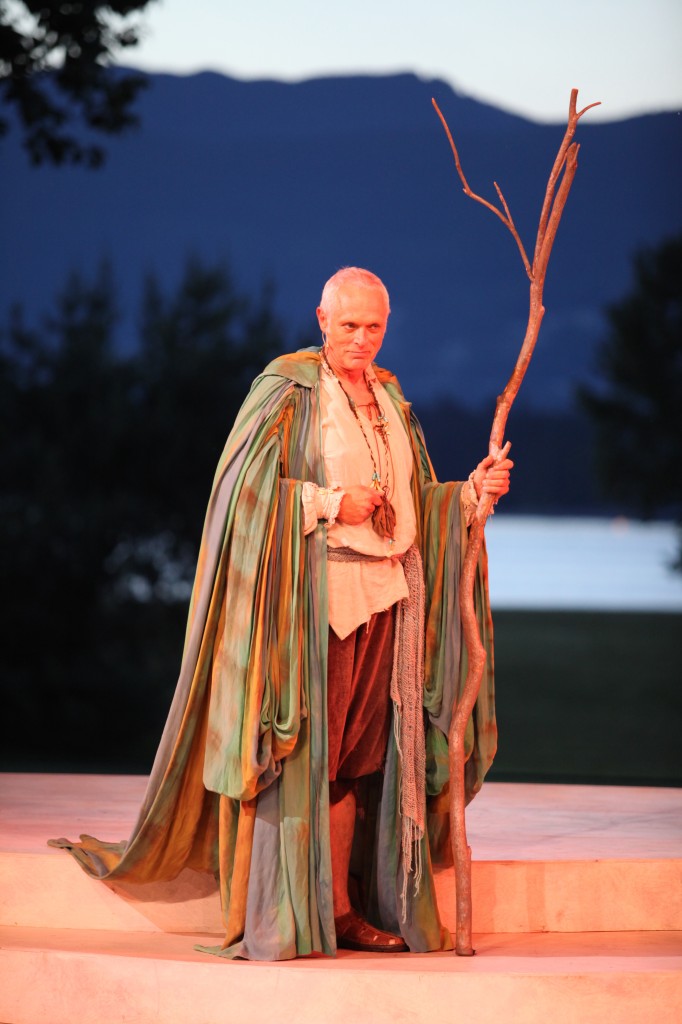 At Bard on the Beach until September 18
604-739-0559/bardonthebeach.org
Posted July 7, 2014
The Tempest is like a storm at sea: a calm ocean suddenly whipped by wind into fierce whitecaps. But, once past, the towering waves, their fury spent, become a smooth and sparkling expanse.
The Tempest begins with a storm brought on by the magical powers of Prospero (Allan Morgan), the usurped Duke of Milan, who for many years has lived in exile on a tiny island with his daughter Miranda (Lili Beaudoin), his slave Caliban (Todd Thomson) and a host of magical creatures including Ariel (Jennifer Lines).
Aboard the ship that Prospero causes to founder are Antonio, Prospero's brother (Ian Butcher), who seized power when Prospero's attention turned to matters metaphysical. With Antonio are Alonso, King of Naples (Scott Bellis), and his young son Ferdinand (Daniel Doheny); old Gonzalo (Bernard Cuffling); and Sebastian, Alonso's treacherous brother (Andrew McNee). Along for the ride are Trinculo, a jester, and Stephano, a butler.
However, under the brilliant direction of Meg Roe, Trinculo becomes Trincula, and Stephano becomes Stephana – two ladies of the court. Portrayed by Luisa Jojic and Naomi Wright these two steal the show right out from under the noses of lovers Miranda (blushingly, girlishly played by Beaudoin) and Ferdinand (handsome, earnest Doheny). Saved by clinging to a cask of wine, these two tipplers get squiffy and rapidly deteriorate from well-dressed, well-coiffed ladies to filthy, ragged tarts. Wright goes into paroxysms of orgasmic delight every time Thomson, as Caliban, licks her foot. Trincula and Stephana are the lovely light side of The Tempest.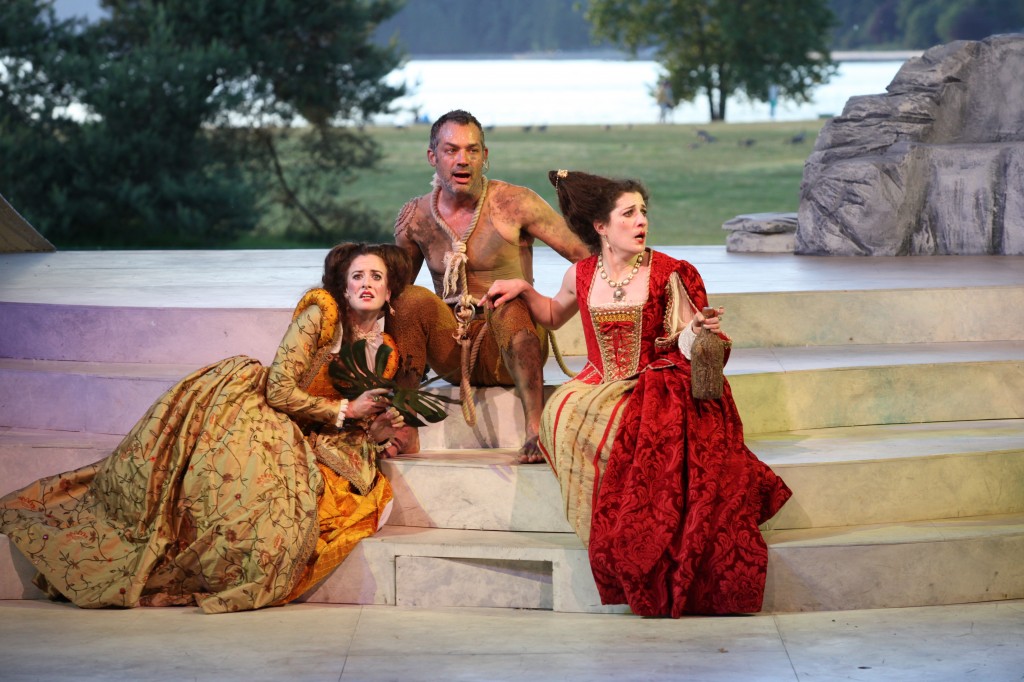 The dark side is, of course, Prospero. Will bitterness or forgiveness prevail?
Allan Morgan's Prospero is everything one could ask for: strong, powerful, commanding, – fierce as Caliban's master, soft-hearted as Miranda's father, exacting as Ariel's rescuer. And eventually wise – the tide turned by witnessing the young love that springs up between Miranda and Ferdinand and the recognition that there's something like love between himself and Ariel.
"Do you love me, master?" Ariel, played by the incomparable Jennifer Lines, asks. Lines, constantly in motion throughout the rest of the play – taloned-fingers twitching, nimbly shifting, birdlike, from foot to foot – stops at this point and is completely still. The question hangs for a moment before Morgan replies, "Dearly." A pause, a glance, and she darts away.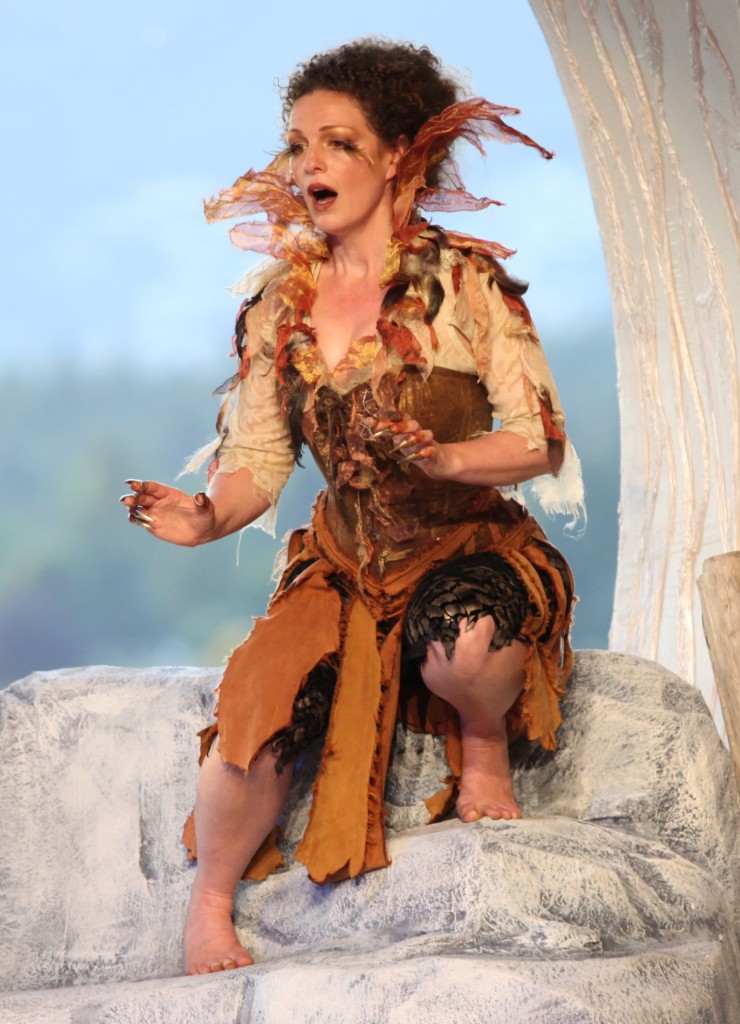 At the end of the play, Prospero and Ariel come together once again in a moment so hesitatingly lovely, it's breathtaking. "Ariel, my chick, my dainty Ariel. I shall miss thee but thou shalt have freedom." Director Roe, Morgan and Lines make these lines ring with a poignancy so profound, that one cannot help but wonder, "Will Ariel choose slavery with one she loves or freedom for which she longs?"
Thomson, as Caliban, moves like a creature half-crab, half ape. But we recognize that Caliban's brute-like quality is the result of Prospero's harsh treatment. Caliban, once given his freedom, stands like a man. His is an athletic performance – hard on the knees – but even dirt-smeared, half-naked and at the end of a rope leash, Thomson brings surprising humanity to the role.
When Ariel accosts Alonso, Antonio and Sebastian, costume designer Christine Reimer attaches a pair of magnificent three-meter gossamer wings to Lines that she spreads wide and beats haughtily. In Prospero's masque, designed for the entertainment of the lovers, Reimer cross-dresses three of the men – another delightful bit of business.
A four-piece string quartet sits stage right, adding a sometimes merry, often haunting note, perfectly in keeping with both the sunny and stormy elements of the play.
As with A Midsummer Night's Dream – also enjoying a remount this season at Bard – this Tempest surpasses its earlier production, Roe's impressive Bard debut six years ago. Both lighter and darker than the first time around, it's well worth seeing again.