At Jericho Arts Centre until April 16, 2017
604-224-8007/unitedplayers.com
Posted March 29, 2017
The Train Driver is one of the best shows United Players has ever produced: a scorching yet poetic script by South African playwright Athol Fugard; taut, intelligent direction by Adam Henderson; a vast, dusty set by John Taylor; and two masterful performances. Paul Herbert is Roelf Visagie, an Afrikaner on the verge of complete emotional meltdown, and Pasi Clayton Gunguwo is Simon Hanabe, a gravedigger in a derelict graveyard – a wasteland where unnamed, unclaimed black bodies get dumped for burial – on the outskirts of Shukuma, a squatter camp outside Port Elizabeth.
It is here that Roelf seeks the body of a young black woman and the baby she carried on her back. Recently, she had deliberately stood on the railway tracks and made purposeful eye contact with Roelf, the train driver, before she was, in his words, "pulverized" by the train he had no time to stop. Angry and undone, Roelf has lost his home, his family, his job, his "bloody mind." He has come to the red-sand graveyard, littered with rocks and car parts to mark the graves, to find the woman, that "piece of black shit" to vent his rage over her grave. He did not know her; no one even knows her name. "I am well and truly fucked up," he says.
It is here he meets quiet, solemn Simon who does not know where he buried the woman and the baby; the bodies come from the morgue in black plastic bags that he does not open. He he warns Roelf, who is rampaging through the burial mounds, that he must not remain in the graveyard after dark because, as well as the starving dogs who come to dig up the corpses, there are roaming gangs of angry young black men. When Roelf shows no sign of leaving, Simon takes him into his cramped, caretaker's shack for the night.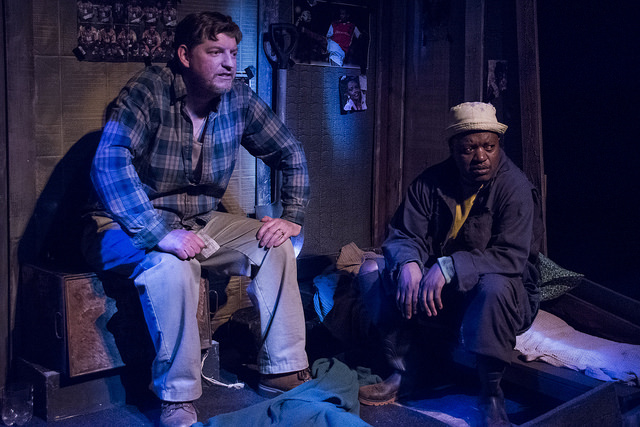 This is a post-apartheid story that shows, chillingly, how many Afrikaners cling to deeply rooted and enduring contempt for black Africans. Roelf: "You people live like animals" and "This place is a bloody disgrace to humanity". Nevertheless, Roelf accepts Simon's offer of shelter and his cheap, rough drink.
The Train Driver is a story of awakening, of moving from contempt to compassion. It is a very dark night of the soul as Roelf comes to full awareness of the hopelessness of the blacks after years and years of suppression at the hands of people like him. It was hopelessness that drove the woman he calls Red Doek – because of the red head wrap she wore – that drove her to stand on the tracks. "I don't know what it's like to live without hope," he confess to Simon.
Herbert, as Roelf, is so tightly strung, so intense, it seems he will disintegrate. "Look what she did to me," his character, furious for retribution, howls. Physically and dramatically Herbert fills the stage. Gunguwo, on the other hand is small, quiet and discreet; his character's concern for Roelf – even in the face of Roelf's rabid insensitivity – is a thing of beauty.
Roelf moves from anger and desperation to redemption as he finally claims the body and accepts responsibility for his – and white men's – guilt. "Nobody wanted you. I claim her. I put up my hand. I claim her. You are mine."
Athol Fugard has been writing plays about his troubled homeland for five decades and The Train Driver, based on an actual event, reveals a playwright, now 84, clearly hoping the wounds of apartheid can be healed. Not so naïve as to suggest the process will be quick or easy, Fugard concludes the play with the wheel turning once again. However, the play suggests if one enraged train driver can be moved to pity, then perhaps there is hope for the nation.