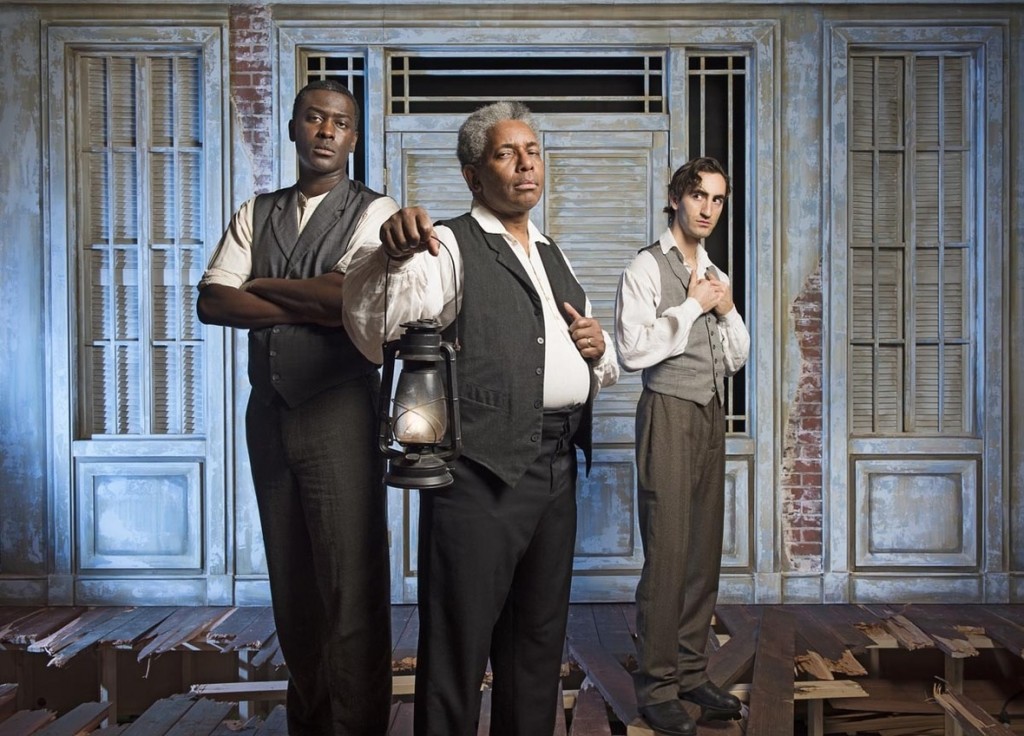 At Pacific Theatre until March 21, 2015
604-731-5518/pacifictheatre.org
Posted March 7, 2015
Comparisons to Scarlett O'Hara's return home after the fall of the Confederate Army are unavoidable in this Pacific Theatre presentation of The Whipping Man: a former Southern mansion reduced to filthy rubble, smashed floors, exposed lath, an ornate chandelier fallen from the ceiling and resting askew on the floor. Furniture gone. All signs of gracious living wiped away. Drew Facey's design immediately sets the scene: the white landowner, Mr. DeLeon, has fled to safety, leaving the place in the care of Simon (Tom Pickett), an old slave who waits for his master's return. First to return, however, is DeLeon's son Caleb (Giovanni Mocibob) with a gangrenous bullet wound in the leg, followed by former slave John (Carl Kennedy) who has been looting the empty neighbouring mansions.
But this is not Gone With the Wind for a multitude of reasons not the least of which is that Mr. DeLeon, the landowner, is Jewish and has raised his slaves in that religion. The playwright, Matthew Lopez, in attempting to make comparisons between the persecution of Jews and African Americans slaves, parallels Moses leading the Israelites out of Egypt and Abraham Lincoln freeing the slaves. The exercise feels forced. And very long. Almost all of Act 2 is a protracted Passover Seder (using hardtack for matzo and celery from the derelict garden for bitter herbs) which, while giving Pickett an opportunity to sing "Go Down Moses", doesn't move the plot along sufficiently to warrant the time spent.
The production, however, directed by Anthony F. Ingram, is epic, historically interesting and visually wonderful under Lauchlin Johnston's evocative and dingy lighting. And the performances by Pickett, Kennedy and Mocibob are excellent.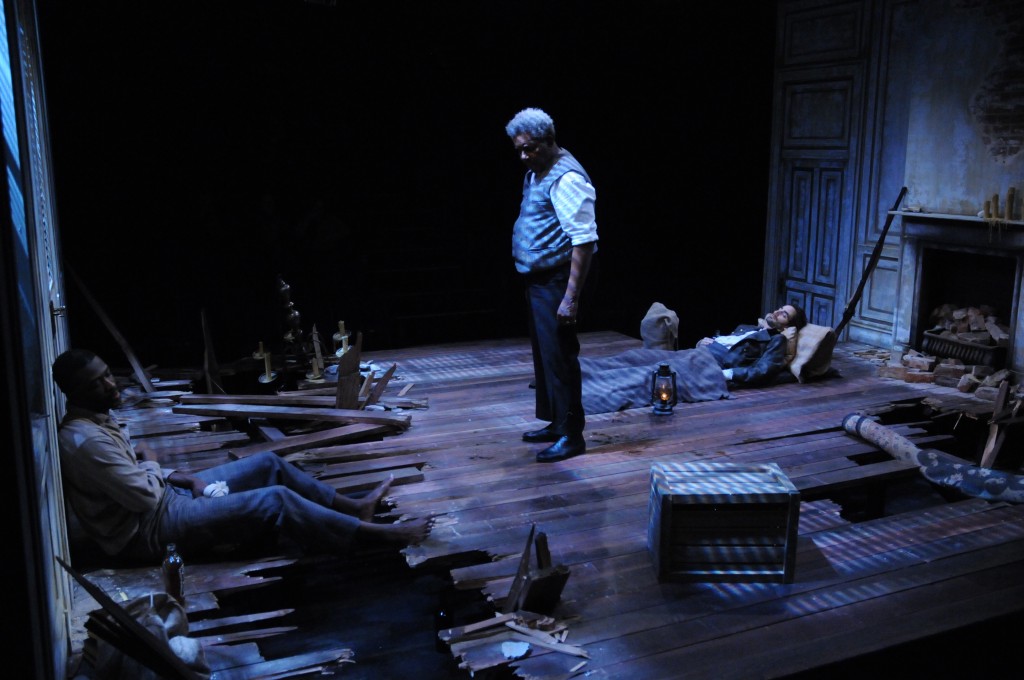 Pickett is well suited to the role of white-haired old Simon, a capable man with enough war experience to perform a leg amputation on young Caleb. This is, again, a protracted scene that's grisly in the extreme and serves only to make the point that Caleb is now completely dependent upon Simon and John. Pickett has the body language and the Deep South vernacular down to perfection, which, unfortunately, makes him difficult to understand on occasion.
Mocibob doesn't have a lot to do in The Whipping Man once the amputation scene is over. But he doesn't overplay the role, either; no moaning and groaning from Caleb's bed on the floor. And Mocibob has a very dramatic, revelatory moment late in the play that he executes flawlessly.
Undisputed star of this show is Carl Kennedy (as John) – the playwright's most interesting character – whose every gesture, every line is rivetting. John is a study in conflicting emotions and Kennedy switches from moment to moment. He swaggers in with the food, drink and valuables John has looted from surrounding homes but is fearful about his newly won freedom. Kennedy's body language is so revealing and ranges from his character's drunken bravado and his explosive fury over his childhood treatment at the hand of 'the whipping man' to a weaseling uncertainty when some terrible truths are revealed.
The Whipping Man is big. Sometimes it's funny – sometimes to its detriment; it feels like 'filler' to entertain us. Caleb's horse having died, for example, Simon boils it up. The following scene – too long – shows the three men chewing what is obviously very tough meat.
But there are some images in The Whipping Man that resonate long after the curtain falls: Caleb and John – slave-owner's child and slave – were raised together as boys and were, says Simon, "like two peas in a pod." They could, however, never be friends, Simon claims, "not when one of the friends owns the other" and not when one takes the whip from the whipping man and whips the other, "because he can".
Of one thing Simon is certain, "Freedom means more than broken chains". Faith, loyalty and betrayal: it's all here in The Whipping Man.