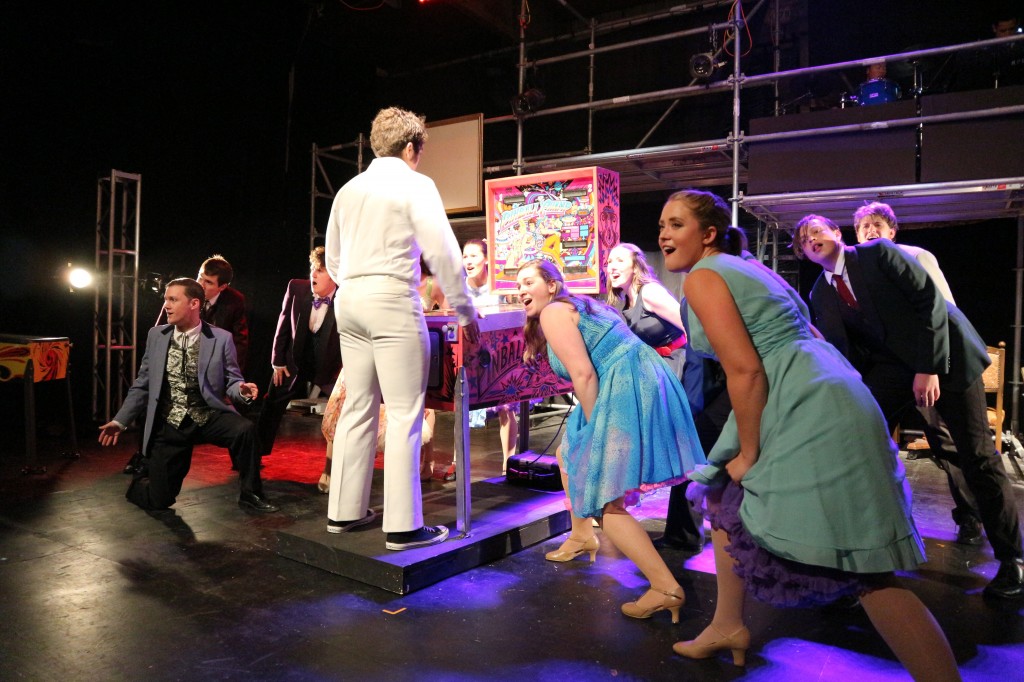 At The Shop Theatre until November 19, 2016
604-685-0435/tommymusical.brownpapertickets.com
Posted November 11, 2016
The Renegade Arts Co., under the artistic direction of Jim Buckshon, gives you a rare chance to see the seldom-produced rock musical The Who's Tommy. It offers a peek into the past and like Hair – produced by this same company to excellent reviews last season – it has a killer song in it that you just can't wait to hear. You get a little teaser in the intro with that frenetic little riff, immediately recognizable as the opening bars of the anthemic Pinball Wizard: "That deaf, dumb, blind boy/Sure plays a mean pinball."
Almost as interesting as the stage musical is the story behind its creation. Frustrated and feeling limited by producing albums of stand-alone hit songs, The Who's guitarist Pete Townshend (after spending time with Indian spiritual master Meher Baba) decided to write a number of narratively linked songs as a rock opera; the narrative, however, was never really clear. Even the band members didn't quite get it. A synopsis came out after the rock opera double album was released in 1969.
Directed by Ken Russell, Tommy, the film, came out in 1975 with stars that included Elton John, Tina Turner, Ann-Margret, Jack Nicholson, Eric Clapton and The Who's lead singer Roger Daltrey as Tommy.
Townshend and Des McAnuff subsequently wrote the rock musical, The Who's Tommy, that premiered in California in 1992; most of the music came from the earlier album, the narrative was strengthened and clarified – sort of – and it went on to win a batch of Tonys and Grammys.
Between the rock opera album, the film and the rock musical there are plot differences including a shift from WW I to WW II and, more significantly, the shooting death of Tommy's father or, alternately, his mother's lover. Either way, poor little Tommy witnesses the murder in a mirror. He is so traumatized he can no longer see, hear or speak. Bullied and tormented by his peers, worried over by his parent, poked and prodded by doctors, he eventually discovers an amazing talent for pinball. He's a pinball wizard.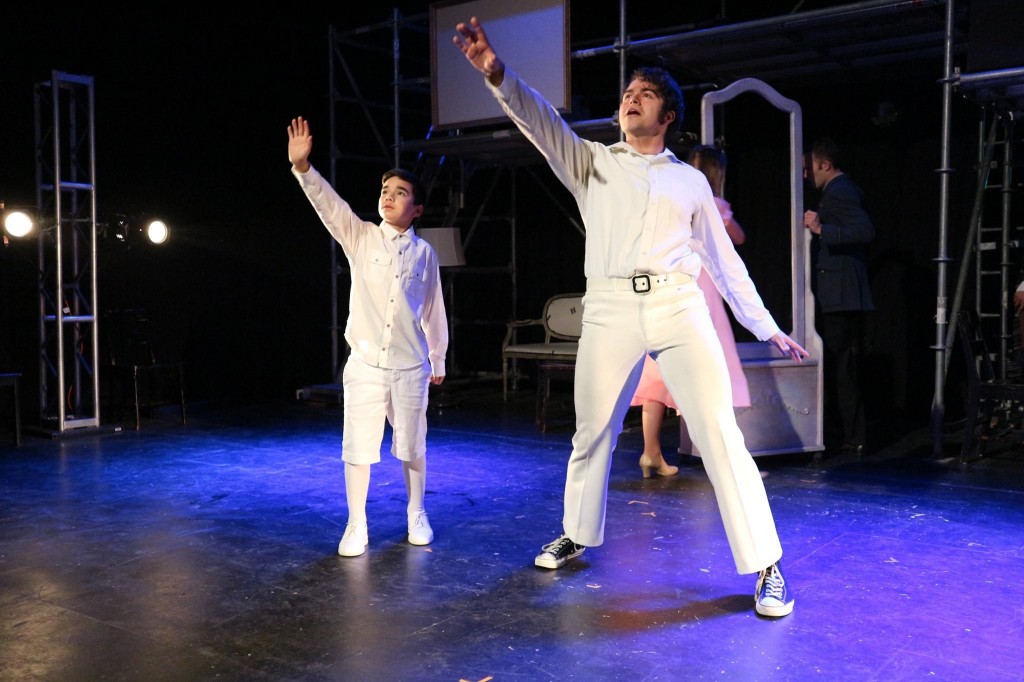 It's easy to see why The Who's Tommy isn't done very often; it takes us from the post war years through the 60s with bullying, drug and sexual abuse, dysfunctional families, prostitution and celebrity adulation. It's dark.
But there's something very compelling about it, too. And this show is full of youthful vitality including young Jeremiah Vezina (Tommy as a youngster in short pants) and his brother Joshua Vezina (Tommy as an adolescent). Jeremiah is cherubic and sings like an angel; Joshua is so still and so composed it's almost hypnotic.
A graduate of the Capilano University Musical theatre program, Franklin Cottrell is adult Tommy, an otherworldly narrator who interacts mutely with his earlier selves and parents (Amy Gartner and Mark Wolf). Dressed from top to toe in white, all three Tommys appear to effervesce on stage amidst the swirl of other costumes provided by designer Marilyn LaVac-Rapanos.
An enthusiastic band (Adam Da Ros, Stanley Tsang, Philip Lo and Jamison Ko), under the musical direction of Adam Da Ros, provide the accompaniment to the songs including "See Me, Feel Me", "Acid Queen", and "I'm Free".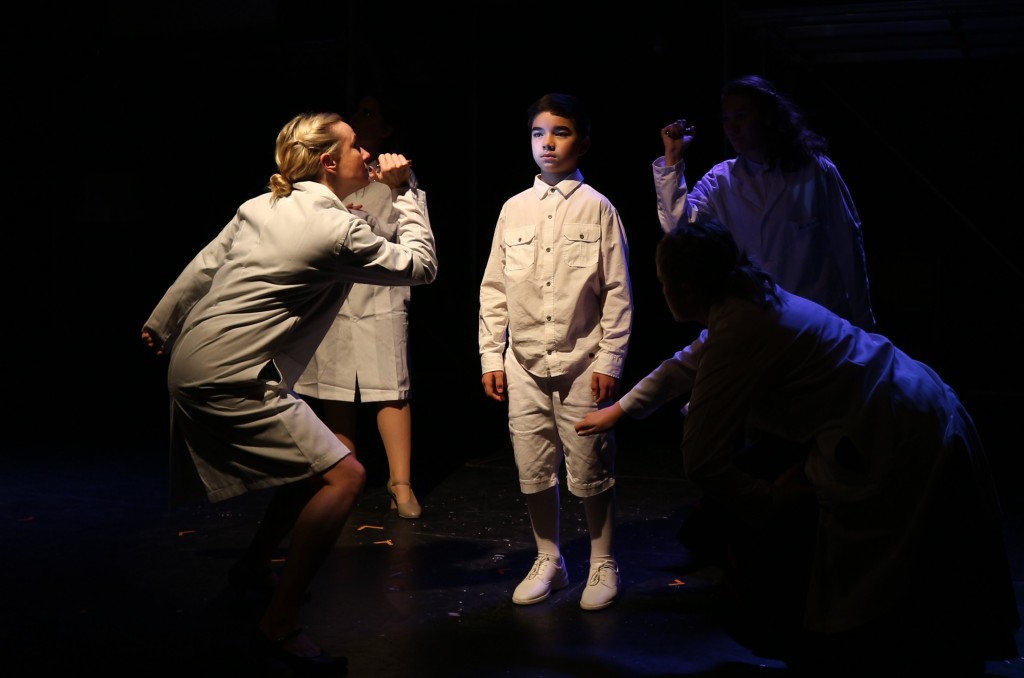 Directed by Chris Lam with choreography by Anna Kuman, this Renegade Arts Co. production is non-professional and it's tough to make this show work, even in professional hands. It's no surprise that it's not often attempted. While it may not be Broadway-bound, this production is at its best with the full ensemble in full voice: music, dance, lights, and big band. It's a window on an era, its hairstyles, fashion, sensibility and music. More than that, it illustrates our understanding today of PTSD. Properly diagnosed, little Tommy might have gone on to lead a relatively ordinary life. Instead, he went on to become a tormented star that sure played a mean pinball.