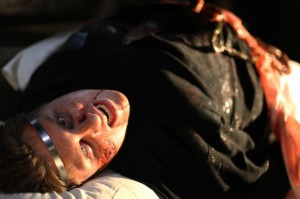 At an undisclosed venue until November 2.  Participants are advised 24 hours prior
Tickets and info: www.thevirtualstage.org
Posted October 5, 2013
My so-called 'crack team' of special agents really, really sucked.  Our mission: to capture Sgt. William Sullivan, a terrorist on the run. We blew it – bigtime.
Our team of eleven (ten adults, one brave kid) received a briefing by tough-as-nails Corporal Stevens who made us say, "Yes, m'am" and No m'am".  I didn't like her. I haven't had to say, "Yes, m'am" to anyone for years and I didn't want to start again.
Anyway. It seemed a deadly virus was about to go, well, viral. What could it do? It could re-animate the dead. That's a whole lot of zombies staggering around unless the cure, which has been stolen by this guy Sullivan, can be retrieved. We got our marching orders from Corporal Stevens and we moved out.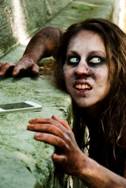 Written and directed by Andy Thompson, The Zombie Syndrome is interactive, smartphone-enabled theatre that's well-timed leading up to Hallowe'en. Elizabeth McLeod's makeup on the zombies is truly gruesome.  And the cast was chillingly, thoroughly military.
Instructions throughout are delivered by phone so at least one person in the group has to be able to use their smartphone to navigate and respond to orders from headquarters.
There's lots of variety in the presentation; part of the show is outdoors so be prepared for foul weather. Wear sensible shoes. I really can't say much more without spoiling the fun. Think blood and guts, growling ghouls staggering in the shrubbery or corralled in an old warehouse.
It's different enough ("bigger, bloodier and badder" than last year, according to the show's creator) to warrant seeing this latest incarnation produced by The Virtual Stage whose mandate is to investigate emerging technologies in theatre. The company's recent production of the hilariously funny and rude Broken Sex Doll (also written by Andy Thompson) garnered seven Jessie nominations and won for Outstanding Original Composition and Outstanding Costume Design.
The Zombie Syndrome is not hair-raisingly scary – although it comes close at one point. Teenagers might find it not scary enough and kids under ten might be spooked. The youngster in our group was about nine years old and he was, at one point only, pretty freaked.
Check out the two videos at www.thevirtualstage.org to see if you want to challenge Sgt. Sullivan's assessment that these special agent teams are made up of  "useless, incompetent, moronic losers." Hey, that hurts.
However, my team – Team Hyper-Kill – failed so badly we all ended up dead. My dog had to write this review.