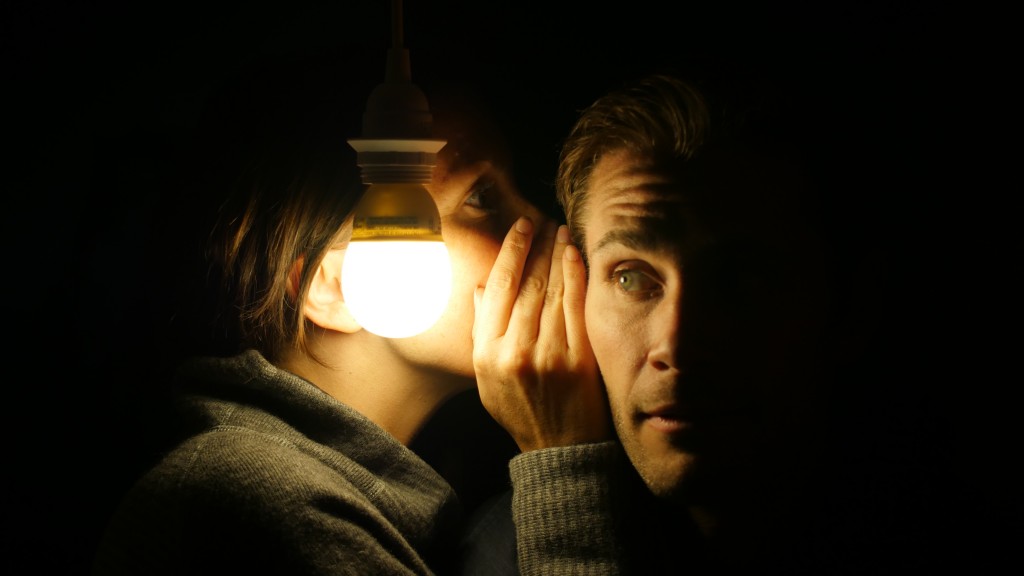 At 805 East Pender Street until October 31, 2016
theatrewire.com
Posted October 23, 2016
Nothing new under the sun. Not always true. Three Stories Up, produced by Alley Theatre and Level-Headed Friends, re-invents and re-invigorates the radio play – that genre much loved by those of us who grew up with The Green Hornet, The Shadow and The Lone Ranger. I'm talking about the 40s and 50s when families gathered around the big old console radio on Sunday evening and listened to Lux Radio Theatre, an hour-long radio broadcast performed in front of a live audience. I don't know why but we all sat looking at the radio. No popcorn, no fidgeting, no talking, no 'Pause' button to push.
"The past is a foreign country; they do things differently there", wrote L.P. Hartley, later the opening lines of Harold Pinter's adaptation of The Go-Between. You'd be hard-pressed to find a family these days that would sit down together sans iPhones, iPads, iThings to listen to anything. That was the past, the golden age of radio drama.
But there we all were on Saturday night – a family of sorts: theatregoers. Sitting in the complete dark, quietly listening to a noir-ish whodunnit written by Mack Gordon, directed by Marisa Emma Smith.
The venue at 805 East Pender accommodates a smallish, limited number of patrons who are led blindfolded, in groups of four – like kindergartners in a 'train' – into the theatre where each person is carefully seated. (Never fear: no stairs, no obstacles in your path.) Drinks or snacks that were ordered before the show are delivered in whispers. "Eleanor? Your beer." "Jo? Jo? Your wine."
After the lights go off, the blindfolds are removed and complete darkness descends. Complete, utter darkness. And we hear voices. The story begins.
Beatrice, a transit cop, has arrived home to find the beaten, dead body of her husband. Devastated and determined to find the killer, she seeks the help of Gunnar and together they get drawn into Vancouver's seedy criminal world.
The actors move around us, between us and although there are quite a few characters, we have no idea who the performers are or even how many there are. Sounds come from all around us; we sense movement, action. We hear breaking glass, doors closing, a car accident. Another character – Jasmine – emerges. We imagine faces, bodies, and clothing. Size. Weight. Ethnicity. Our imaginations are working overtime. The story gets more twisted, more complicated.
But. I have a couple of tips and an admission to make: Tip#1 – don't go to this show if you didn't get a good nights' sleep the night before. Tip#2 – maybe you shouldn't drink wine or beer and expect to stay awake for eighty minutes in a warm, darkened room. It's risky.
And the admission? I use the radio as a sleep aid so put me in a dark room, turn the radio on and I'm out like a light. It's a pharmaceutical-free solution for insomnia that works for me.
Those who hung in there for the duration had a terrific time. Who dunnit? I'll never know. I was off in the Land of Nod. Damn.
Read Colin Thomas and Mark Robins' raves here:   http://www.colinthomas.ca/2016/10/24/exciting-descent-three-stories/three-stories-up and http://vancouverpresents.com/theatre/review-three-stories-up/